The best places to eat in Bali
I love to eat in Bali. When it comes to this island, if there is one thing that never disappoints (aside from the heavenly scenery of course) it's food! Bali has a million cute little restaurants that are so authentic and trendy and where the food is so good! We were really surprised by the quality of the food they serve on the island and prices are also very reasonable! So we had to share our ultimate food crushes, they are principally located in Seminyak and Canggu but because we made such a big trip, you'll see that we've also uncovered great places to eat in other parts of the island! In this article, I've tried to categorize all the restaurants according to which meal we've eaten there, but you should know that almost all these addresses serve breakfast, lunch and dinner. We never made any reservations and just decided spontaneously where we would eat everyday, but we were there in low season. I can imagine that in high season it can be better to call ahead to book a table!

KYND COMMUNITY
www.kyndcommunity.com ♡ Seminyak ♡ 5€ per person
I absolutely loved this place! Not only for its setting which is adorable and makes you want to spend the entire day there, but also for the high quality of vegan dishes they serve. We were really smitten with the place, everything was DELICIOUS. The manager of the place, an Australian woman, even made us cookies for the road and they were sincerely the best cookies I've had in a long time. I strongly recommend this restaurant!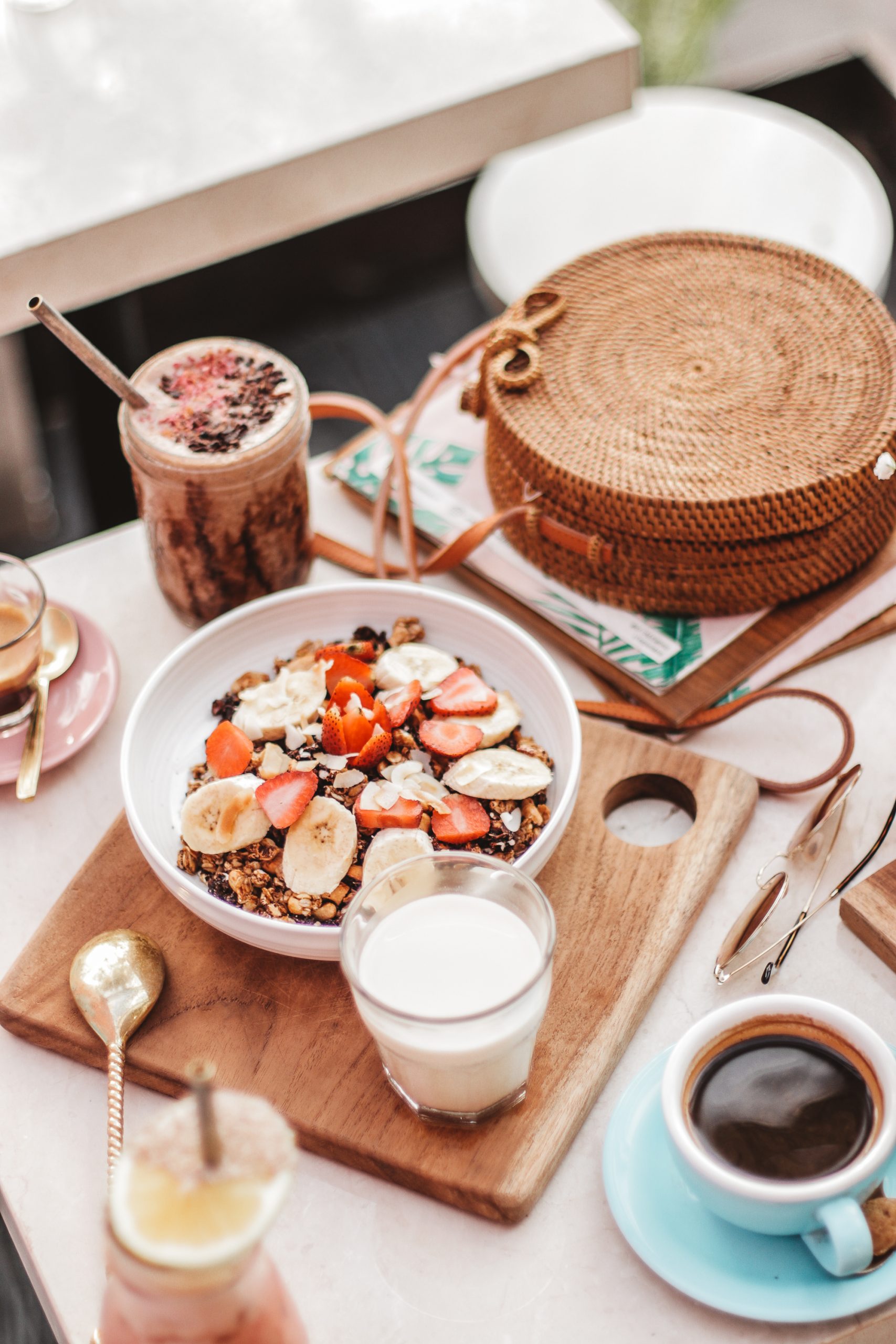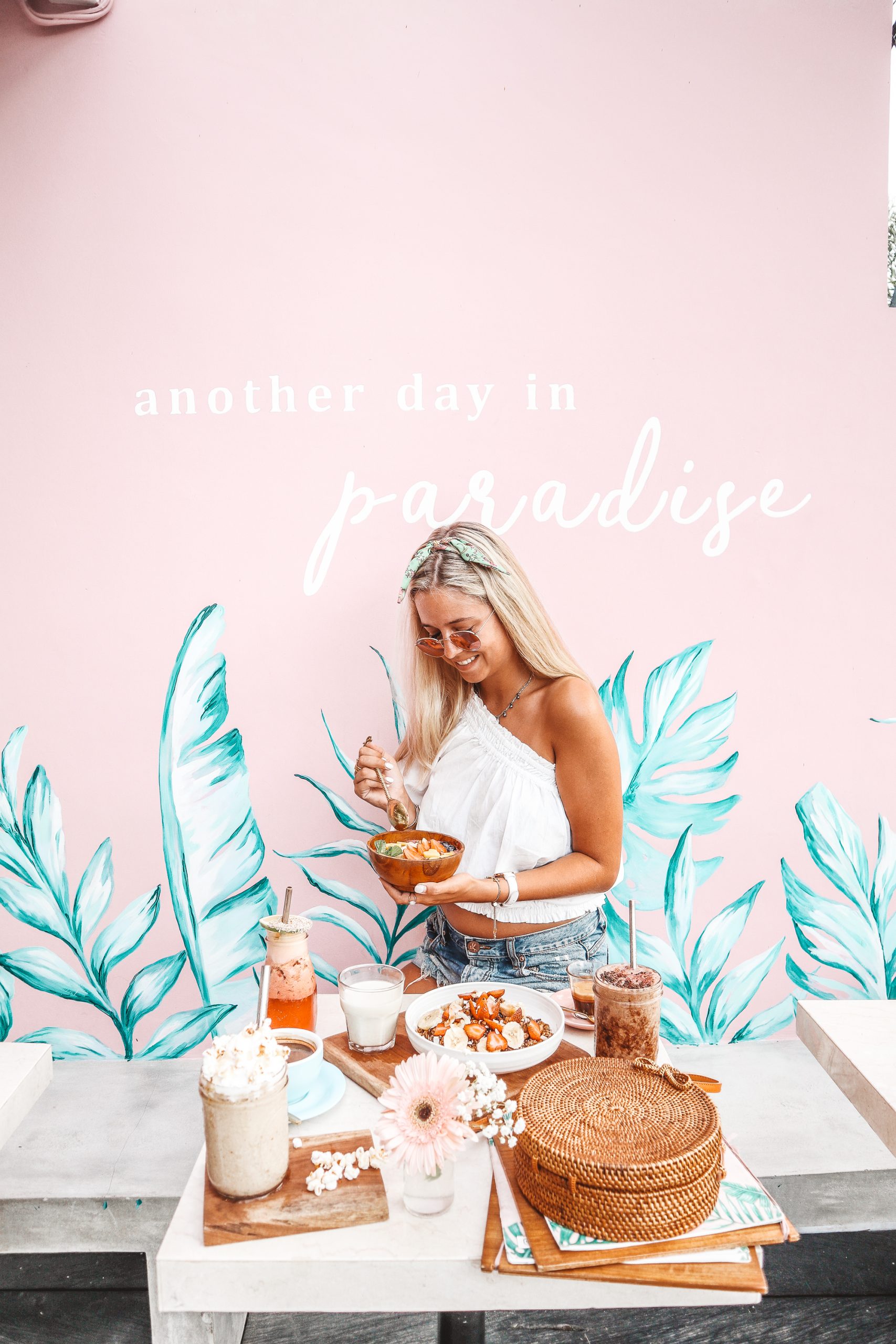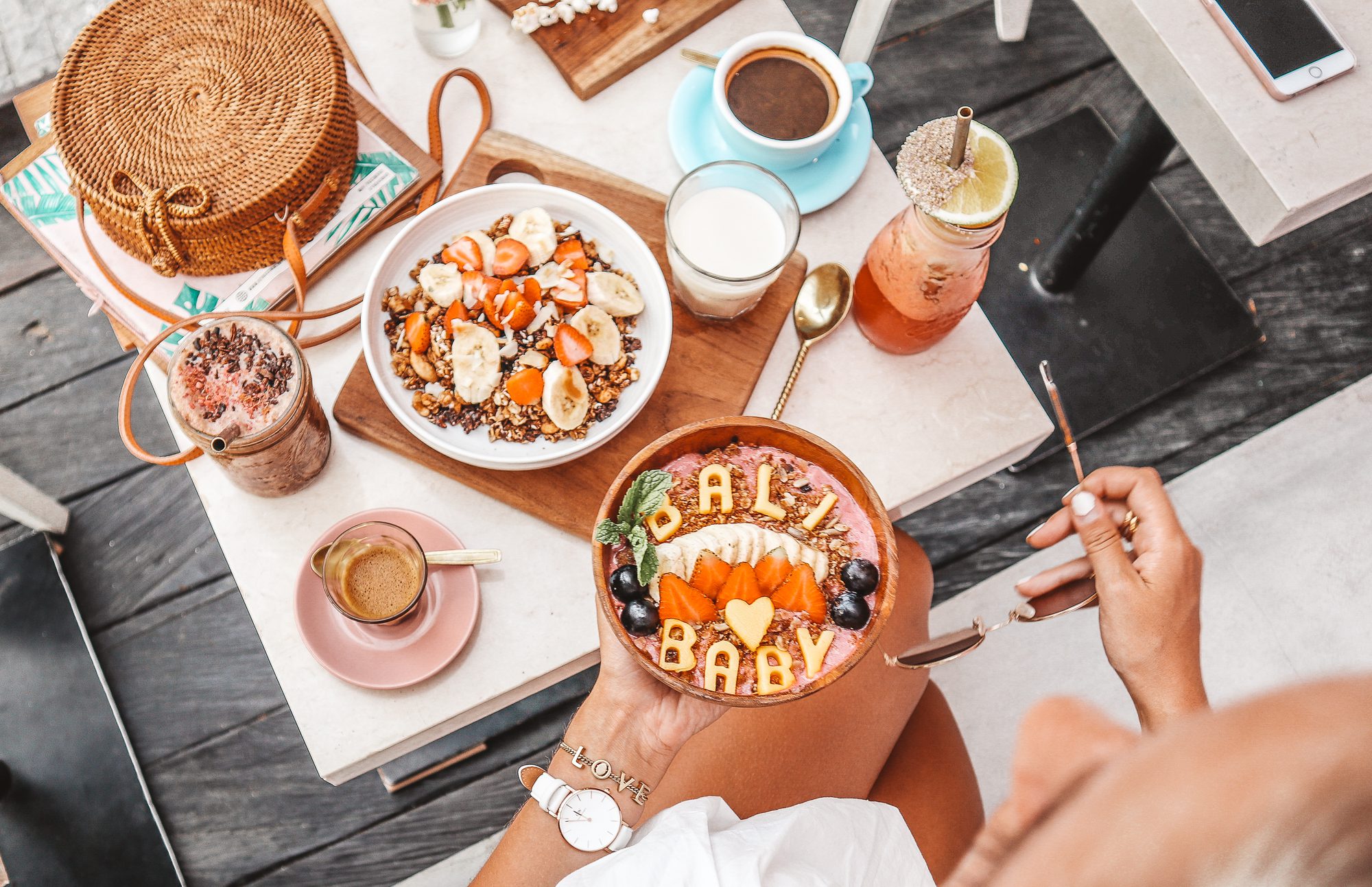 CAFE ORGANIC
www.caféorganic.com ♡ Canggu / Seminyak ♡ From 5€ to 10€ per person
Cafe Organic has 2 locations: one in Seminyak and one in Canggu. We've tested both and let me tell you, the both of them are great. I have a slightly bigger crush for the one in Canggu, the way it is decorated is a little bit more atypical and bohemian than in Seminyak. Nonetheless, the one in Seminyak is bigger, so you'll have more chance of getting a table there rapidly!
They propose a variety of bio and organic plates, mostly made of fruits and vegetables. I have huge love for their Acai Bowl, it's filled with fresh fruit, so delicious! We also love a plate called the "Criminal Breakfast" (made of an egg Benedict, a veggie wafer, mushrooms, cherry tomatoes, salad, avocado, red beans and toast), a little gem of a breakfast and their pancakes, which are to die for. This place is 100% recommended!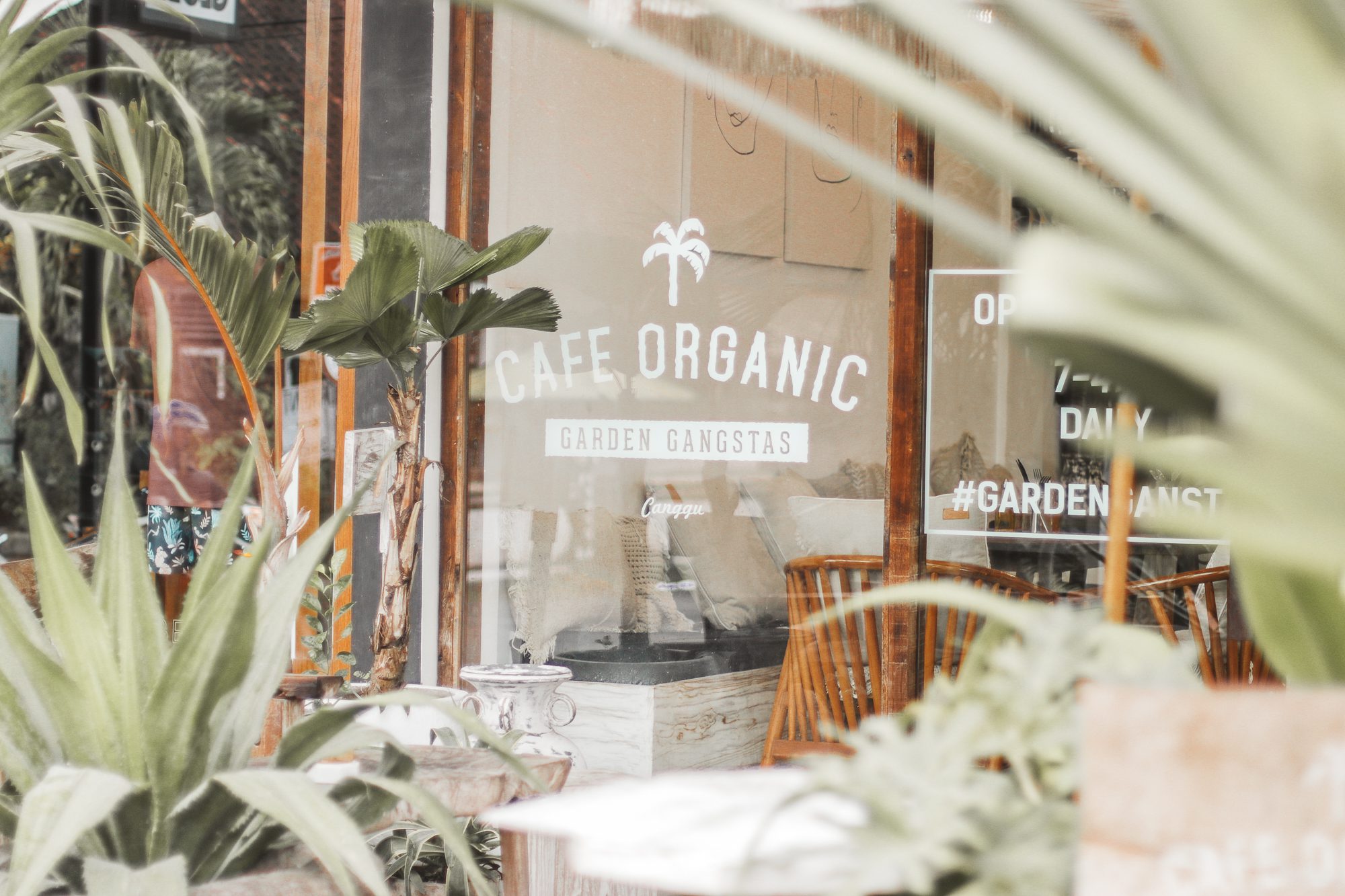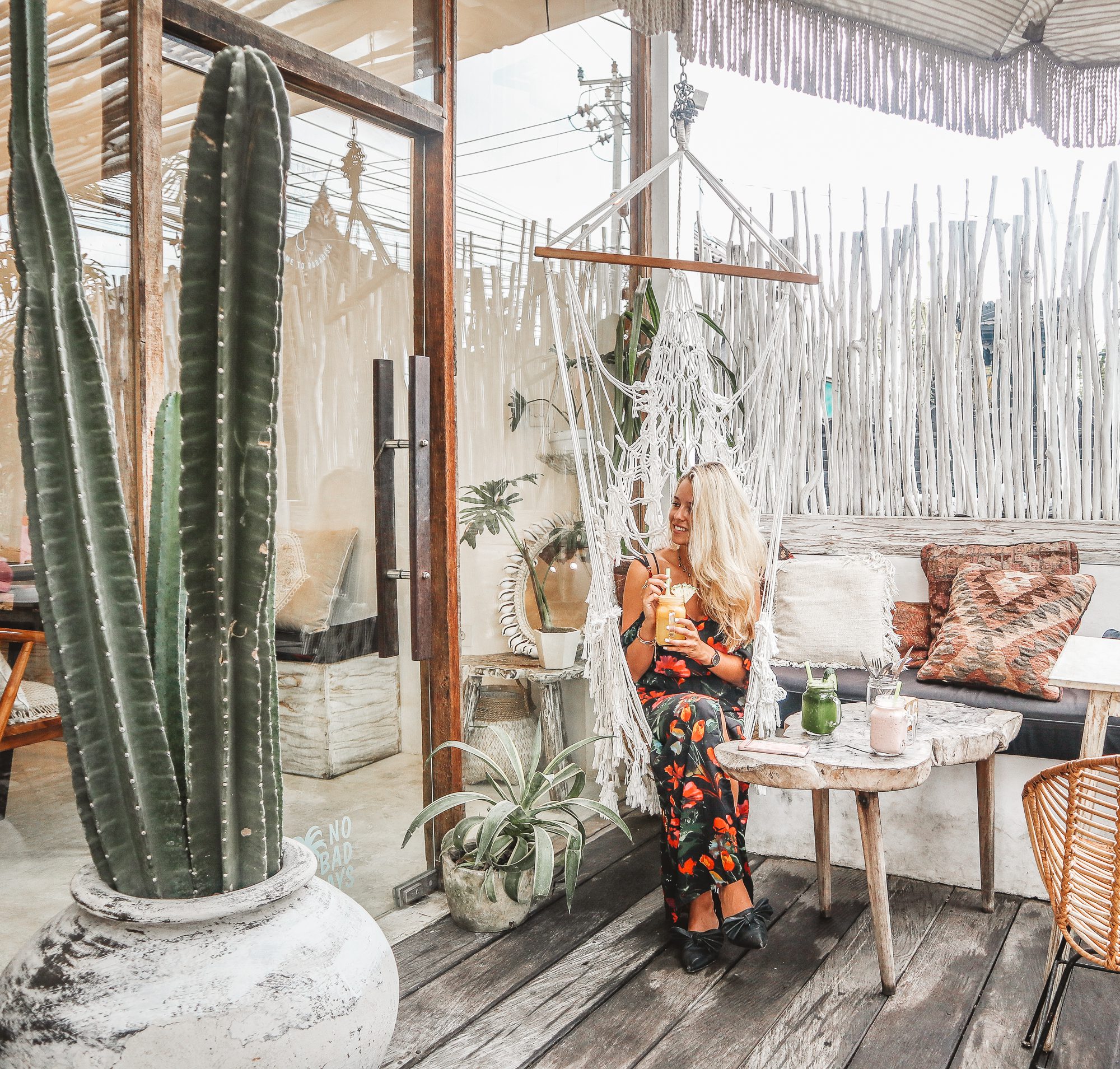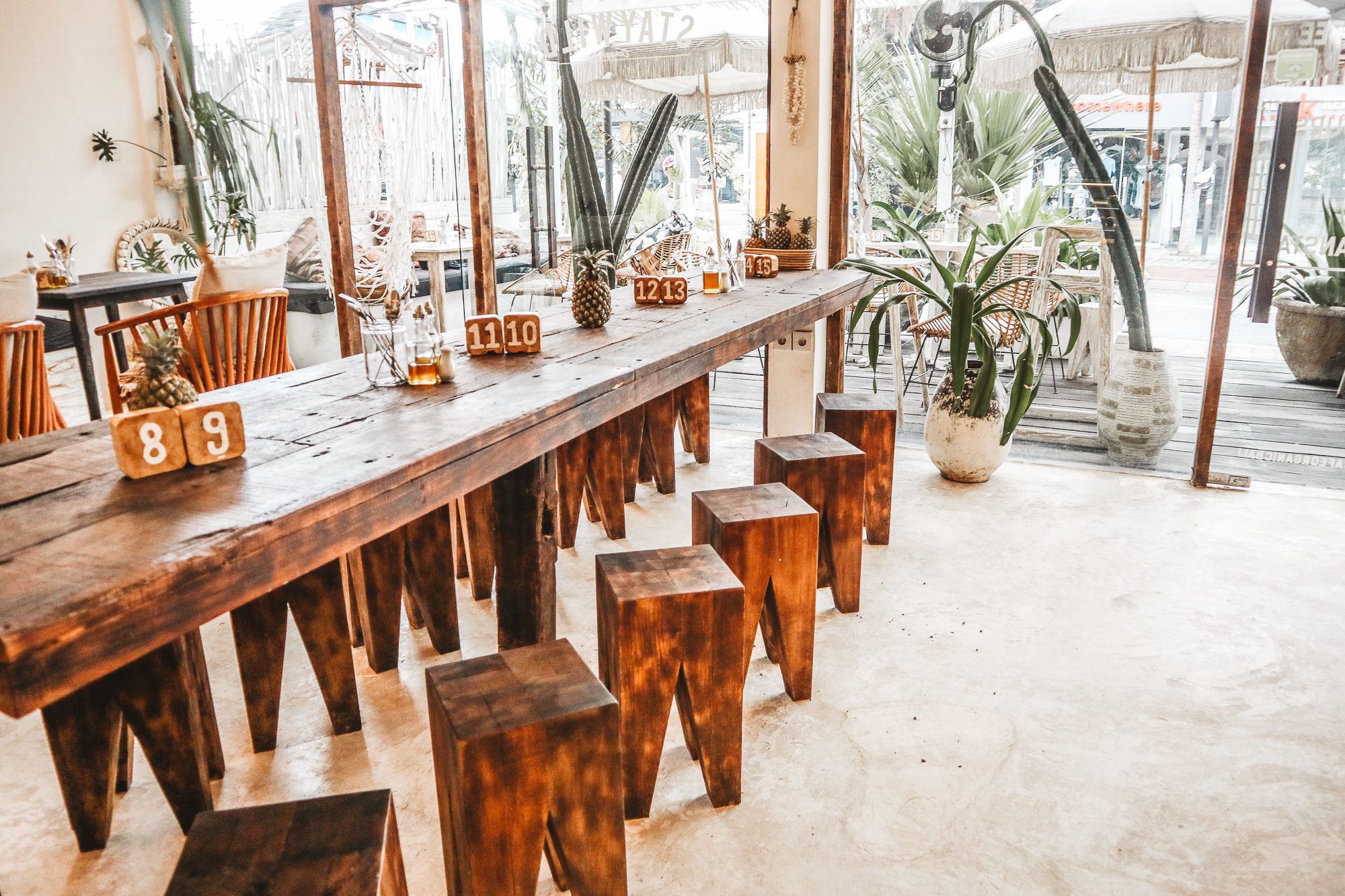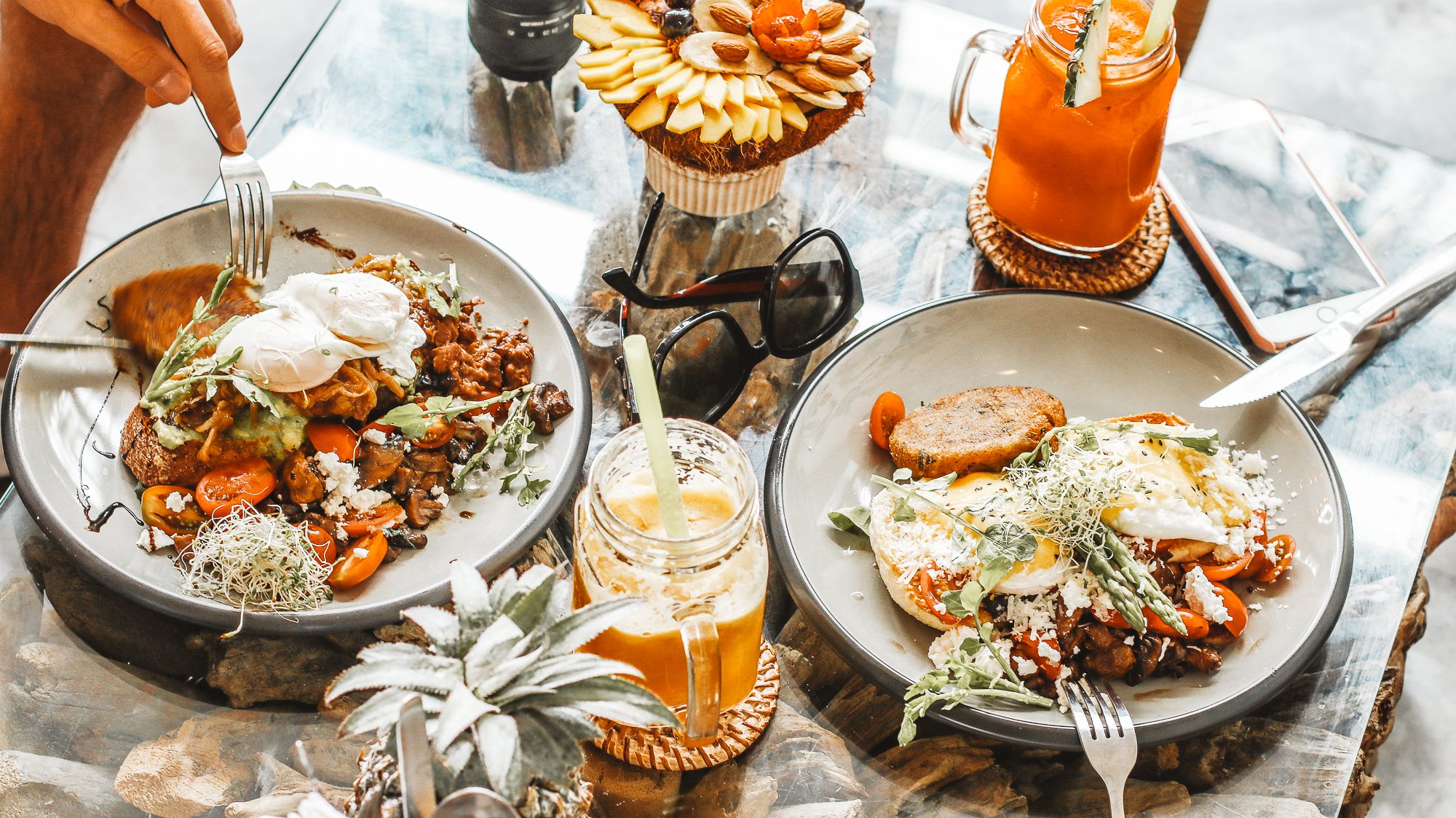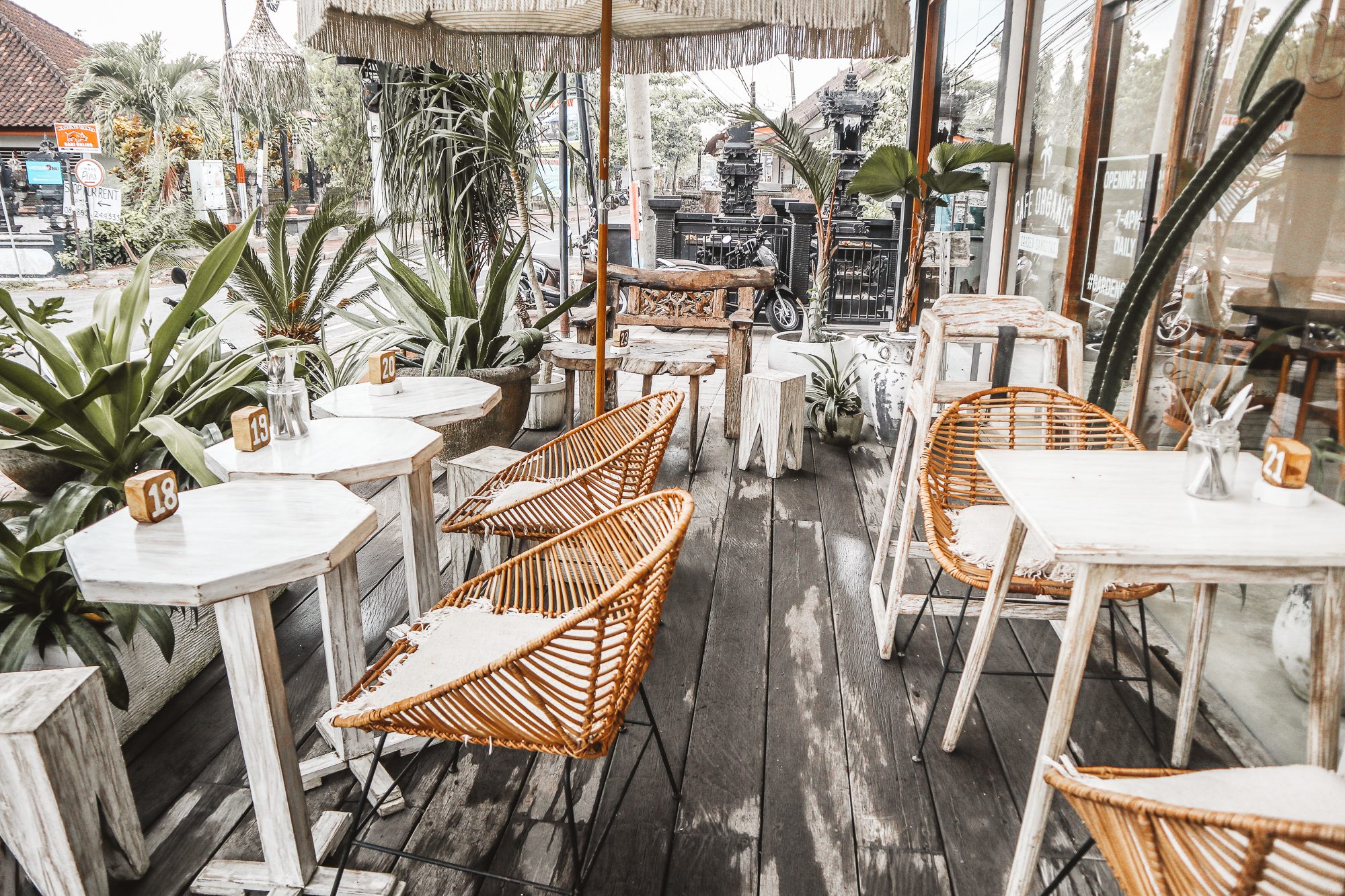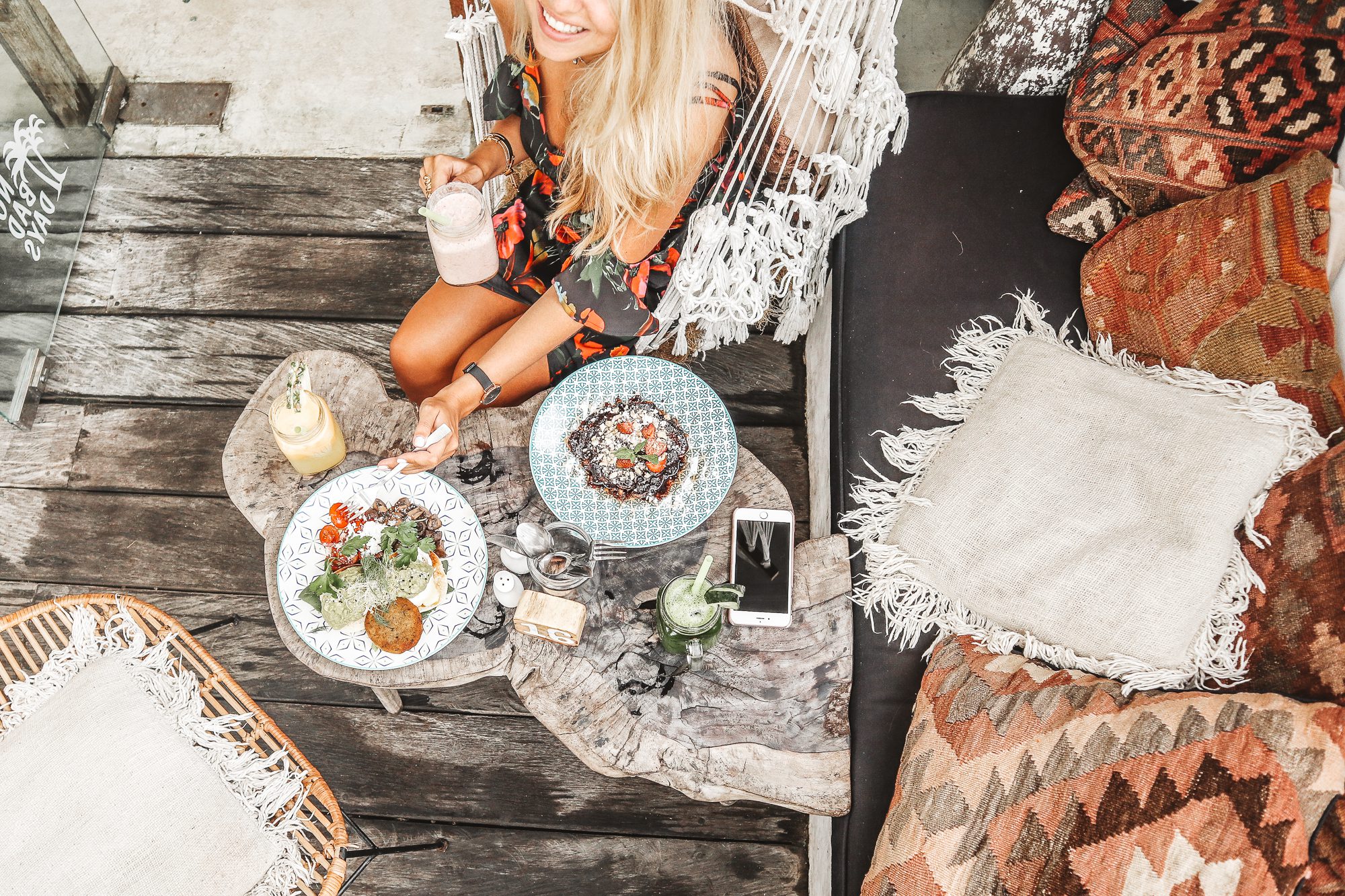 SEA CIRCUS
www.seacircus-bali.com ♡ Seminyak ♡ From 5 to 15€ per person
If you bought a food guide to Bali, you probably have seen the colorful outside of Sea Circus that is featured in almost every single one of them. With a facade as beautiful as this one, who wouldn't want to go in?! And once you are in, the colorful and wonderfully decorated inside will procure you with just one wish: try everything on the menu. And that we did: we had a burger, a bagel, tacos and a bowl (made of tuna, quinoa, avocado, fresh cheese and other fresh ingredients). Of course everything of this multicultural menu (that you often see in Bali) was delicious. We were scared we would have too much food, but we ate it all…oopsie!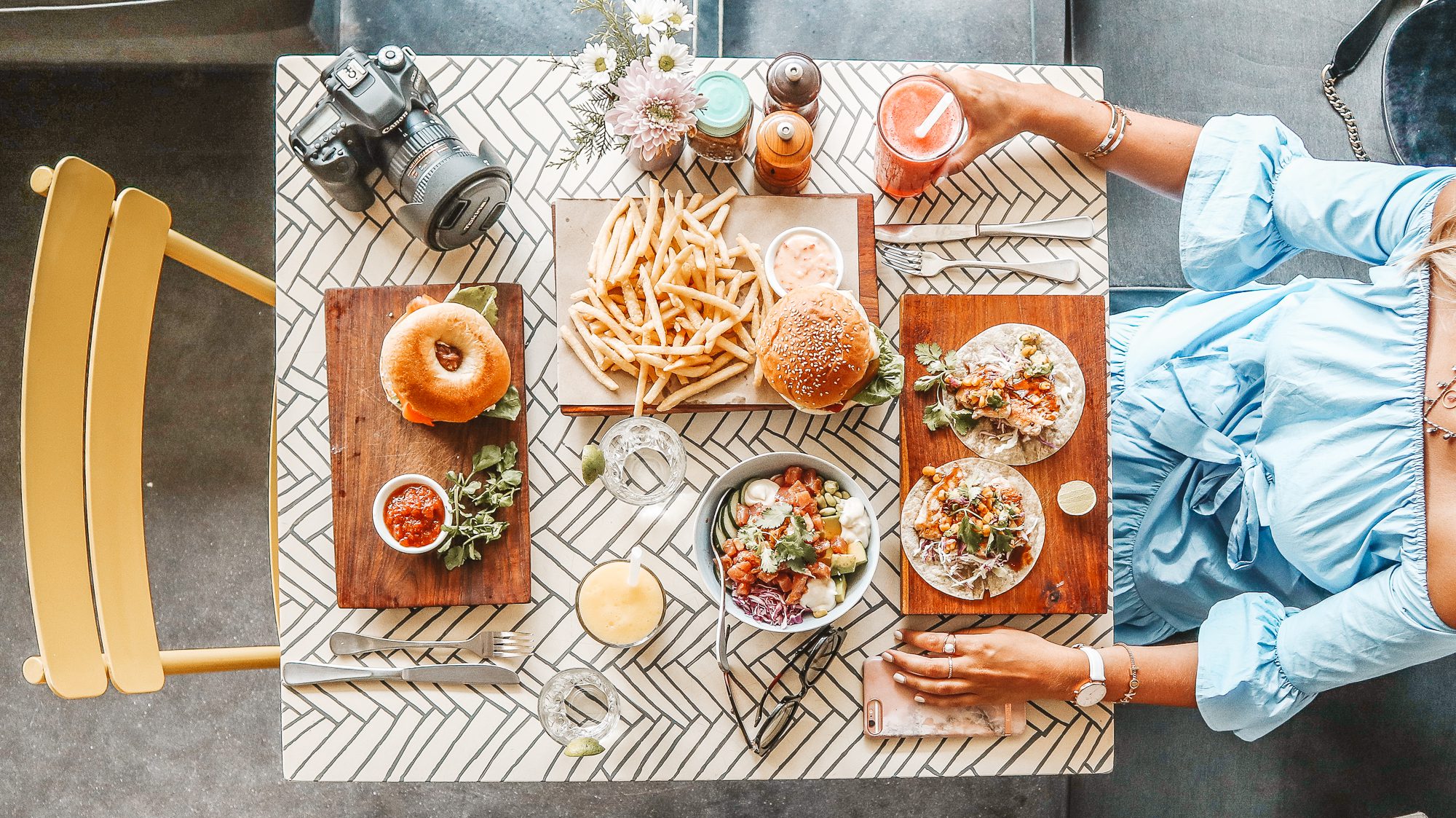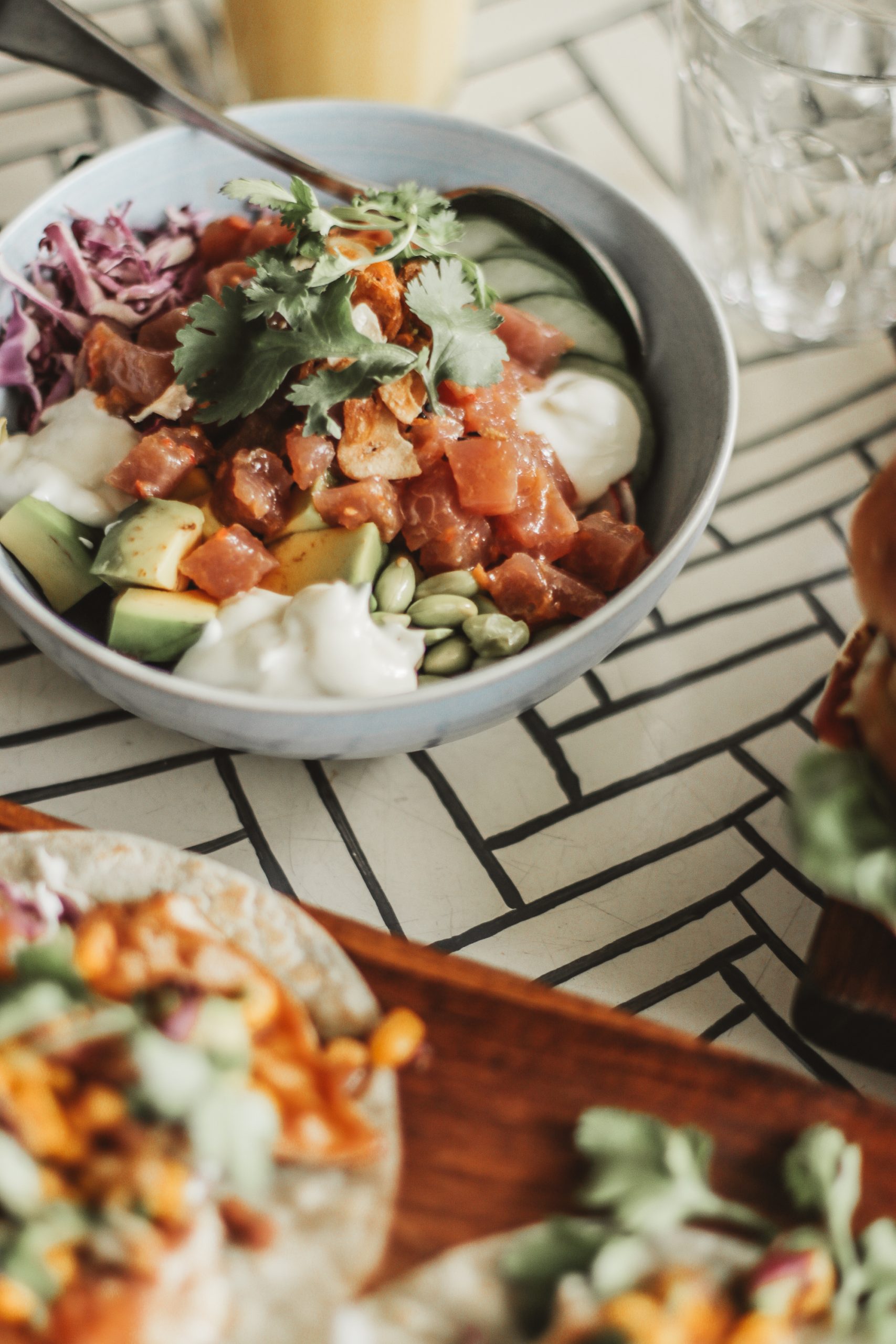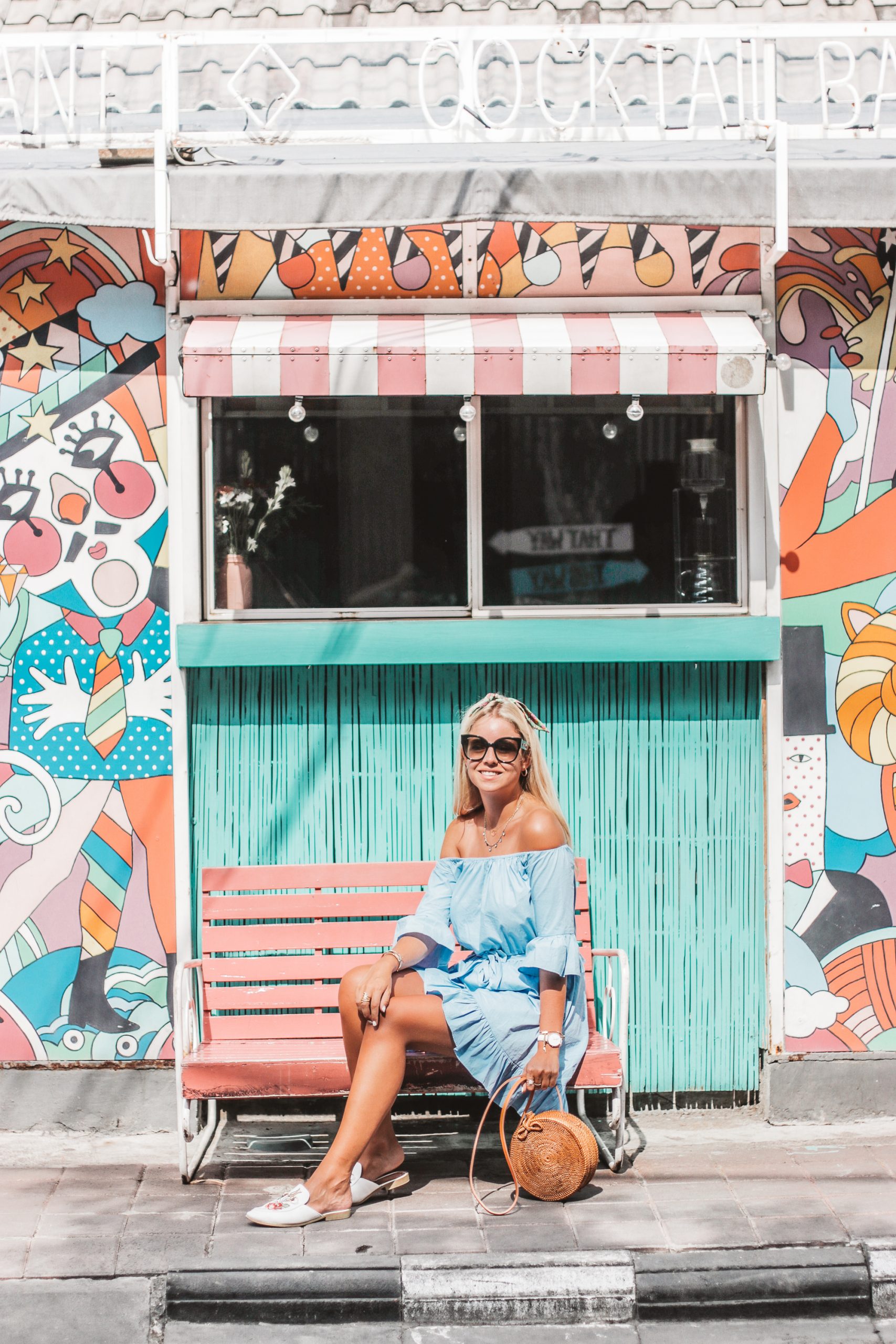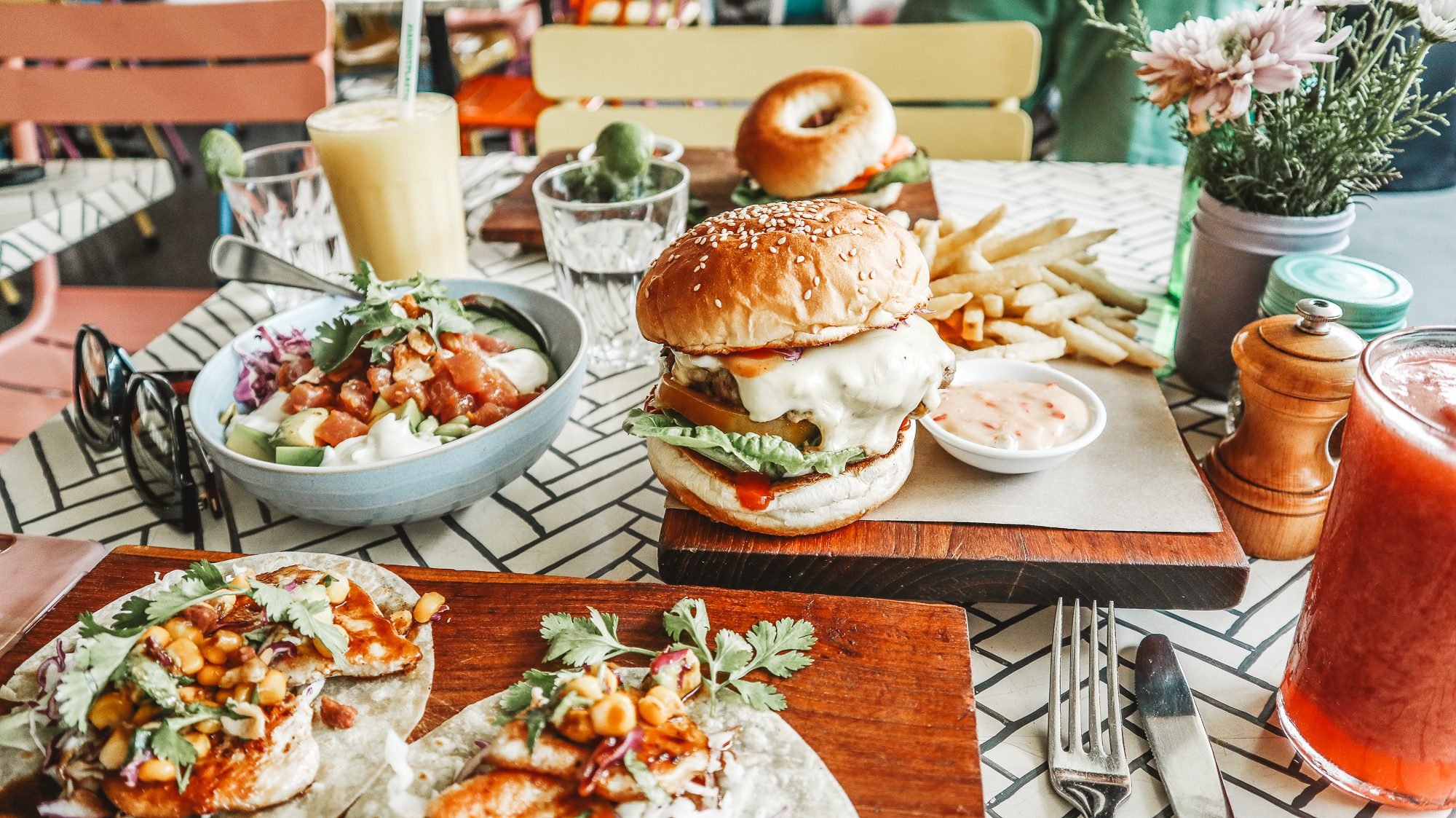 SEA BREEZE
  Nusa Ceningan ♡ From 5€ to 10€ per person
This restaurant is located on the island of  Nusa Ceningan (if you want to know more about this part of Bali which was my favorite one, go check out this article). Here you can it traditional indonesian food and a few trendy things like acai bowls. As if the delicious food and the extremely reasonable prices weren't enough, I love this place for its setting, which reminds of a pirate ship. You can eat on playful swings, big bean bags or even on a ship! Really fun.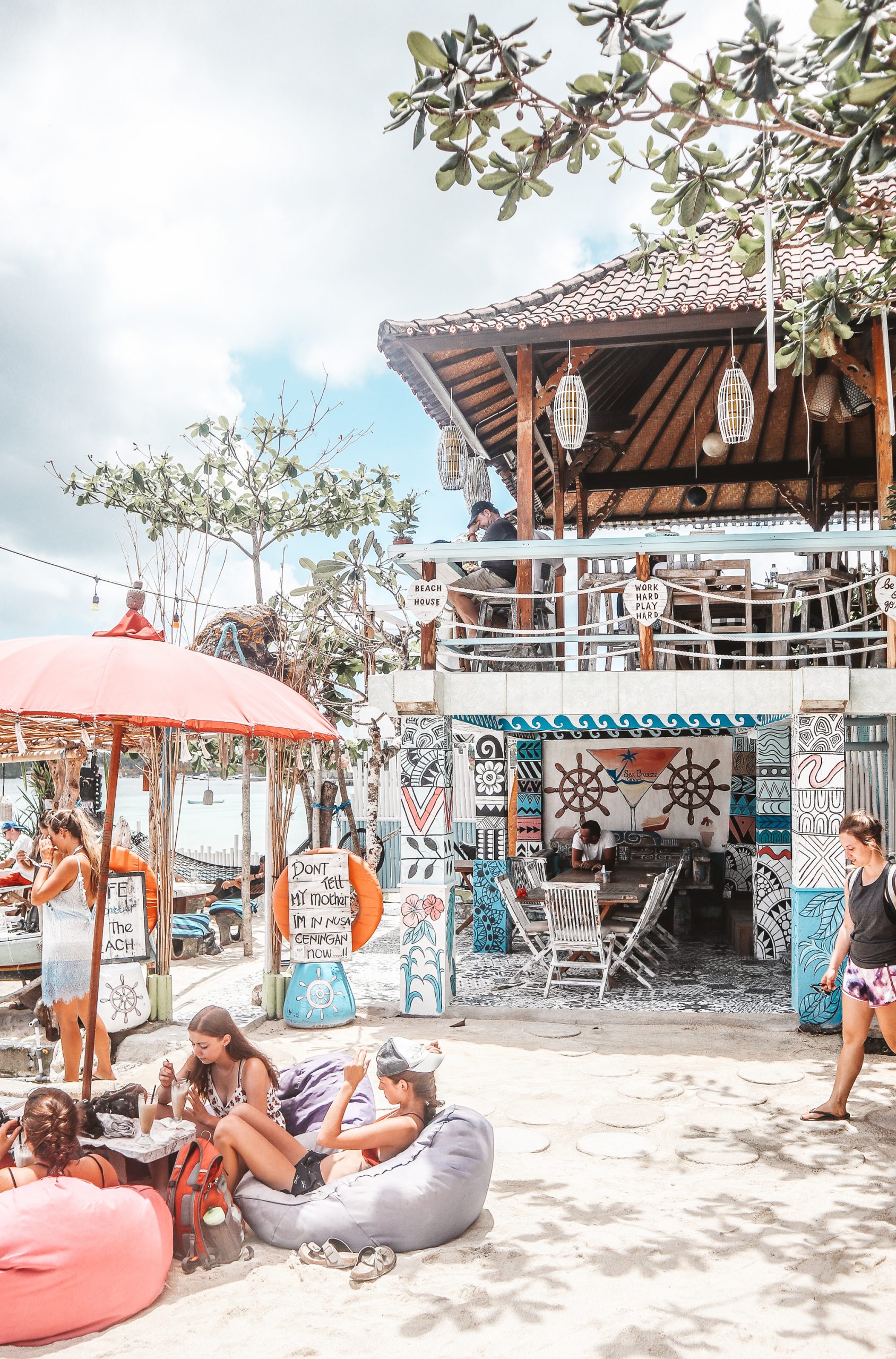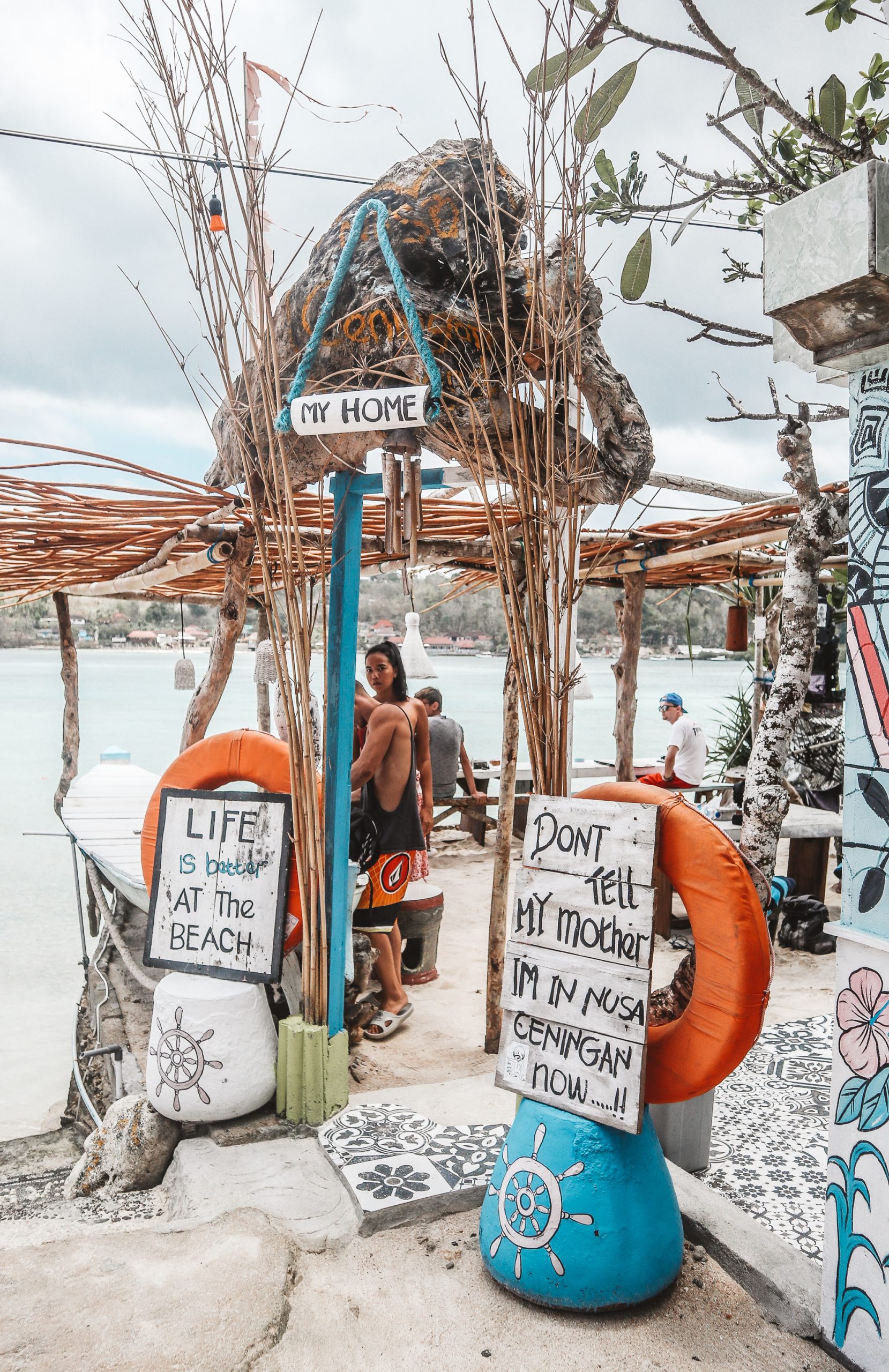 LE PIRATE BEACH CLUB
www.lepirate.com ♡ Nusa Ceningan ♡ From 5€ to 10€ per person
This was the restaurant of the hotel we stayed at 3 nights during our time in Nusa Ceningan. Seen as there are practically no restaurants on the island, we had the time to really explore aaallll the dishes on the menu (I'm not complaining trust me). The food is simple but very good (I wouldn't say excellent, that would be overstated). It is the perfect stop to eat something at lunch or dinner, when exploring the island! You'll eat with a beautiful view on the lagoon, it's really nice. Good to know: the pool is also open to people eating at the restaurant when it is not to crowded already from the hotel guests.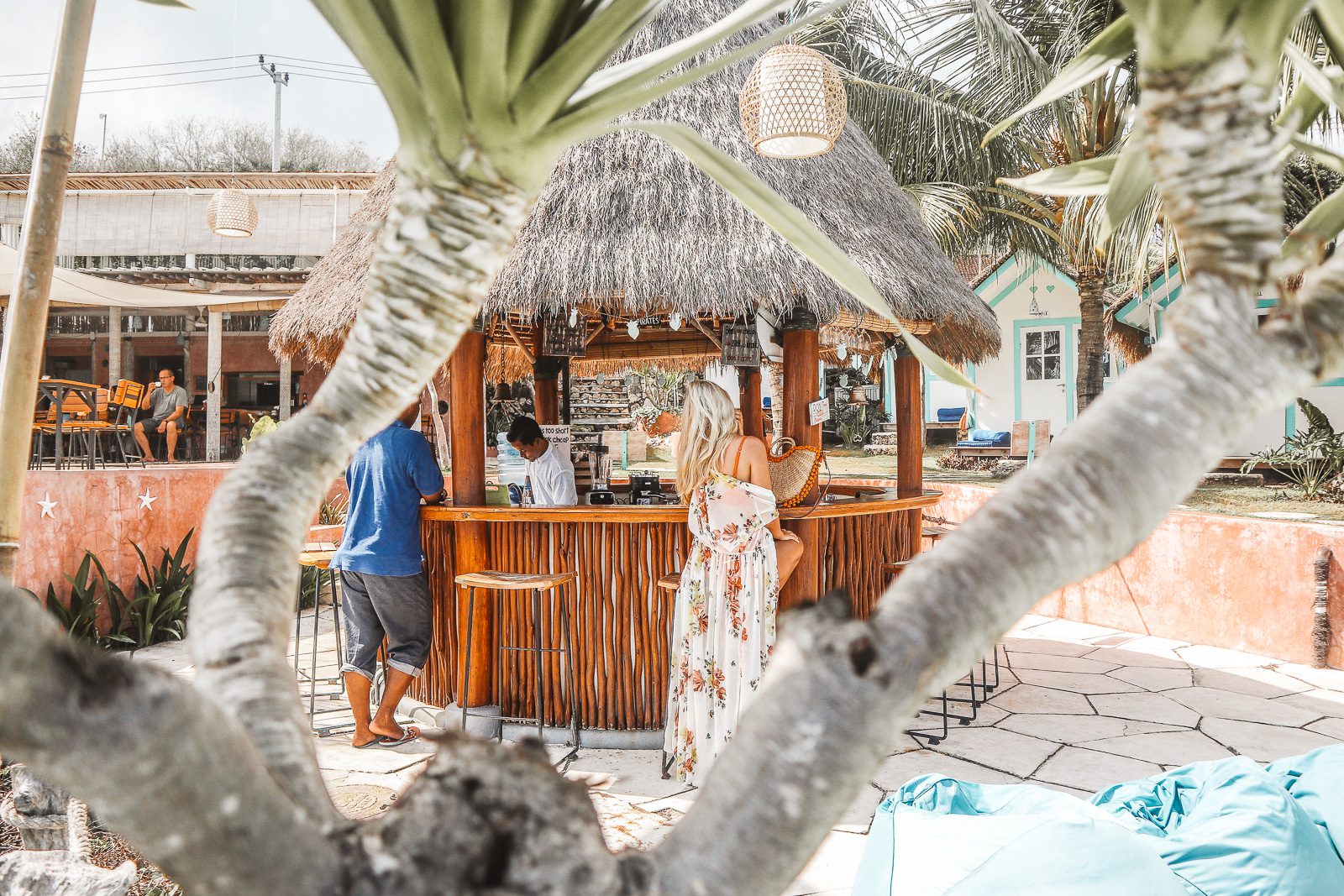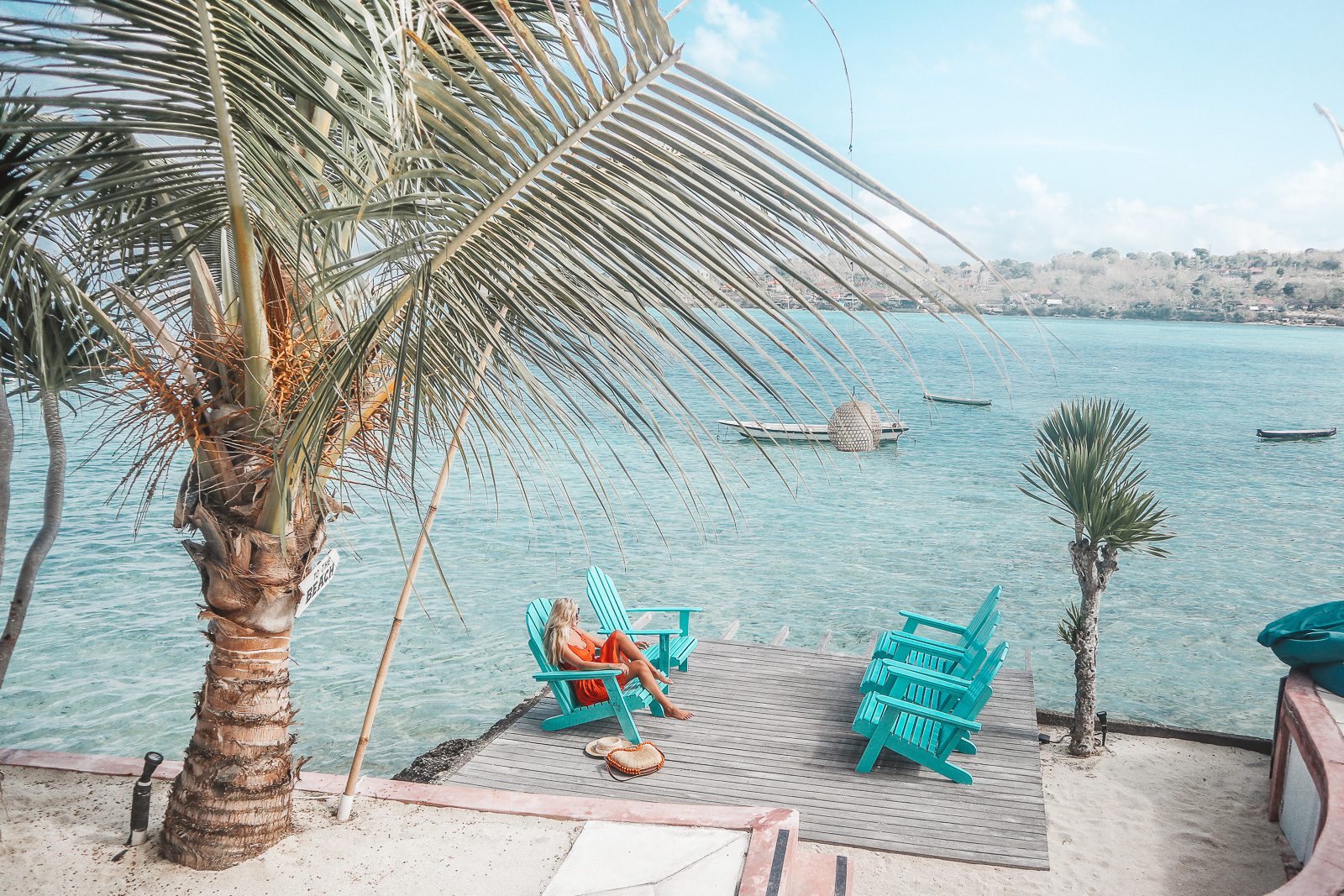 BETELNUT CAFE
@betelnutcafe ♡ Canggu ♡ less than 10€ per person
It is the only place where we didn't get a table right away and we had to wait for 30 minutes before being seated. For evening dining, the prices are really good! You can get many different things like European dishes, Indonesian plates,… everuthing on the menu is very multicultural. I had a wrap and my brother a burger. It was very simple food but really delicious! I recommend this place but think about booking ahead because it can get very crowded!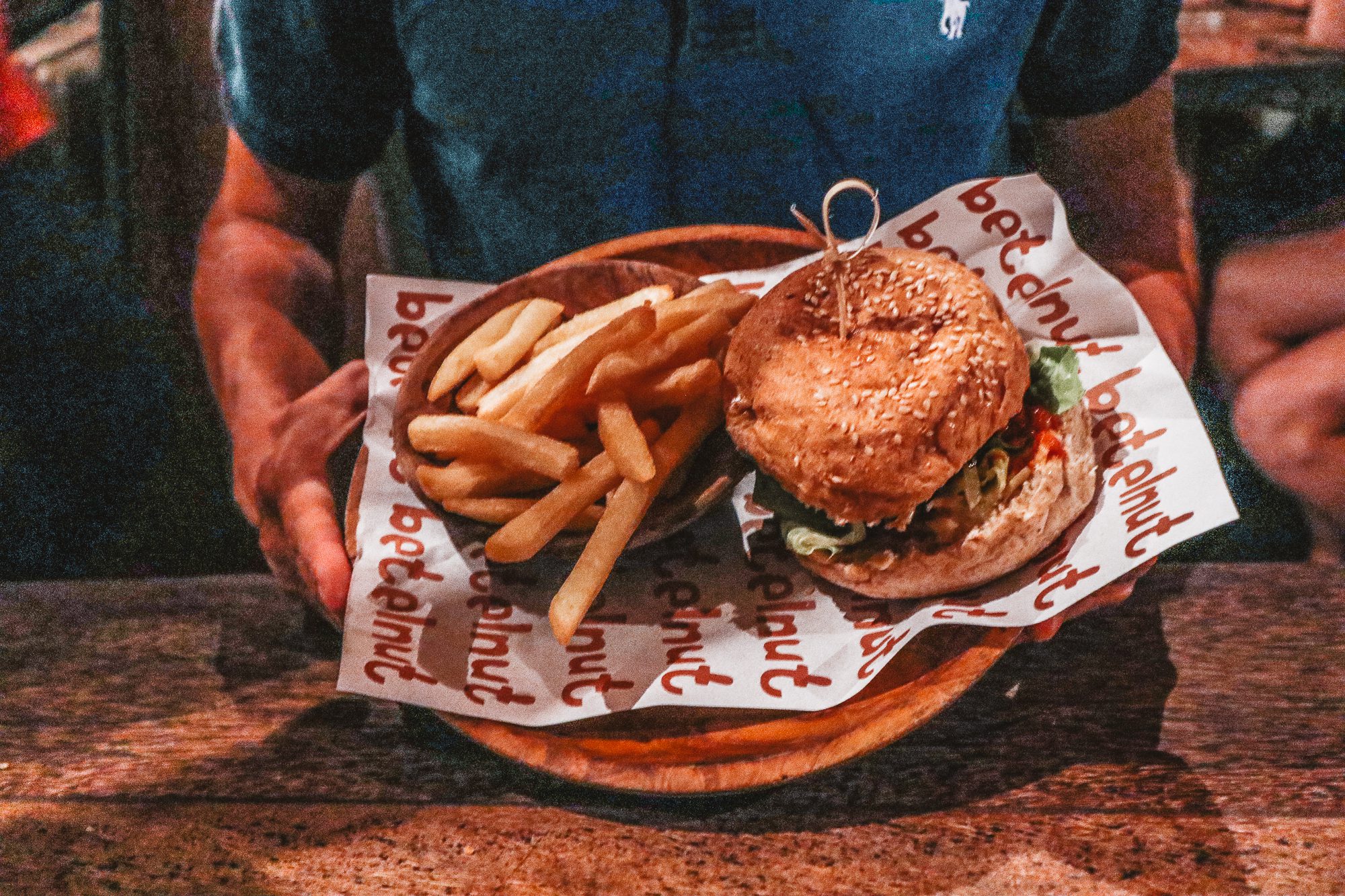 TUGU RESTAURANT
www.tuguhotels.com ♡ Canggu ♡  + than 30€ per person
TUGU is a hotel located near the centre of Canggu (by the beach) that owns two restaurants. We dined in the Japanese one, which is on the rooftop. It was truly an exceptional dinner. Prices are higher that what you usually find in Bali, and in Canggu especially. But this restaurant is more "gastronomic" than the others, which makes the prices very reasonable: we would pay hundreds of euros in Europe for the meal we had here, that only cost us about 30€ (without holding back)!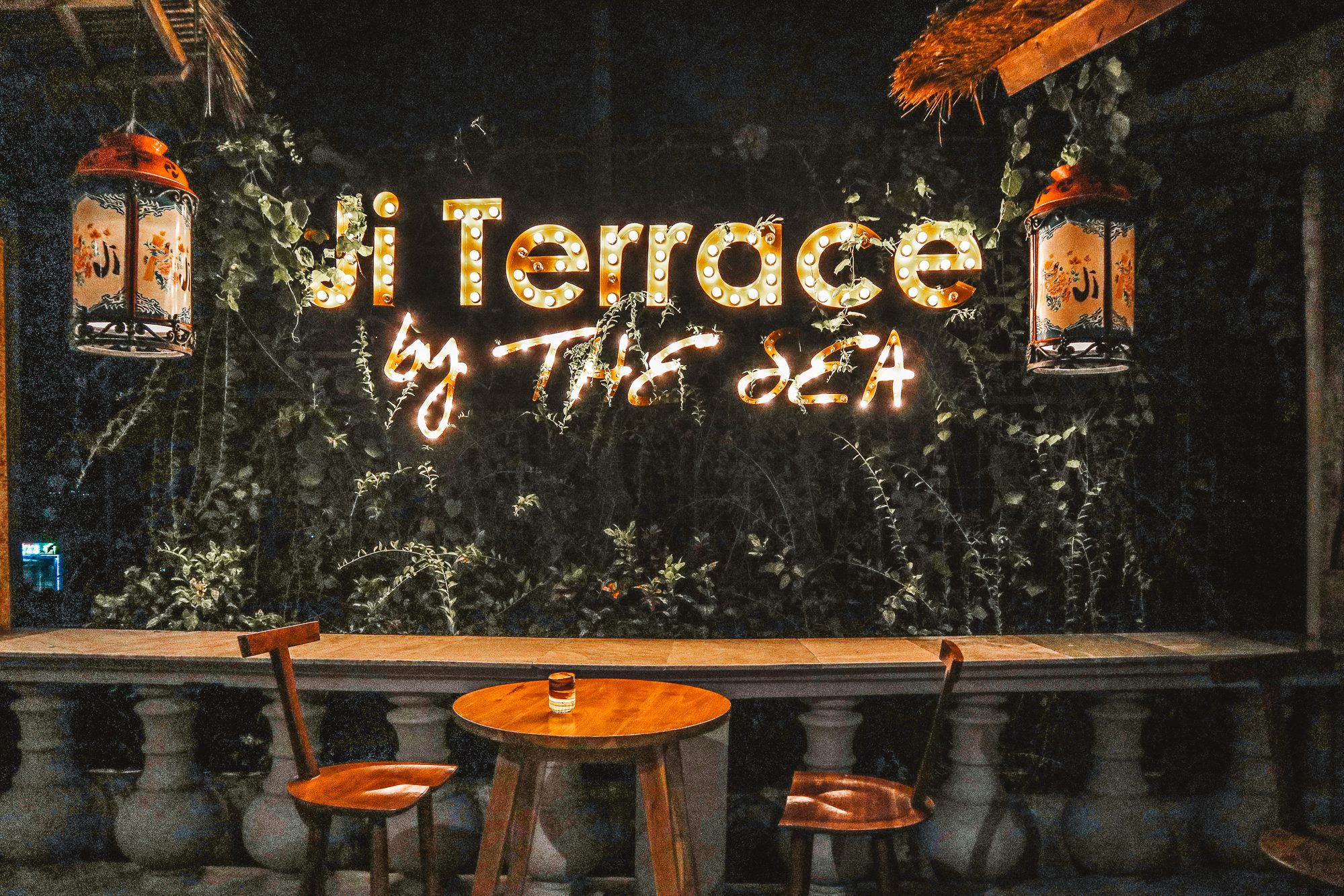 THE LAWN CANGGU
www.thelawncanggu.com ♡ Canggu ♡+ 10€ per person
This was one of my favorite spots to dine in Canggu! It is a beach bar and restaurant. The beach bar is really nice, there are tons of bean bag chairs and rugs on the floor with beautiful umbrellas. It creates quite the scenery! The vibe is really trendy and young, the music is loud and we love it! The place is great for having a bite while staring at the sun setting in the sea. It's not easy to get a place to sit to have a drink because people come early in order to enjoy the sun et the sunset afterwards. So ideally, have a bit and enjoy the beautiful view and the lovely food! Naturally, the exceptional view, comes with higher prices.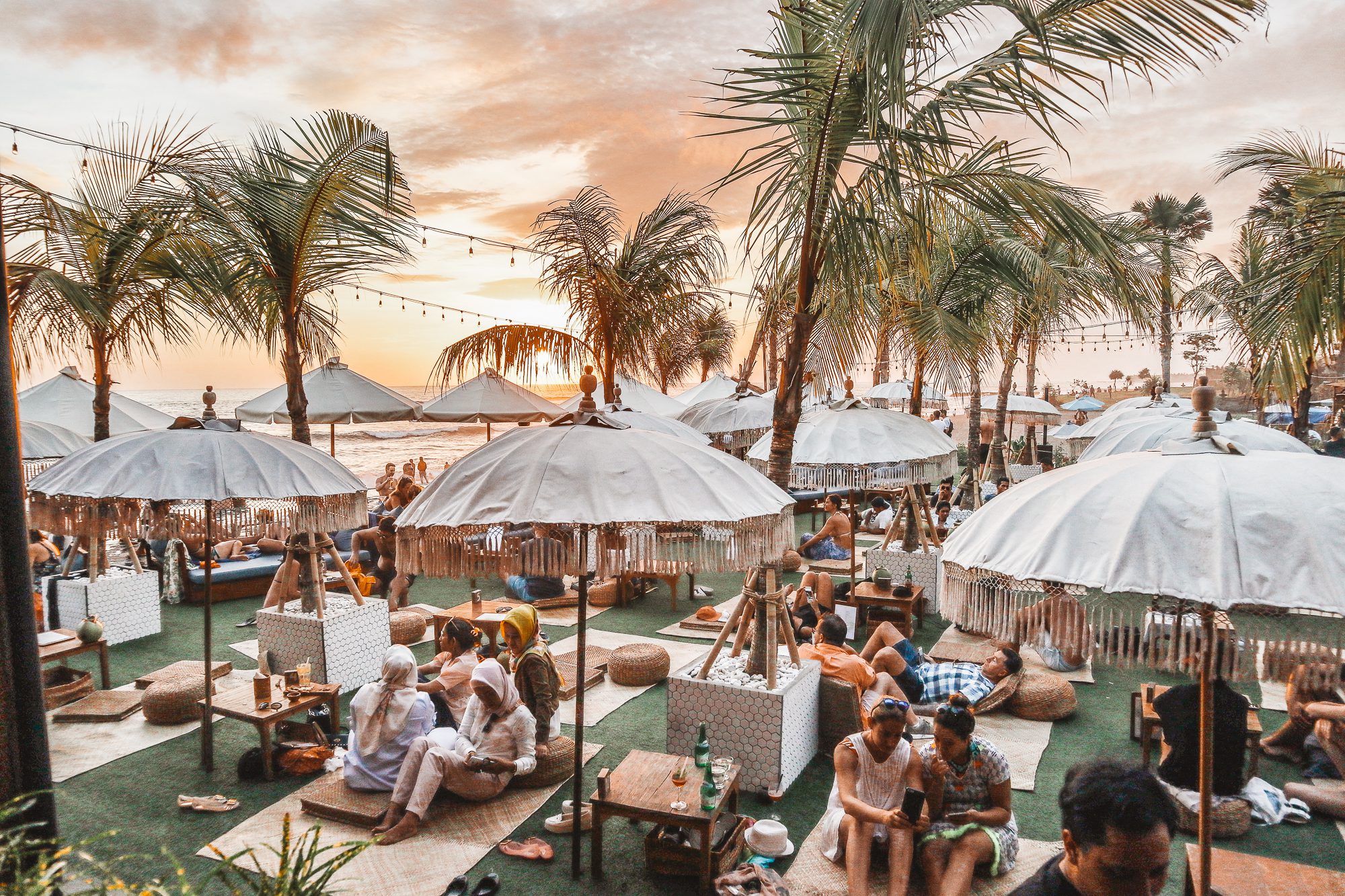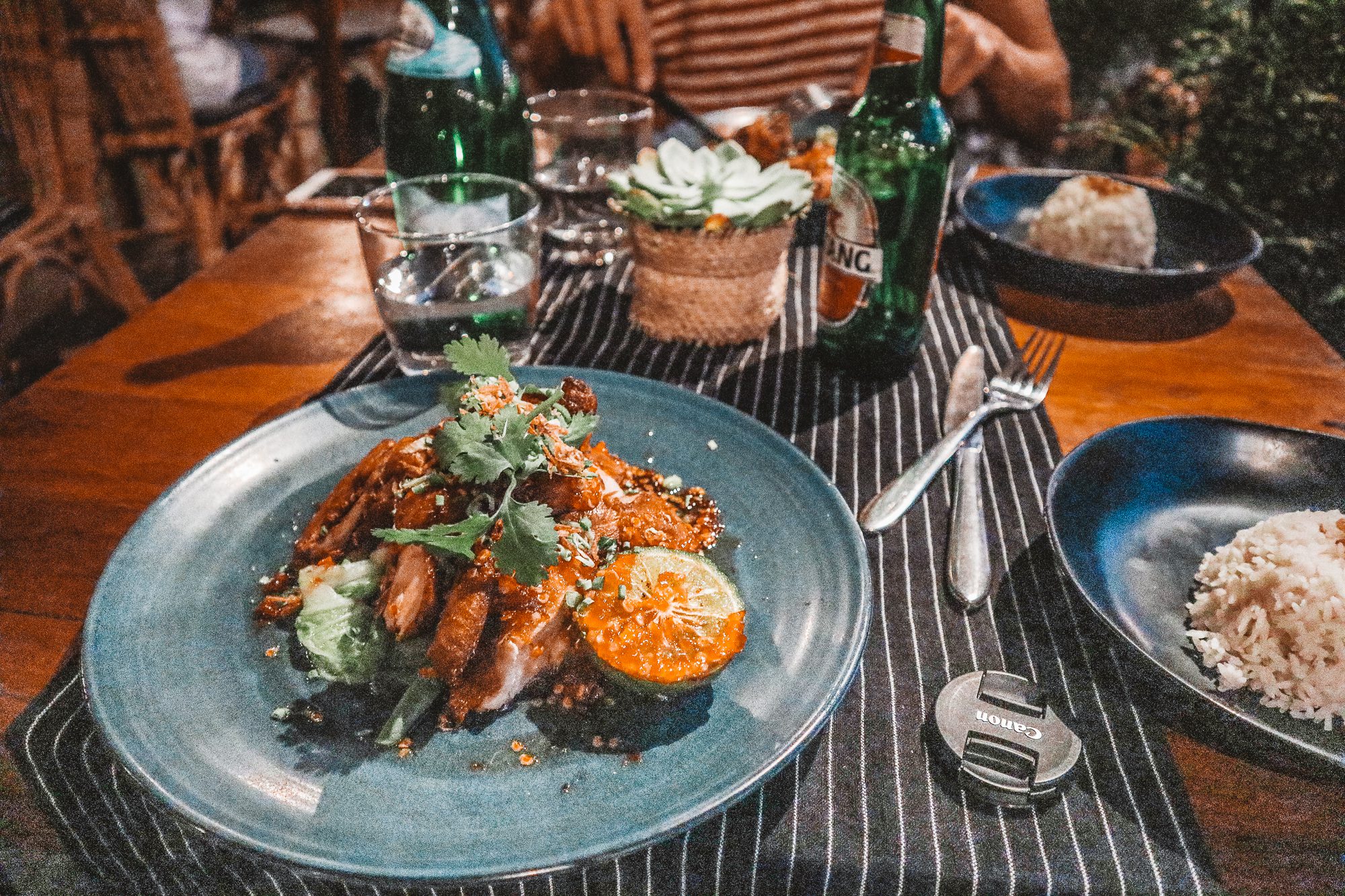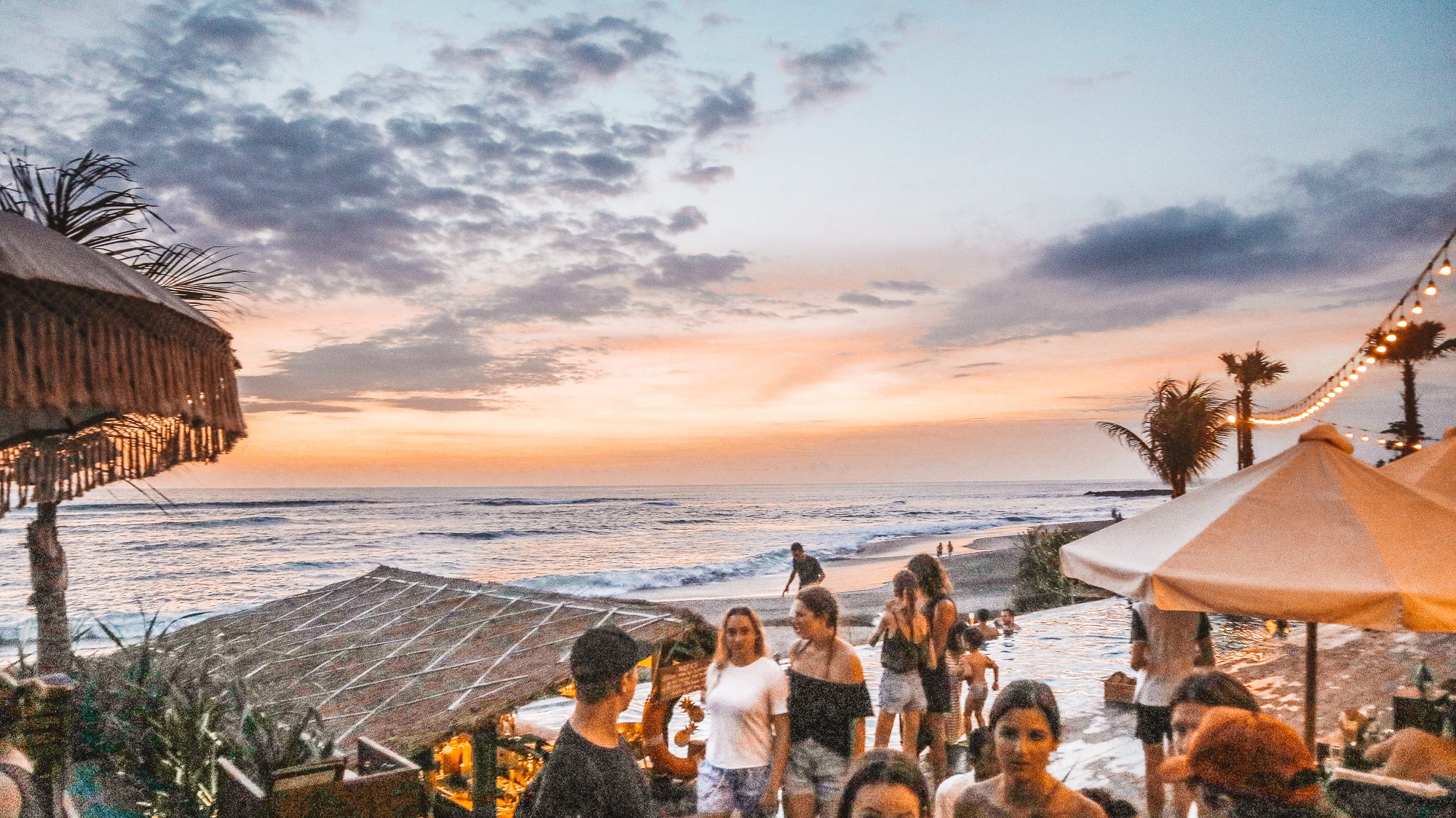 Hotel W Seminyak
www.wretreatbali.com ♡ Seminyak ♡ (to have a drink) 8€ per person
We stumbled upon this place a little bit by coincidence (even if it was on my TO DO list), we decided to lounge their on a rainy afternoon to rest our feet after a long stroll around Seminyak (no shopping, I promise). The setting is exceptional: a beautiful pool with tall palm trees, been bag chairs all around it and a magnificent sea view that makes you think you're in the ocean while lounging by the pool. In between the palm trees, there are stings of fairy lights that light up at night, which really gives an atypical feel to the decoration. To be completely honest with you, we didn't enjoy our stay here very much: skies were grey and rainy, my mojito was not good and we were really tires. The location must be really different at the end of the day when the sun is setting, the air is hotter  and with the little fairy lights all led up.
Nonetheless, even if circumstances made our stay here uncomfortable, we must admit that this place is gorgeous. The only thing I have to reproach to Seminyak, is that that it is a little too "Miami vibes". It's not very authentic and this hotel is a good example of it. The style and decorations are very occidental and personally, it's not what I'm looking for when I come to Bali. Of course, this is my opinion and I can understand that some people do like this (after all, it is the style of hotel I would love if it was in Europe).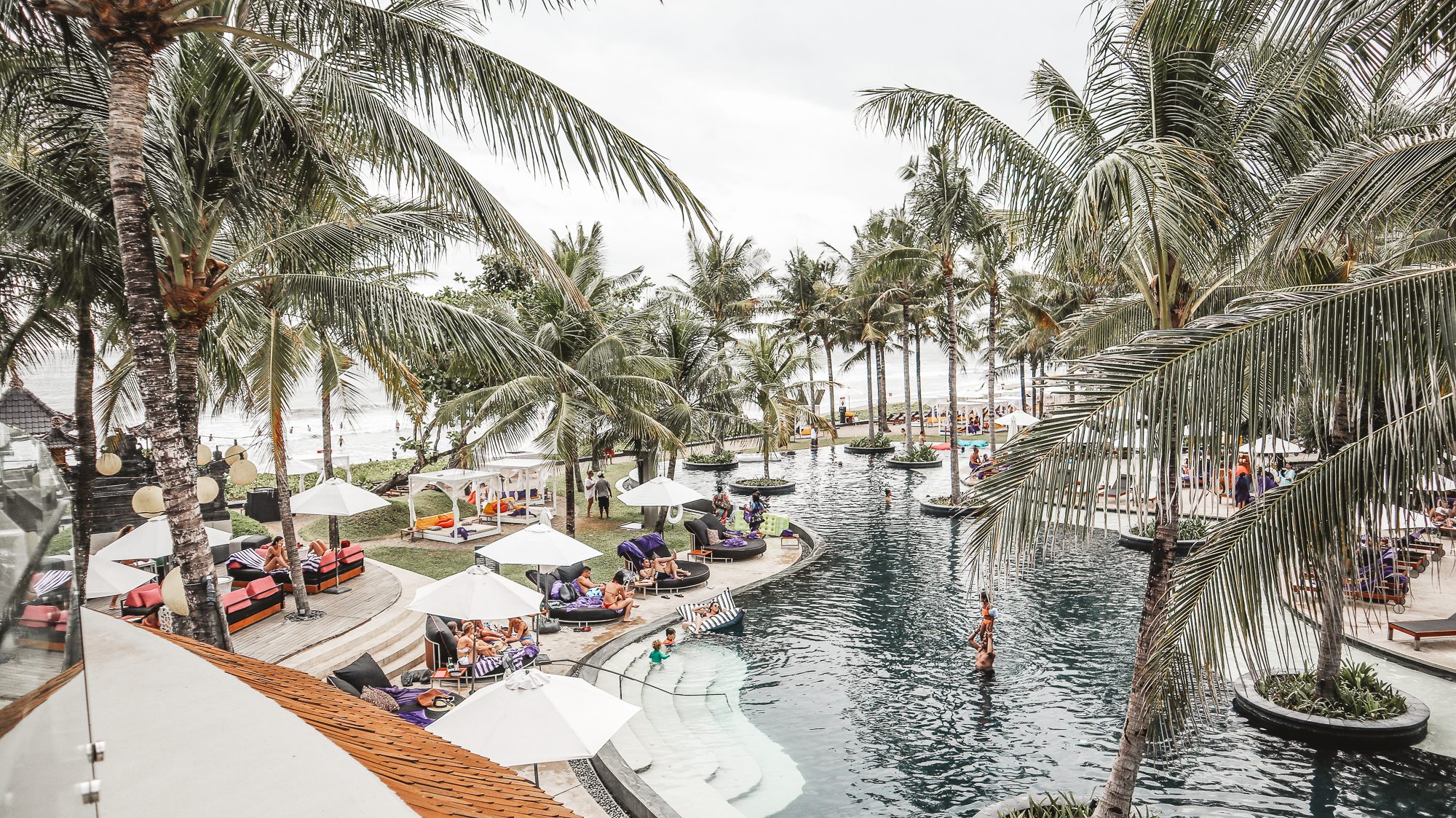 Pretty poison
www.prettypoisonbar.com ♡ Canggu ♡ (to have a drink) 2€ for a beer 
Okay people, always save the best for last, this is my ULTIMATE CRUSH!! This atypical bar plays music varying between metal and rock. You can have a beer while sitting around a pit (which is an old swimming pool) where skaters to acrobatic tricks. You feel like you're in an American Video game, it's incredible! The atmosphere is crazy and the show is assured. It's really a must-do if you're in Canggu.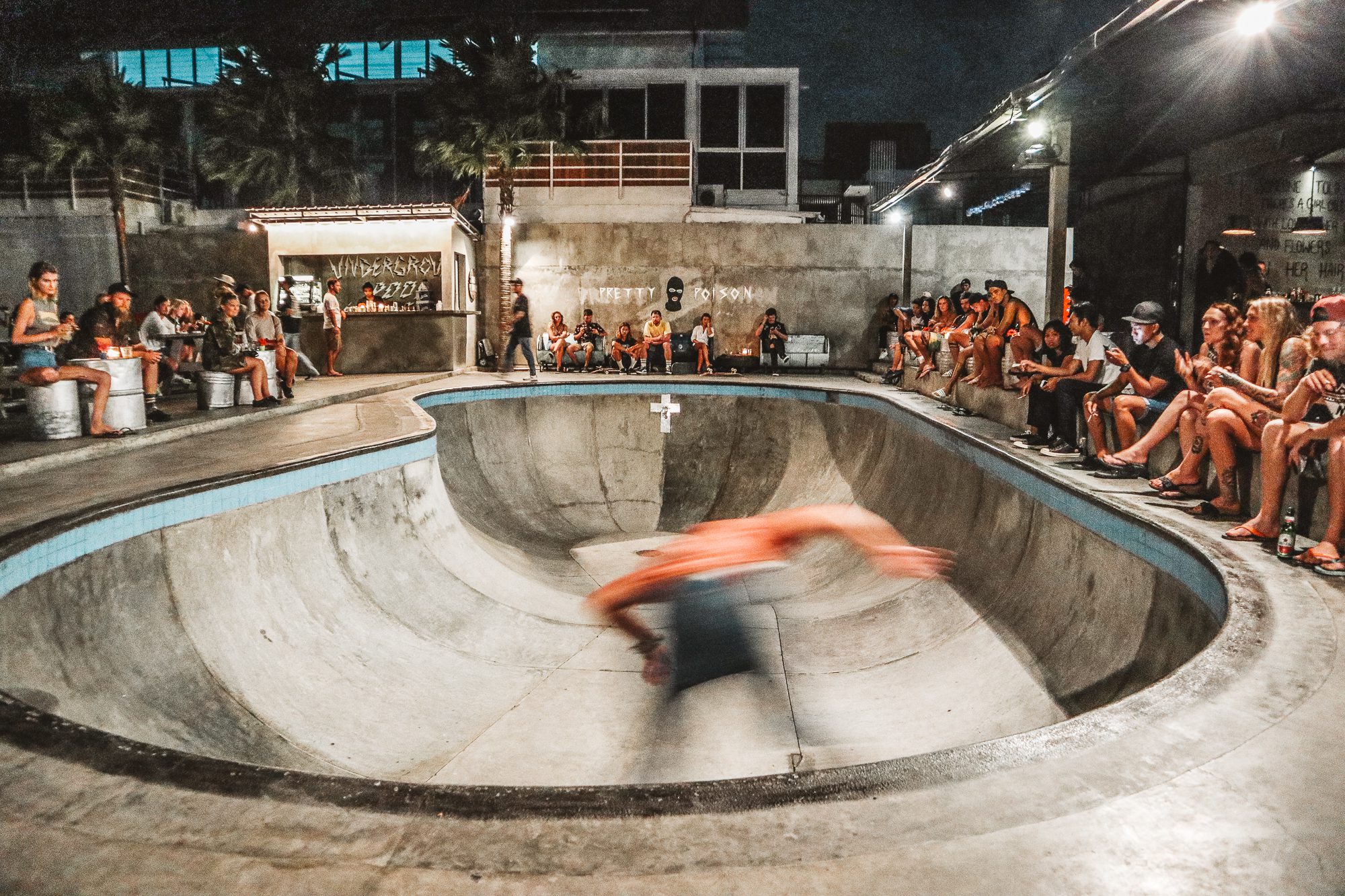 That was it for where to eat in Bali! If you have any recommendations, feel free to leave a comment or send me a DM on Insta! If you're looking for places to stay, check out this article I wrote about 10 exceptional AirBnBs in Bali! See you soon!