3 days in Ubud
Months we were waiting for this trip with Barbara. And that's it; we were flying off to Bali for two weeks of madness! For the first part of our journey we decided to go to Ubud. Here you can find every detail of our 4 days trip. Actually I've written this article as we went along so that you can find all the information. I hope you will enjoy reading it! Feel free to ask additional questions in comments. Let's start! 
We flew with QATAR AIRWAYS, one of the best companies to fly to Asia. Our two flights (respectively 6 hours and 10 hours long) went like clockwork. We were quite lucky. The planes were empty, so both of us could enjoy an entire row to lie down! We were a little bit anxious about the 8 hours stopover at the Doha airport, but we finally fell asleep on the airport seats like babies. We slept there until the boarding time. If you have such a long stopover, you should know that there are places specifically provided to lie down (it is called quiet room). Unfortunately, these are often crowded. You can also buy access to one of the airport's many lounges for 55€ and enjoy their buffets, showers and places to rest.
Once arrived in Bali, we met our driver (booked directly via our Airbnb). Although the price was quite high (400K), we didn't look any further to be sure to arrive at the right place (our Airbnb) and without any problems. We didn't want to take any risk since it was past midnight and the destination place was quite isolated. 
We withdrew some cash at the airport. Beware of scams when you withdraw money! Many ATMs are programed to hack your card. So be very careful where you withdraw money: check the dispenser and that everything is secure, check that the keyboard does not move, only go to official banks (where ATMs are fixed in the wall) and hide your hands while making the code. One more thing: if you fail to take money for the first time, go directly to another machine! Do not try a second time. It's no necessary to panic; you just have to be careful. 
You can also buy a 4G card at the airport, which is often recommended. Despite the price, it will assure you a secure transaction. Indeed, you need a passport to activate the card. If you don't have time, you can still buy it in town. The operator Telkomsel can provide you this type of cards. For my first time in Bali, I had decided to buy one card in a store for $30 but it had never worked! That's why this time, we bought our cards in a Telkomsel in Ubud for 110k and it worked perfectly. 
Our stay in Ubud
For these first 4 days of trip we stayed in Ubud. We choose an Airbnb (78euro per night for two) located 10 minutes by car from the city centre. It was really great! The breakfast they served was delicious, the staff was kind and the room ultra spacious and well decorated. The first problem was the toilets. It was not really « physically » separated from the rest of the room. There was indeed just one shower curtain to create some privacy. So, not ideal if you're modest… The other problem was the location of the stay. By taking an Airbnb a little far from the centre, we had to pay a lot for taxis because we didn't locate any scooter. But we found Dewa, who was a local driver (here you can find his phone number: +6281246496782). We called him for each return we had to do and we paid 50k to ride from our Airbnb to the city center. 
Speaking of scooters, it's up to you to see how you feel about renting one or not. The Balinese have their own way of moving. It is mostly the tourists who are doing it the wrong way and thus are real danger on the roads. They are dangerous for themselves but also for the Balinese people. 
It is important to know that people are driving on the left, that there is no highway code, and that you have to use your horn regularly to indicate your posture to cars. If you are confident, go ahead, but if you are not sure, favour trips with local drivers. It is much wiser (and more comfortable) even if the price is a little bit higher. Let's just say it's a little silly to break your face while you're on holidays! 

First day : relax and visit of the center of Ubud
For the first day we didn't plan anything special so that we could acclimatize and rest a little bit. We planned to stay at our Airbnb but naturally at barely 8am, we decided to go for a walk and visit the Ubud market. We were really impatient to discover the city! 
On the market, you can find thousand of pretty decoration stuffs and nice gri-gri's! Do not forget to negotiate prices. You can indeed divide by 3 the announced price. To convince the seller, you can divide the price by 3 and take 2 items instead of 1. They are often satisfied with this way of negotiation. Don't worry; you will not underpay them by negotiating. 
After this little stop, we walked around the streets to do some shopping. We ate at Suka Espresso where the lunch is really affordable and delicious. I highly recommend the address! 
We spent the rest of the afternoon at Folks, a pool bar located in the centre of Ubud. It is really nice! We booked sun loungers (75K/pax + 5K/pax to access the pool) via their website in the morning. Those sun loungers are quite comfortable deckchairs but not that much exposed to the sun. You can also book beds that are much more beautiful and placed around the pool. Because of the limited number of beds, you have to book it in advance. To conclude, the place is very cool and quiet, the bar beautiful, but the place is not that much exposed to the sun (not a place to tan).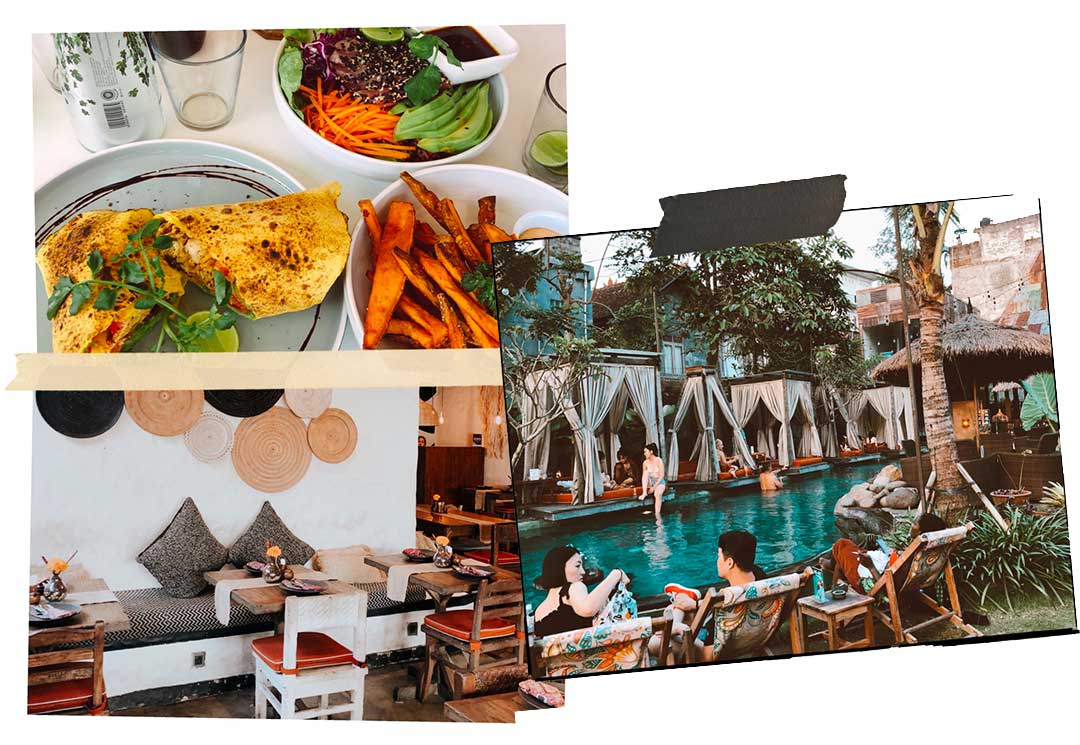 Second day : tour of the waterfalls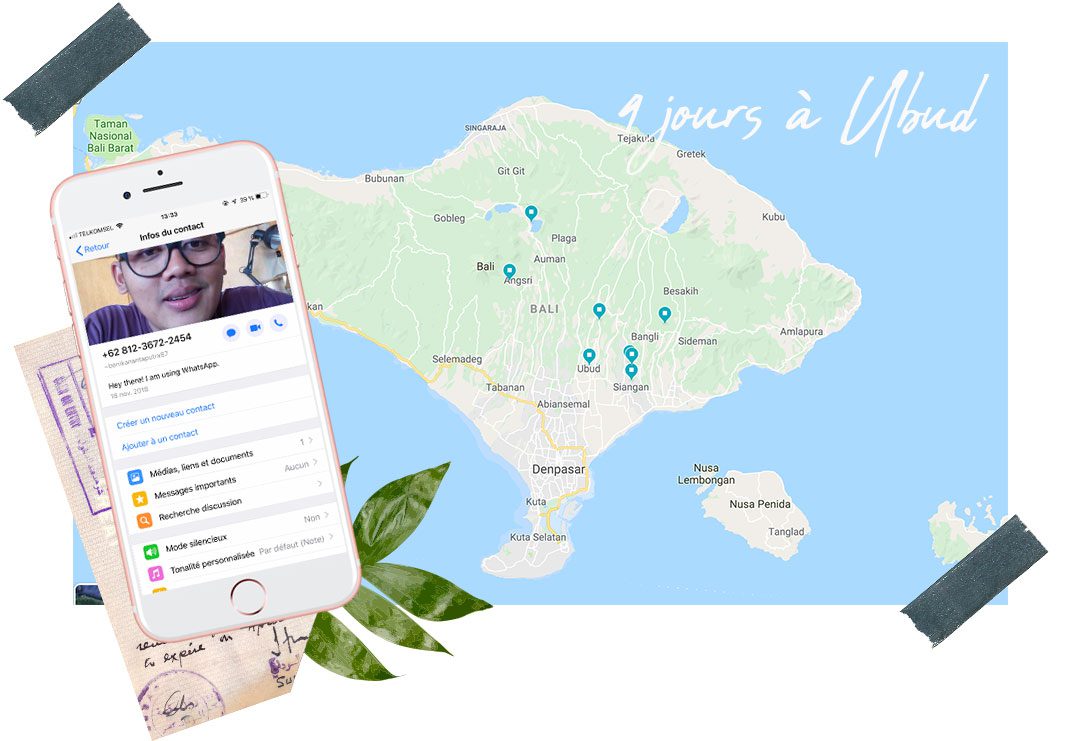 At 8am we left our Airbnb for a tour of the waterfalls in the Ubud region. We booked the activity via Airbnb (hidden gems) for 1100k. In this price, entrance tickets are included and you will be able to enjoy some gifts from the driver such as fresh water, fresh towels and small snacks. If you decide to go on tour, ask for Benik. He's really nice and speaks English really well! You can also book Benik directly by contacting him on its phone number (+6281236722454). It will certainly be cheaper than via Airbnb. 
Visiting the waterfalls is quite tiring because you have a lot of stairs to go down and up to get to the waterfalls! At the end of the day we clearly no longer felt our legs as good sportsmen that we are! 
First waterfall: Tukad Cepung waterfall (15k/pax)
Tukad Cepung waterfall is a magnificent waterfall hidden in the jungle and surrounded by rocks. Everything is sumptuous when light passes through the jungle and the hole overlooking the waterfall. Make sure to wear shoes that can be wet, as you will have to walk in the water to get to the waterfall. Tukad Cepung waterfall is one of the most famous waterfalls in Bali, which obviously attracts a lot of people (especially in high season). This was a little bit sad because it spoils the beauty of the place but it still remains a must do! If you come out of season, it's much quieter apparently.
Second waterfall: Pengibul waterfall (15k/pax)
A much less known waterfall, a little less impressive but where you can be much more in quiet. That's why we stayed there for an hour to enjoy the water and the magic of the place. If you are looking for a quiet waterfall where you can relax, this is the ideal place!
Third waterfall: Tibumama waterfall (15k/pax)
It's a waterfall much more impressive than the others. This is because of its height and the power of the falling water. At this place you can really swim. The swimming is very pleasant but be careful not to get too close to the waterfall. Indeed, coconuts fall with the water and can knock you out! 
Fourth waterfall: Kanto Lampo waterfall (20k/pax)
Last but not least stop after having already climbed 57 floors (according to the iPhone): the Kanto Lampo waterfall. Unfortunately, fatigue was revealing itself and once again, there were a lot of people. It discouraged us to go down swimming and see the waterfall more closely. Too bad because the show was sumptuous! 
Then we went back to the hotel pretty quickly (we slept the whole way so I don't really know how long it took us to get there). A small 1-hour massage quickly gave us back our strength. It was perfect to finish the evening! Later we had dinner at the Dumbo, a slightly off-centre Italian restaurant. Heart stopper because everything was really delicious! But a little surprise was waiting for us, prices. This was the first time we were astonished by the prices in Bali. Indeed, when we received the bill, we noticed that taxes were not included. We had to pay 15% extra charges. At the end, we paid 25€/pax which is a bit expensive for the region. But we had no regrets because we ate like kings. 
We then decided to go back to the centre of Ubud for a drink. The Dumbo restaurant is not in the centre so you have to find a means of transport to go back to the centre of Ubud. It can be a scooter or a driver (if you don't necessarily go back to the centre). If you are looking for drivers because yours is not available, you'll find them in front of the restaurant. We had our drink at Night Rooster, a delicious cocktail bar! Barbara took the "pig share" (130k), a cocktail made with rum, orange, pimmms, mango, passion fruit and ginger beer. It was really incredible. I had a glass of red wine, which was very good although maybe a little bit too fresh and especially expensive (159k per glass).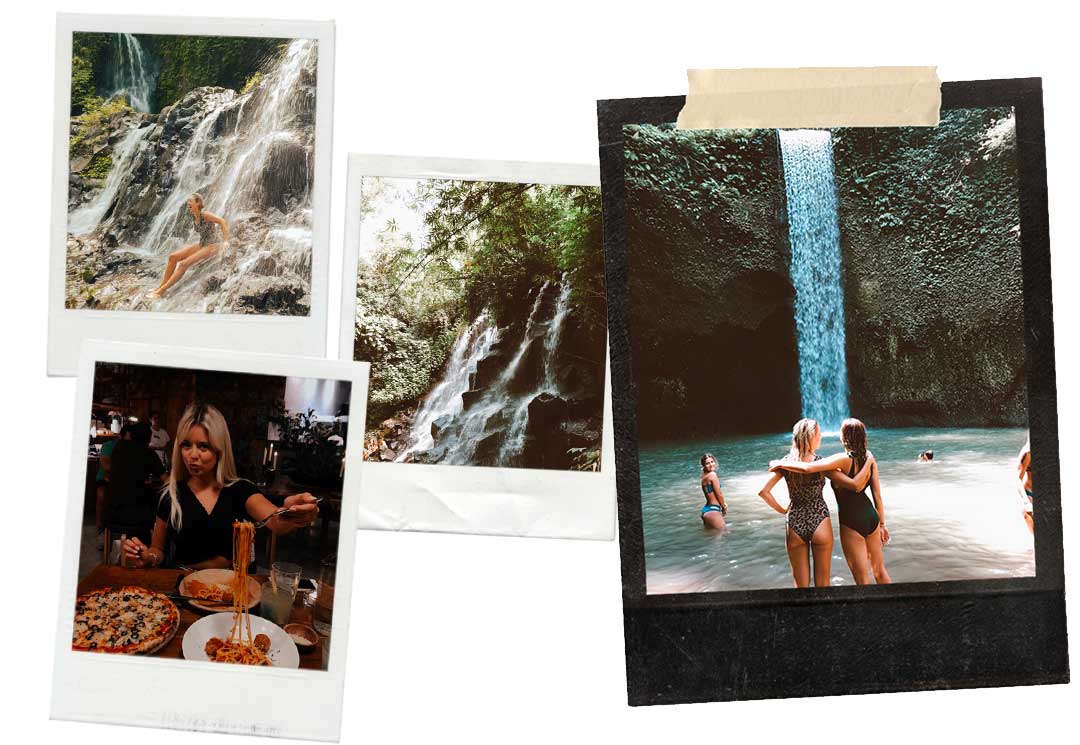 Third day : rice fields and visit of temples
Early departure with our driver that morning to visit the rice terraces! 
For this visit, we called on the driver of a friend who often comes to Bali. Its number (+6282144861400) is really useful if you wish to make few days of visit on the Ubud side. As he was not available the day we wanted to go on our tour, he directly recommended another driver. This driver (+6285903717967) didn't speak very good English but was very friendly. We paid 700k for the day with gas included, and we drove almost 8h. 
To start the day the best way, we make a quick first stop at ZEST. It is an organic restaurant overlooking Ubud. The place is really wonderful. A small shot of beetroot, lime and cinnamon, mango pancakes, dragon fruit, caramelized bananas and chocolate sauce, some avocado toasts and vegan omelettes made from ginger, sweet potato, coriander and spicy cabbage, and we were ready to face this new day (It was 346K for two for a king's breakfast more than copious. We cracked). 
First stop: Jatiluwlih rice terrace (85k for two + parking for the car)
Probably the most impressive and largest rice terraces in Bali. A must do for sure! These rice terraces are protected by UNESCO as a World Heritage Site and we understood why as we got close from these. Different walk itinerary are possible to discover the rice terraces. But do not forget sneakers because it is big difference in level! As usual, I was in a flip-flop and I regretted it a little. Although you can admire in the middle of the terraces a beautiful sculpture of the goddess protector of rice. 
Second Stop: PURA ULAN DANU BRATAN

 
We drove another 40 minutes to the famous temple. We arrived there at 2pm, which is a little late to visit this temple. As a result, there were a lot of people there. If I can advice you: start the visit as early as possible. This will allow you to avoid people but also to have a clear view of the mountains surrounding the temple. Clouds fall during the day and cover the lake in mist. 
Feel free to rent a small boat with a driver (100k) to get closer to the temple and in this away move away from crowd concentrated on the shore. In this way, you will be much closer to the temple to admire it and take a picture of it! You can also rent speedboats to take a ride on the lake. But it seemed more like a ride to do fast acrobatic tricks on the lake than ta way to admire the surroundings. 
Third stop: Tegallalang rice terraces

 
We then left for Ubud. After 1h30 drive, we arrived at the rice fields of Tegallalang which were really disappointing (on my point of view). I first discovered it last year during the rainy season and I could notice that during the dry season the landscape is much less beautiful. But I think this not the only reason for this change of aesthetic. The aspect of the rice fields has indeed totally changed since I visited it last year. Everything has been adapted to tourists to allow them to walk easily. Now there are concrete paths between the rice fields to circulate, giant swings everywhere, or even funambulist bicycles overhanging the rice fields. It was like …. Disneyland in real life ! 
By the way, be really careful with scams! Above rice fields, people will try to sell you green tickets to enter the terraces (at the price of 10k/pax). But actually the entrance is totally free. Then, from level to level, "couriers" will ask you for donations to « maintain the terraces ». I doubt about the honesty of these people by looking at the state of the rice fields. Anyway, we gave 2k for both of us but feel free to give what you want! 
If you come during high season, this visit does not worth it. I would recommend you to visit the terraces of Jutilawih instead. But if you are in Ubud during the low season, the smugglers are no longer present, fields are almost free from tourists and vegetation is much more beautiful. So it is more interesting to go there during the low season. 
On the road leading to the terraces (rayan adong) there are a thousand of pretty shops. This is where products sold on the Ubud market are produced. Prices are lower and the choice is much wider! I recommend you to stop on this street if you want to do some decorative shopping. 
Evening: Bonito restaurant (440k)
In the evening we ate in the centre of Ubud. We went to Bonito, a very central restaurant. It is quite small and sooo cute! I ate delicious Brie and honey toast. Barbara for her part took an incredible dim sum soup. Finally each of us had a burger. To die for. I really recommend the address! 
Our stay in Ubud ended on this note. We left the next day for Nusa Ceningan. I will write an article about this second part of the stay later this week but you can already find the article from my first stay in Nusa Ceningan here!