Coachella: how was it?
Hello girls! Today I'm here to tell you about my experience at Coachella. This article contains all the deets and a recap of all my looks during the festival that I attended last month. It was a crazy weekend in the heart of the most trendy California desert! I really loved this experience, and I cannot wait to repeat it one day.
First things first, let's talk about my experience at the festival. I must admit that we were not super organized and that I kind of  regret that. We lost a lot of time on the road, in the queues, because of our lack of organization. Since my girlfriends and I booked this trip to Coachella at the last minute, all the accommodations around were full. We ended up in a little chalet at 1h30 drive from the festival. The place was really cool, but losing 3 hours a day driving was extremely tiring, especially since we were in the mountains, so the roads were quite dangerous and complicated. So first little tip, which I will apply myself if I go back, is to be organized and book your stay in advance! It is really important to book your accommodation in Palm Springs in order to be located in the area of the festival (even if from there, you still have a 40 minute drive to the festival grounds).
For our trip, we rented a car with Sixt, a popular rental service. Our car was amazing, we even had the pleasant surprise of being upgraded. Having a car in the USA is essential, but as far as the festival is concerned, I will not recommend driving there even if you rented one for your trip. Hundreds of shuttles are available, and taking a shuttle is a thousand times faster than getting back to the car park and trying to get out once the festival is over.
Coachella is great, but you have to queue for hours for everything! It takes about an hour (or two sometimes) to get in or out of the car park, then you have to walk a big twenty minutes to the festival, and the first time you have to queue extra long because you need to scan your bracelet. Then you have to queue again to pass a security check. If you wish to consume alcohol, you must again queue to have a bracelet indicating that you are over 21 years old and are therefore old enough to consume alcohol (every day, the bracelet is valid only one day). Then if you want to eat or drink, it's the same story. In the end most of your time at the festival is to wait, wait & wait some more. And this under the bloody sun of the desert! It's quite tiring and even though it did not take anything away from the fact that I spent an amazing weekend and saw a lot of my favorite artists, I still wanted to talk to you about it to show you the "real" side of it. Since we had not calculated these hours of waiting to enter the festival, we missed several artists each day that I would have absolutely wanted to see, which is rather sad.
For the rest, the concerts were obviously fabulous, the timings respected, and the sound was incredible! I rarely heard such good sound quality at a festival, it was truly magical. Well done, Coachella! The food is excellent, and the atmosphere really good, although I must say that it is totally different from the atmosphere that we have at European festivals. Americans are much more "calm" in front of the scenes and the fact that alcoholic beverages can only be consumed in specific areas is quite bizarre, but understandable given their policy about alcohol.
Although we had a lot of hiccups on the organizational level, I remember all the positive moments and memories created and at least I know what I should organize differently if I have to go there again one day! It was also an opportunity for me to discover the West Coast of the United States on which I had never set foot before, and I absolutely loved this trip through California.
Recap of my festival looks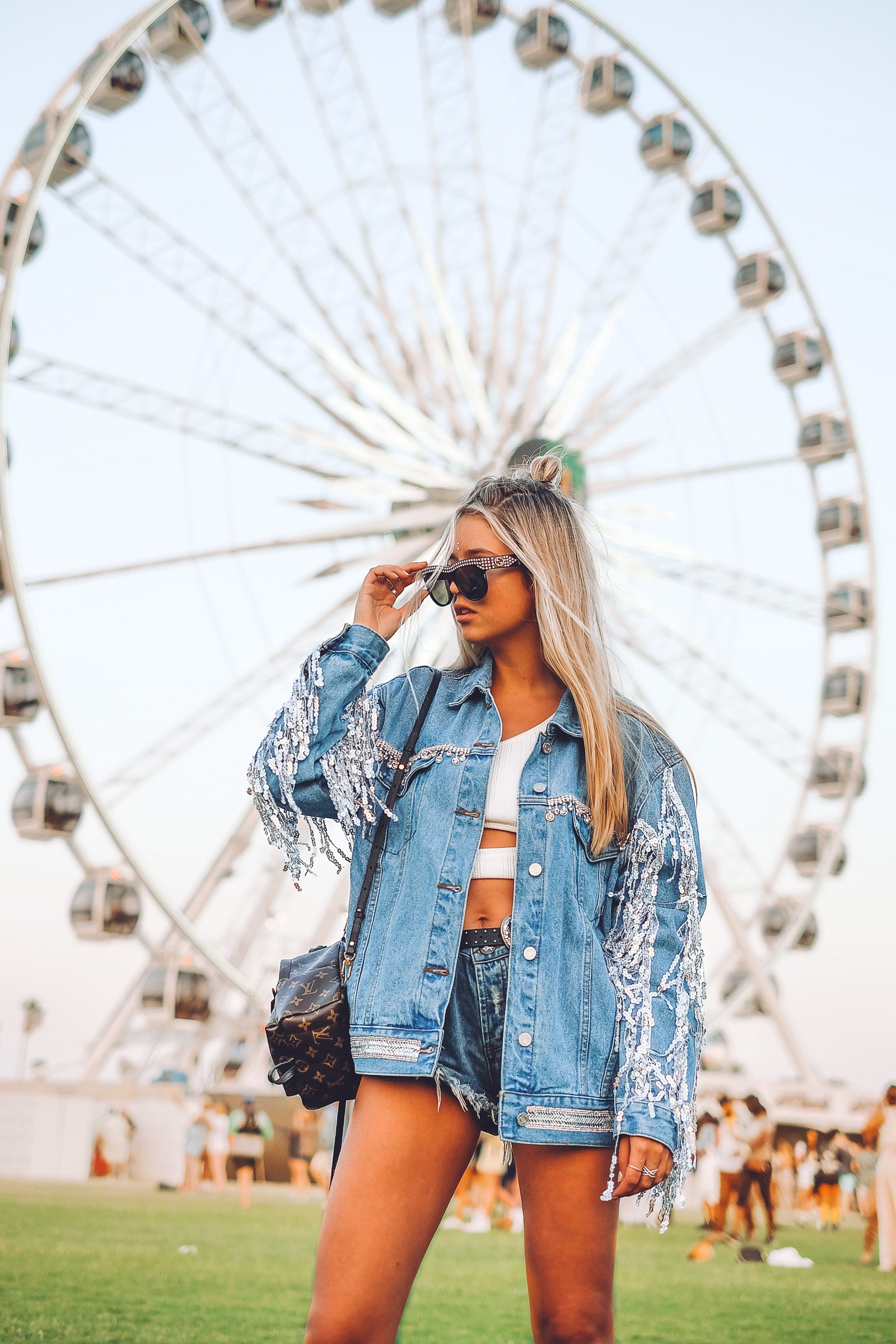 Here is my first look – and my favorite – of the week-end! A total jeans look with an insane ultra sparkly jacket. As a top, I wear a bikini top from Na-Kd, my shorts are ONE TEASPOON from several years ago. They are a little too big for me, so I wear them high-waisted with a belt. The jacket is from Missguided (there is -40% site wide btw!). As accessories I wear a pair of Gucci sunglasses and my little Louis Vuitton Palm Spring backpack!
[show_shopthepost_widget id="3129255″]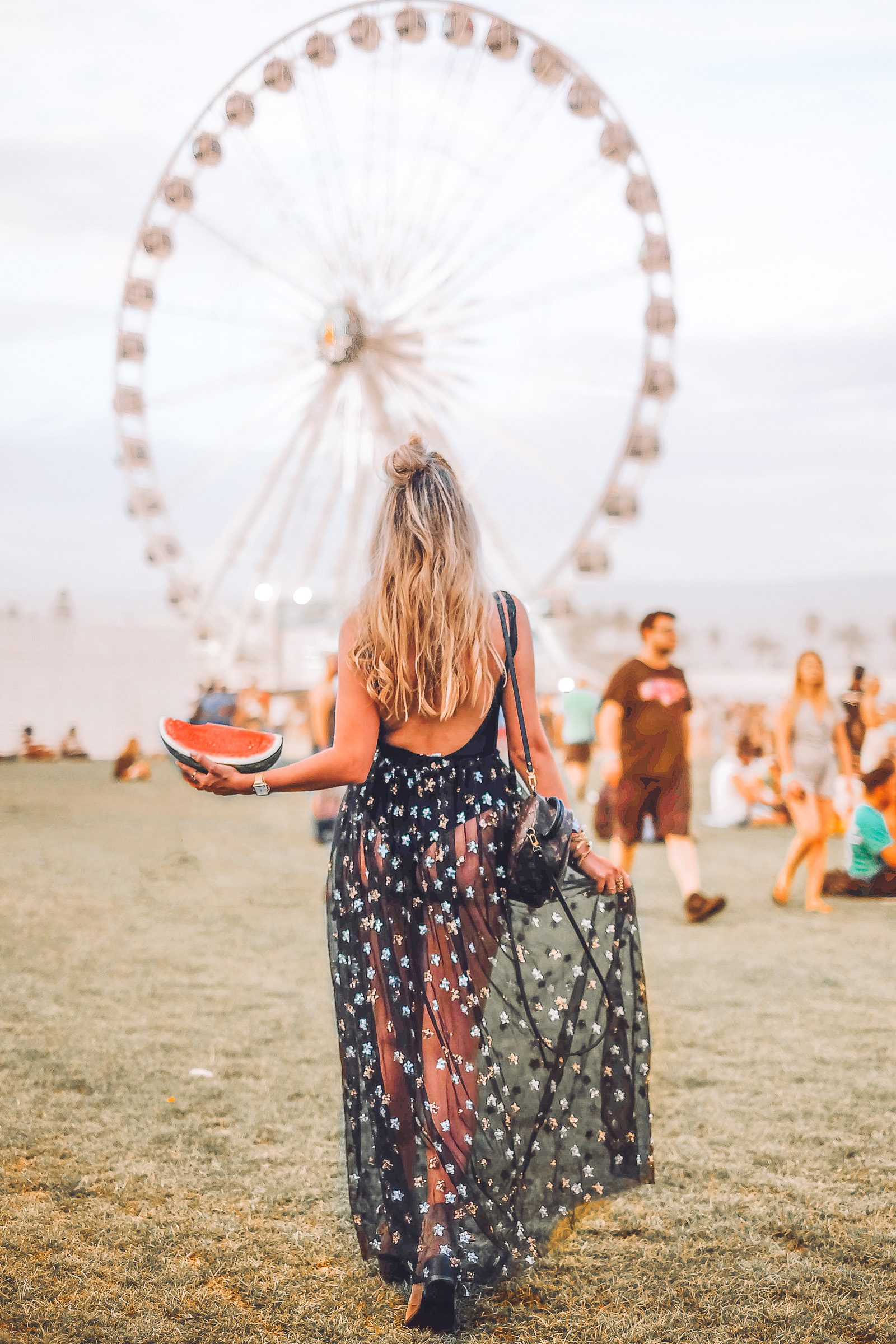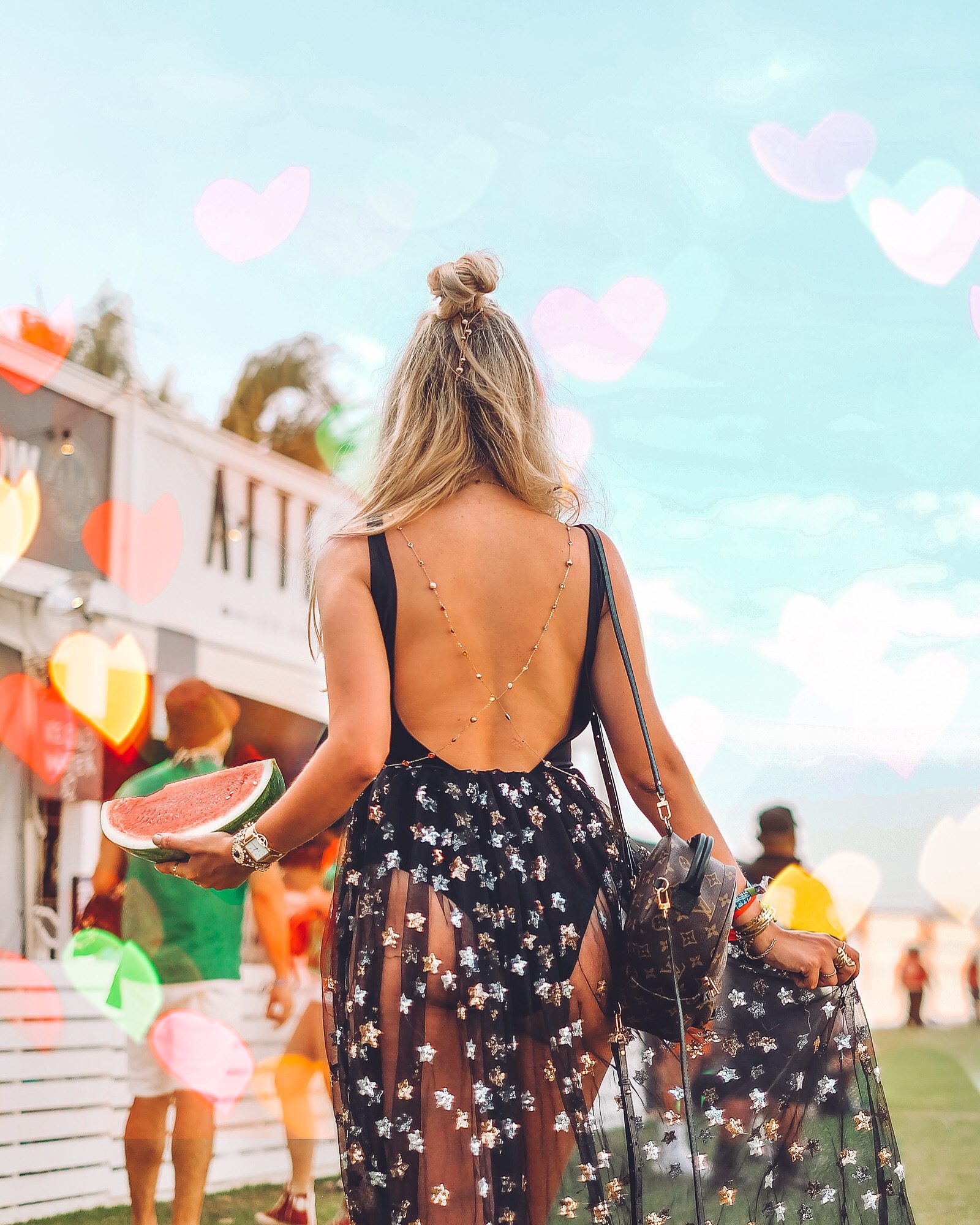 For my second look I opted for something a little more daring! I'm wearing a swimsuit like a bodysuit (from Asos, old co) and my skirt is and old model from Boohoo (still available) from which I cut the under-skirt to have only the tulle. As an accessory I'm wearing back jewelry that I had created with my Swarovski REMIX bracelets, which  are bracelets that you can combine to create whatever you want. In everyday life, I wear them as bracelets or necklaces. My friends had assembled theirs in head jewelry, a great idea too.
[show_shopthepost_widget id="3129651″]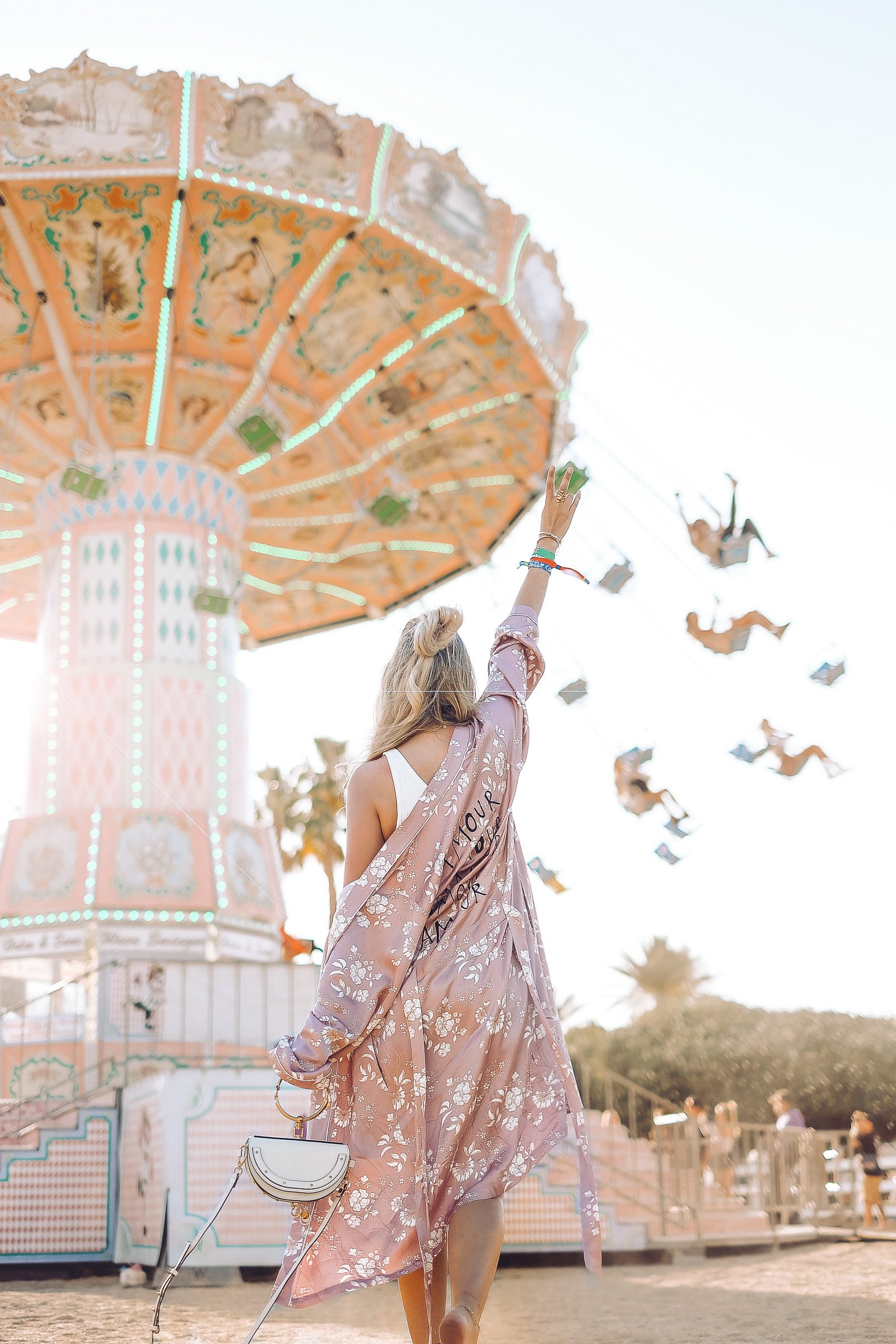 Here is my third look! I did not wear this look for Coachella, but for the pool party organized by REVOLVE, an ultra VIP night where I had the chance to meet dozens of celebrities and most of my favorite bloggers (I was thrilled!). Unfortunately I can't get my hands on the photos we shot from the front (I'm super bummed) but I wore the same top shirt and shorts as in my first look (total jeans look) so it's okay! This awesome kimono is from the e-shop BY MAHE (a gem, I really recommend you to take a look). I'm also wearing my new favorite bag of the moment: the NILE from Chloé! I was skeptical when I bought it, but I actually wear it all the time. It is available at Irina Kha, in Liège (a shop I'm talking about in this vlog if you're interested).
[show_shopthepost_widget id="3129703″]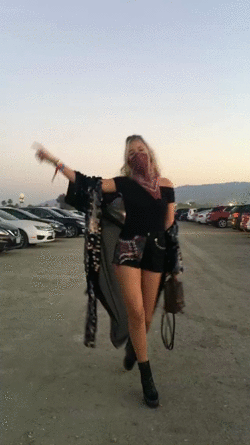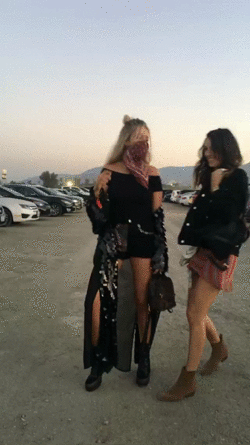 Here is the fourth look I wore! A rocker look that I also loved a lot! Sorry for the quality of these mini videos but unfortunately I couldn't properly shoot this look because it was already dark when we arrived at the festival. The headband on my mouth is not for style (even if it looks kind of rad), you should know that Coachella at night is super windy and a cloud of dust brushes the festival grounds, the air is almost unbreathable ! It is essential to have something to protect your mouth or your soar throat will kill you the next morning.
[show_shopthepost_widget id="3129713″]
I hope you liked these looks! Don't hesitate to tell me which one you liked best on here or in my Insta DM's! Kisses xx
Enregistrer
Enregistrer