Okay, I know Fall is here, I know Summer is over, buttttttttt I had these beautiful pictures from my last trip to Italy. They're all cute Summer looks and I didn't know what to do with them: I didn't have enough pictures to do a full-on outfit post, but they were just so pretty I had to share them with you guys! So, I decided to make some sort of a collage, meaning showing the looks and places in the form of a "diary"! I hope you like it, let me know below or on Insta!
While I've fallen in love with Italy at a young age and traveled up and down this country a long time, I never set foot in Portofino! This part of Italy is known for its luxurious villas, its emblematic hotels and for its ultra high-class clientele. I was expecting an overrated, in your face, authenticity lacking region, in the same sense as the French Riviera with its unpleasant visitors. But, fortunately, I discovered it was just like the other places in Italy: combining simplicity, luxury and refinement, Portofino is just as lovely as any other little village in Italy. I must say, I've rarely seen such beautiful landscapes in my life. What do you know, no need to travel to the other side of the globe to see magnificent sceneries! Among the things that amazed me during my stay were the little villages clinging to the rocky side, rocks plunging into the ocean, lush greenery and houses of so many different colors. I highly recommend renting a boat for the day in order to discover the area from the sea, because this is where the scenery is the most impressive (plus you'll get to see all the celebrity houses like the Armani Villa, the Dolce & Gabanna estate…). It's also the only way you'll be able to access the Fruttuoso Abbey (you can walk several hours for the more courageous of you). In this natural park, you can go diving and admire the famous statue of Christ that resides on the bottom of the sea. It is said the statue protects divers, it is rather impressive! For our part, we rented our boat with the company "The Green Boat" and we really had a wonderful day on board.
For accommodations, we stayed at the Imperiale Palace Hotel. Well, I must admit, after a big exam session and the disappointments that followed, I really craved some much needed rest, so I kind of overdid my budget on this one. No regrets there! The place is sumptuous, I have rarely stayed in such a beautiful hotel. If you have the opportunity – and the budget – I strongly recommend splurging. The experience is just amazing: service is impeccable, rooms are spacious and very comfortable, the restaurant offers a breathtaking view on the sea, admiring this from your breakfast table is simply priceless! The hotels also has its own pool and beach, which you can access after having climbed down a flights of stairs and romantic path. In one word: perfect.
From Portofino, you can do a lot of things if you have a car. You can drive up to Milan, Genoa, discover the Cinque terre or go down to Portovenere. The region is really vast and super rich in culture. For us, we chose to lay low and farniente our way through our stay instead of going on adventures, but I think we both really needed some rest in order to come back stronger for the new work year! I now leave you with all the pictures from our trip, as well as all the links to shop my outfits on the spot!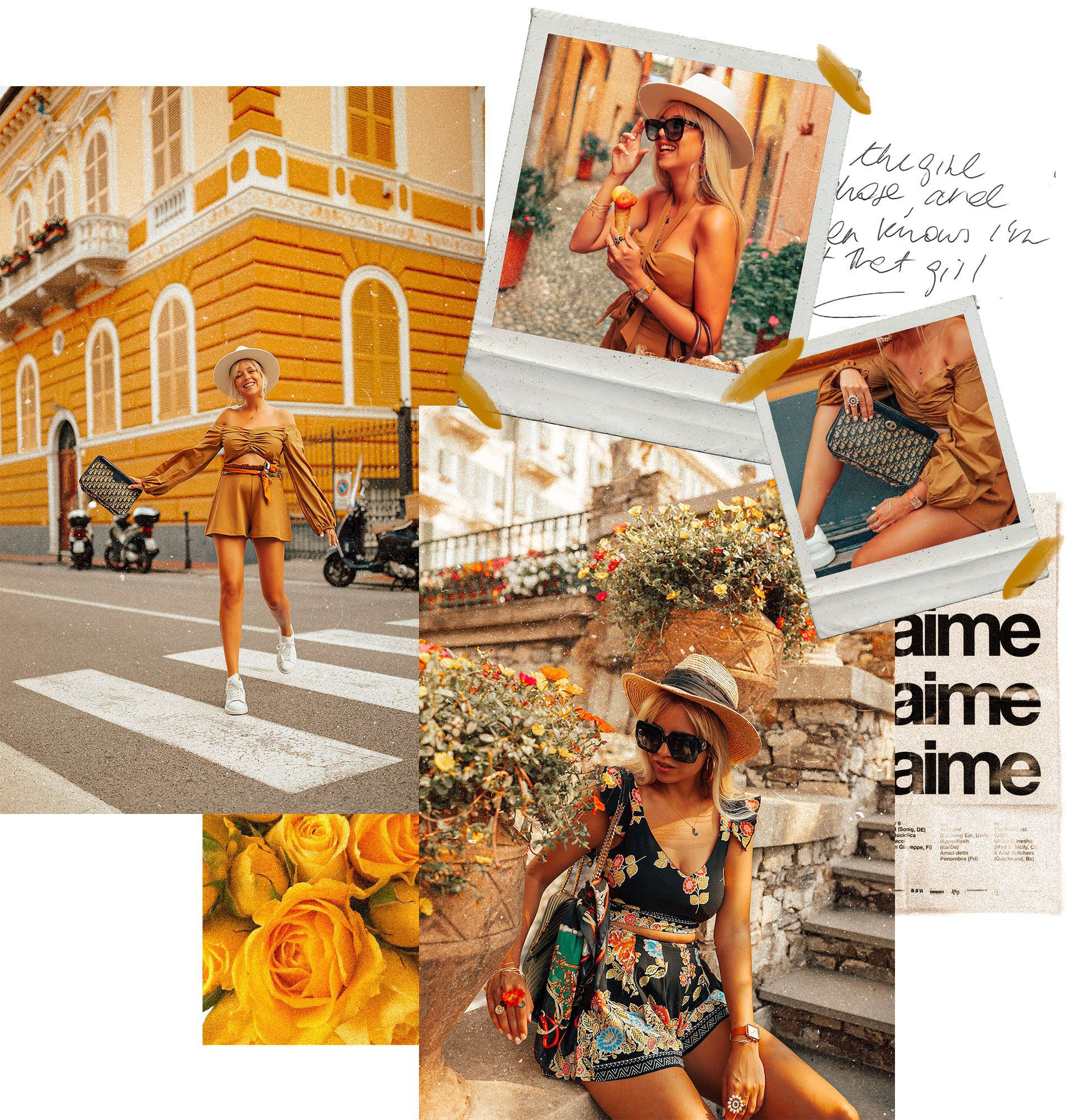 Top Shein (size S) ♡ Shorts Revolve (size S) ♡ Clutch Dior Vintage ♡ Sneakers Alexander McQueen (usual size) ♡ Co ord from Shein (size S) ♡ Bag YSL envelope model ♡ Sunies soleil Gucci shoppable at Art de Vue Optiens ♡ Hat Blanc Lack of Color ♡ Hat en toile &OtherStories ♡ Watch Cluse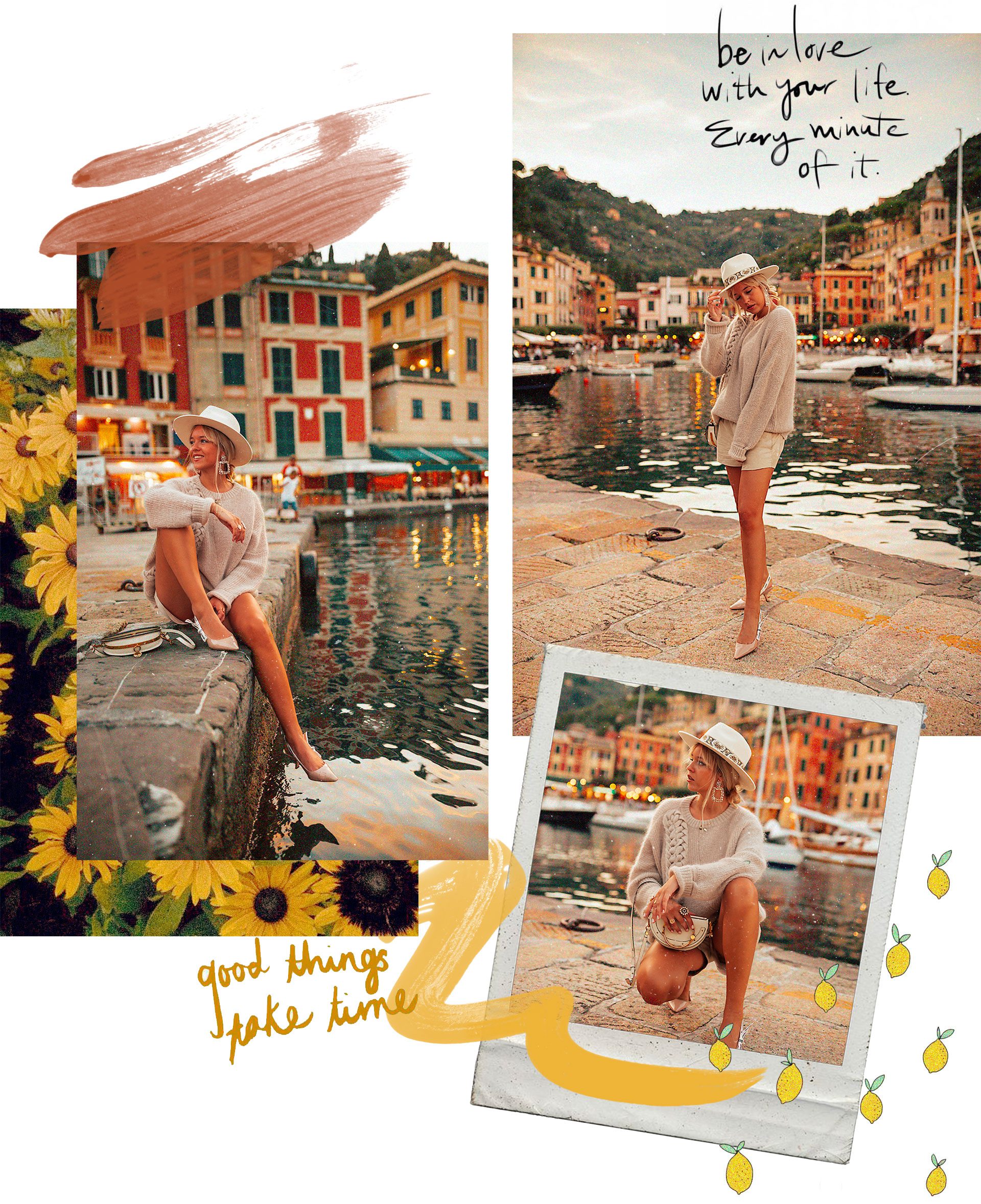 Sweater My Sunday Morning (size S, new co) ♡ Shorts Les Comptoirs d'orta x Lisa Germaneau (size S, not available anymore) ♡ Shoes Dior (usual size) ♡ Hat Lack of Color ♡ Earrings Zara (new co) ♡ Bag Chloé bought at Irina Kha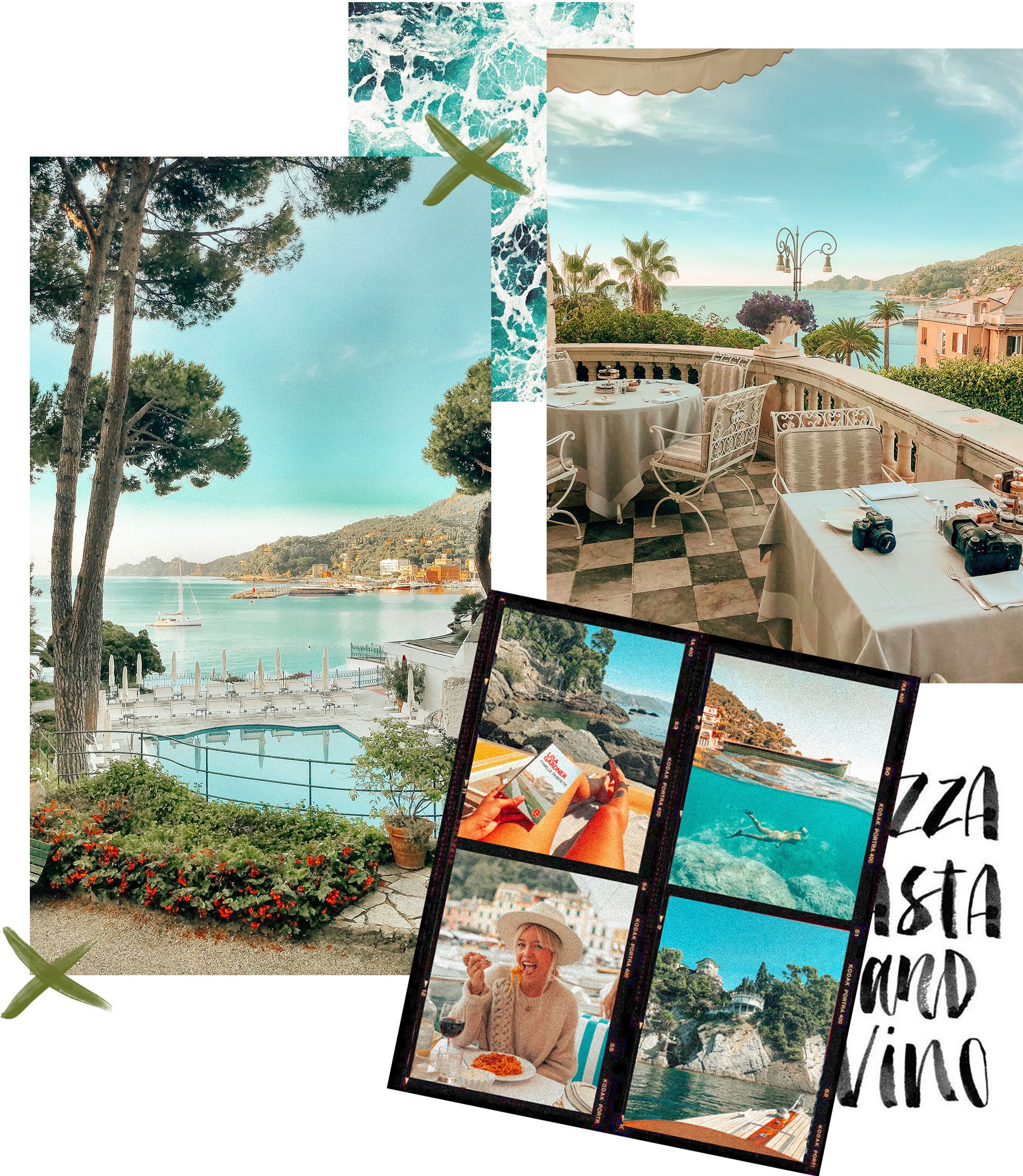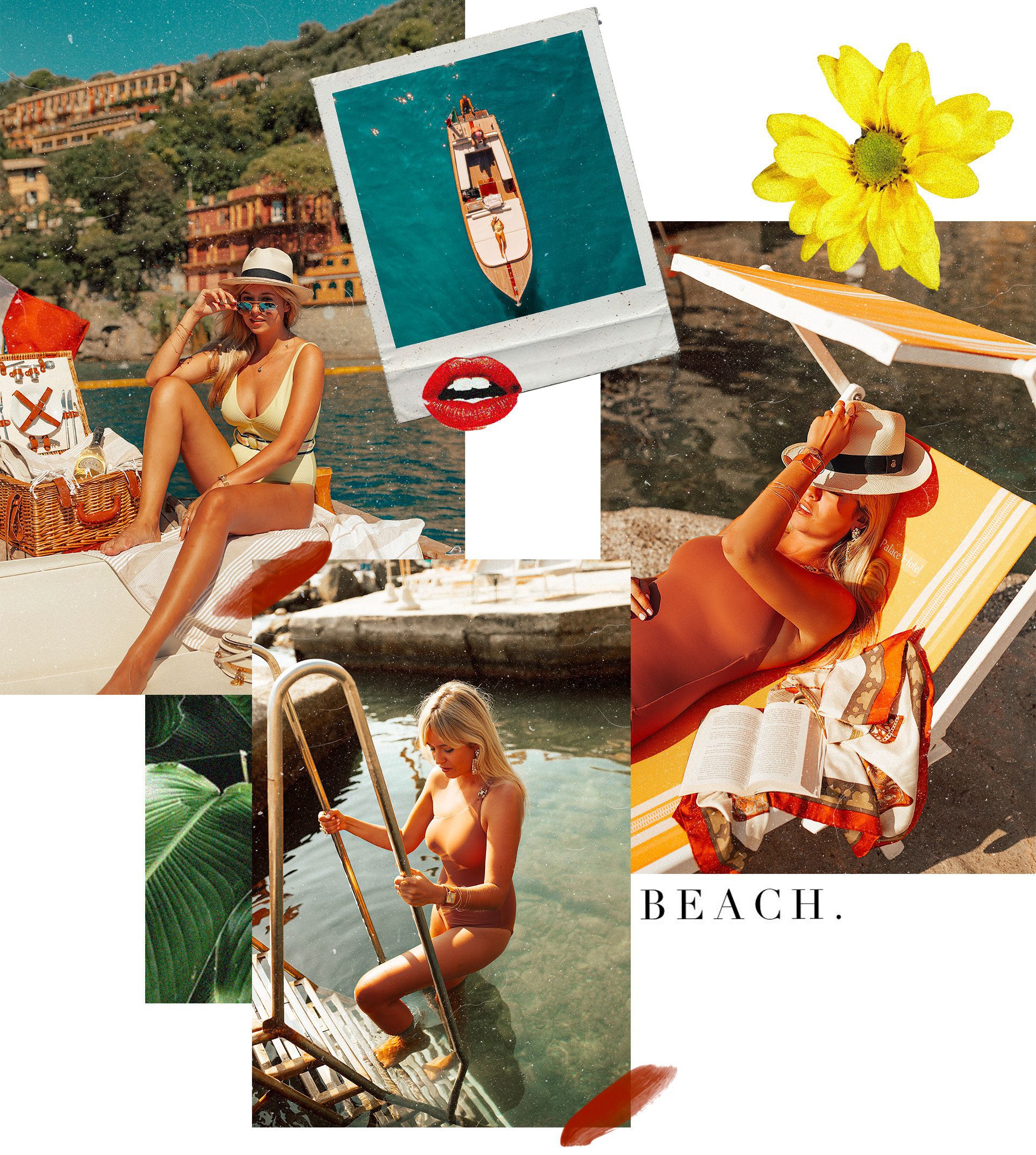 Swimsuit &OtherStories (size S) ♡ Swimsuit ByMahe (size S) ♡ Hat &OtherStories ♡ Watch Cluse ♡ Jewelry Alexiane Bijoux ♡ Earrings Zara (new co) ♡ Sunnies shoppable at Art de Vue Opticiens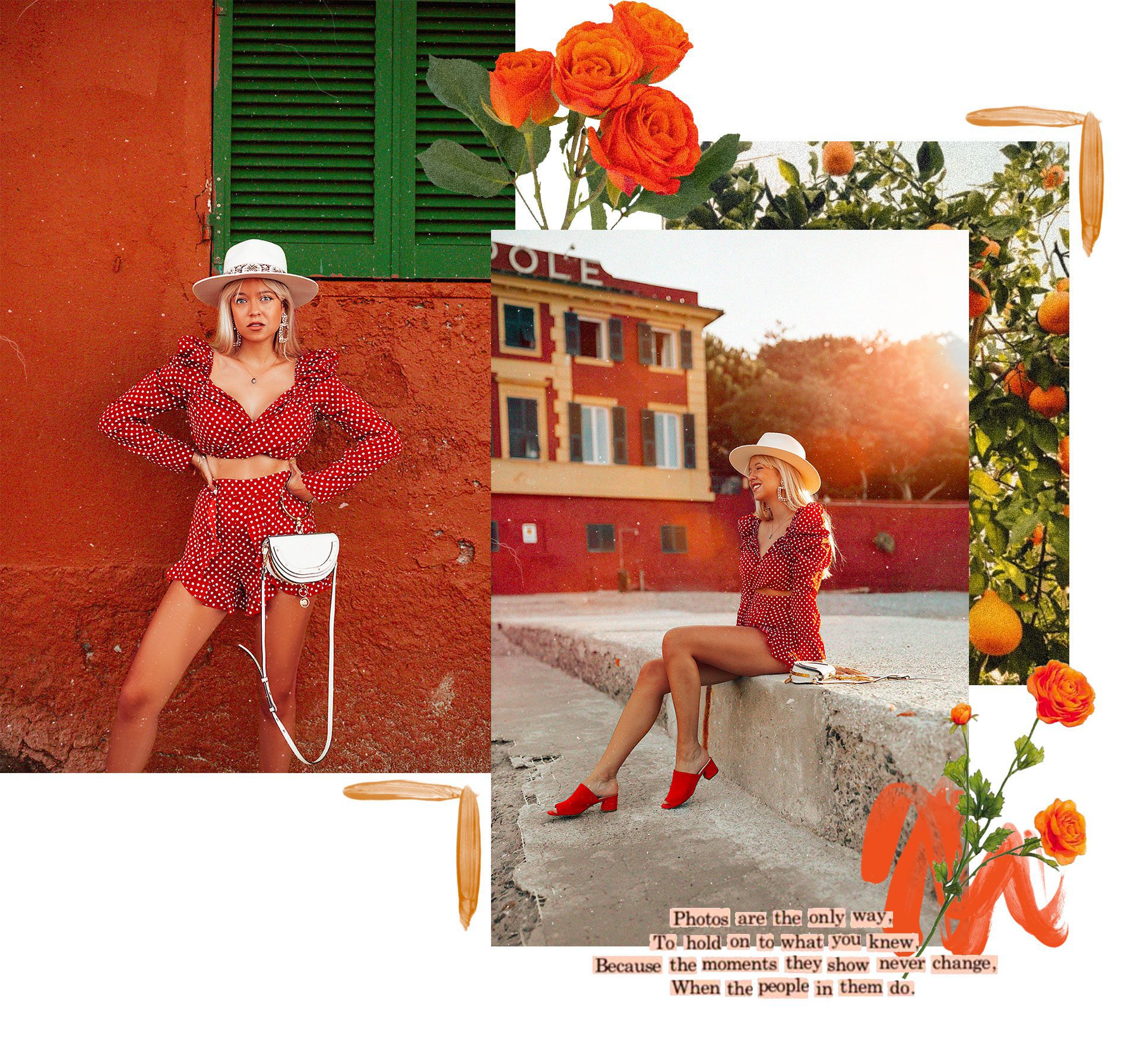 Co ord from Shein (size S) ♡ Mules Stradivarius (old co) ♡ Bag Chloé bought at Irina Kha ♡ Earrings Zara ♡ Hat Lack of Color