During our stay in Marrakech we had the opportunity to test several restaurants. Since the first few days we stayed in a villa, we ate more traditional and simple food there, so we wanted to test out trendy addresses for our outings in town. We therefore didn't try out any traditional restaurants. So unfortunately, I do not have addresses to share at this level for the moment (but I liked Marrakech so much that I intend to go back and continue to discover this city that has a thousand fabulous things to offer!). I hope this article will be useful for your future stays!
COMPTOIR DARNA
@comptoirdarna ♡ €€€€

One of my favorites in Marrakech! The ideal place to spend a traditional Moroccan evening, there is good food and traditional dance performances during your meal. The atmosphere is dimmed and ultra friendly, the tables are next to each other so that you almost share your plate with your neighbor (you either like it or you don't!). We sympathized with the table next to us and had a great time! This restaurant / bar / club has won Tripadvisor's "travelers' choice" award several times. Make sure to book in advance to secure a table because because the place is very crowded!
SO LOUNGE BY SOFITEL
@soloungekech ♡ €€€€
This restaurant belongs to the Sofitel Hotel of Marrakech. They serve excellent fine cuisine. The tables are arranged around a central stage where live music is played. It's a really nice spot, however it is quite noisy so I wouldn't recommend it for a romantic night out, but perhaps for a night with friends! The restaurant transforms into a bar after dinner to continue the night!

ENTREPOTES
♡ @entrepotesmarrakech ♡ €€ – €€€€
Entre potes in French means "between friends", which is exactly what this restaurant is for! You can have a drink and share some nice tapas with friends. They serve delicious charcuterie or cheese plates and fresh juices or cocktails. The tapas plates are quite big so order as you go! We made the mistake of ordering 3 tapas per person and we had way too much to eat. When you book, mention you want to be seated in the "tropical" garden (it's the one on the picture below), it is prettier and more refreshing than inside.

L'EPICURIEN
@epicurien.marrakech ♡ €€€€
This lounge bar with dimmed atmosphere (very very dimmed) is located next to the casino. The nights are lively, with concerts and all kinds of festivities. The menu is as luxurious as it is savory: beef steak, grilled lobster, Rossini tournedos among others. It's the perfect place to celebrate a special occasion (because prices are rather high) and then end the night at the casino or in a club right next door.

LE PALACE MARRAKECH
♡ @lepalacemarrakech ♡ €€€€
Le Palace is considered as one of the best restaurants in Marrakech. The place is divided into two spaces, with different atmospheres: one is very luminous with small round tables, very french bistro, and the other one is quite dark and dimmed with big mirrors, instantly reminding the oriental atmosphere of the city with a touch of Paris. We ate in the second one and had a very pleasant night. Prices are very high however, it is one of the most expensive restaurants we've been to during our stay. It is quite a budget, but the food is divine and the atmosphere is really nice (there are also live shows during dinner, but way less invasive than at the SO LOUNGE for example)!

LA TERRASSE DES EPICES
@terrassedesepices ♡ €€ – €€€€
This terrace is located in the center of the Medina, next to the "place des épices", and serves simple dishes, of great quality. The meals are prepared by the whole family and are made with the best products. It opens at 11am and the kitchen runs the whole day onwards. You can start with lunch under the Moroccan sun, then have some pastries at 4pm or end the day with dinner underneath the stars. At night, the terrace looks like a fairy tale came to life with little lights everywhere. The prices are very correct but the place is very popular: book ahead to make sure to secure a table!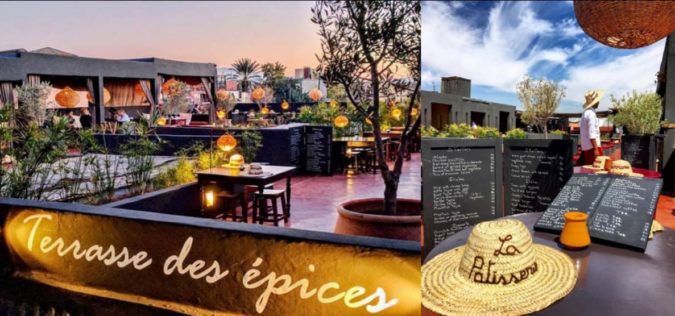 LE GRAND CAFE DE LA POSTE
@grand_cafe_de_la_poste ♡ €€ – €€€€
This place is perfect to have lunch or dinner. It is decorated with Moroccan design (a little Havana-inspired if you ask me), and serves excellent French or Moroccan dishes. We had lunch there and we loved it so much we came back the next day. However, the place is very popular as well and it was fully booked. At night, the atmosphere is more intimate but we didn't get the chance to try it out for dinner. I highly recommend this place!
You can check my other article about the Rose Villa – Luxury & Serenity in Marrakech.