Laos is a relatively unknown destination when it comes to mass tourism. This makes that the country has managed to preserve its authenticity and beauty. We only stayed 4 days in Laos, so I can't really say I saw everything, hence this article will only focus on what we got the chance to visit. We started our visit with Luang Prabang, the culture capital of Laos. It is a small "town", that is classified a world heritage site of UNESCO, in the North of the country. This town will make you forget about time and immerse yourself in buddhist religion and local traditions. This is what really stood by me and why I was sad we only got to stay there for 4 days!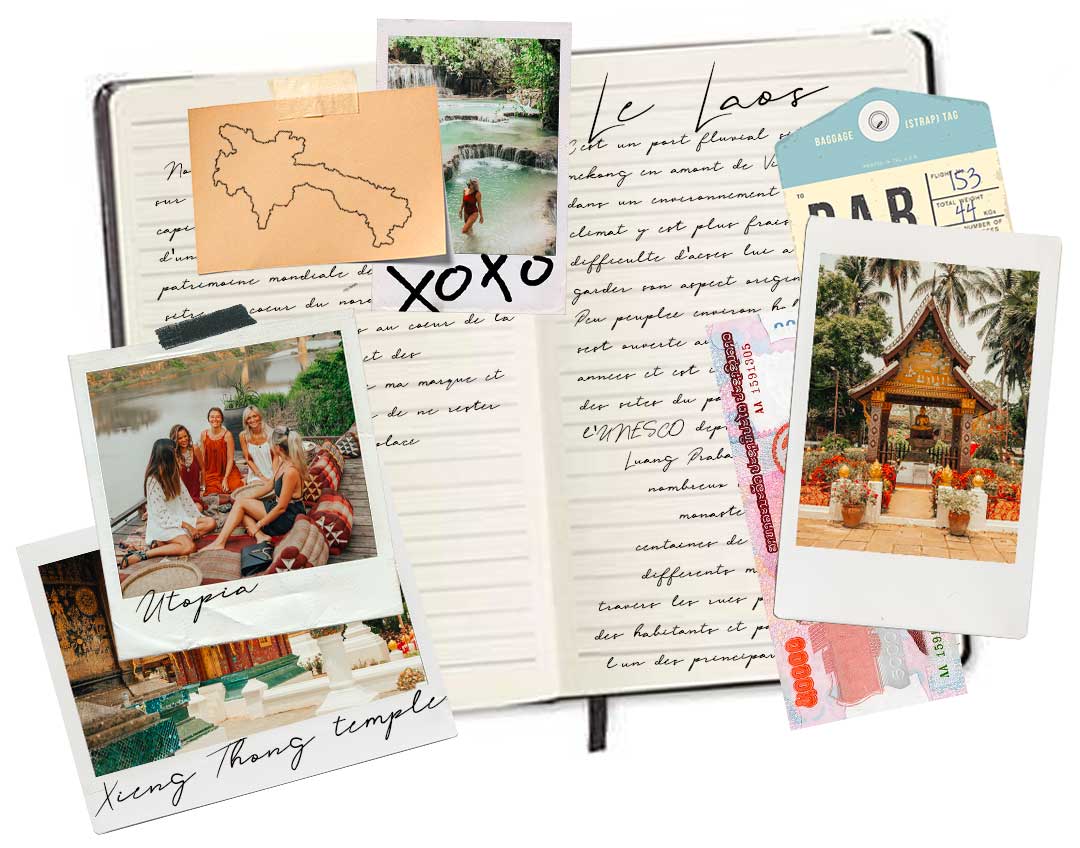 A little history
Luang Prabang was the royal capital of Lan Xang in the 14th century. Located between the Mekong river and the mountains surrounding it, the city enjoys a strategic location. During the past centuries, Luang Prabang has suffered from plunders and dramas (like the fire that completely destroyed the city during the 18th century) and was forced to accept the French protectorate to conserve its regional wealth. The French influence is still noticeable and a lot of locals speak the language.
Laos opened its doors to tourism only 30 years ago, giving the economic growth of the region a little boost. In 1995, the city was listed on UNESCO's World Heritage List, what helps contributing to its authenticity and local traditions.
On site, buddhism is of great importance. The city recounts dozens of sacred temples, some being of considerable importance to buddhists, and thousands of monks walk the city regularly.
Getting to Laos
To get into Laos, you need a VISA and a passport valid for 6 more months upon date of arrival. You can make your VISA in France or in Belgium by going to the embassy of Laos in Paris or in Brussels. You can also make your visa at the airport or when arriving at customs.
Luang Prabang has an airport located only 4km away from the city center, which makes is very easily accessible by plane. We first traveled to Thailand, so we got in to Luang Prabang from Bangkok.
If you are looking for hotels or airplane tickets at the best price, I strongly recommend booking with booking.com! It truly is the best site to use, because it is safe and has the best prices!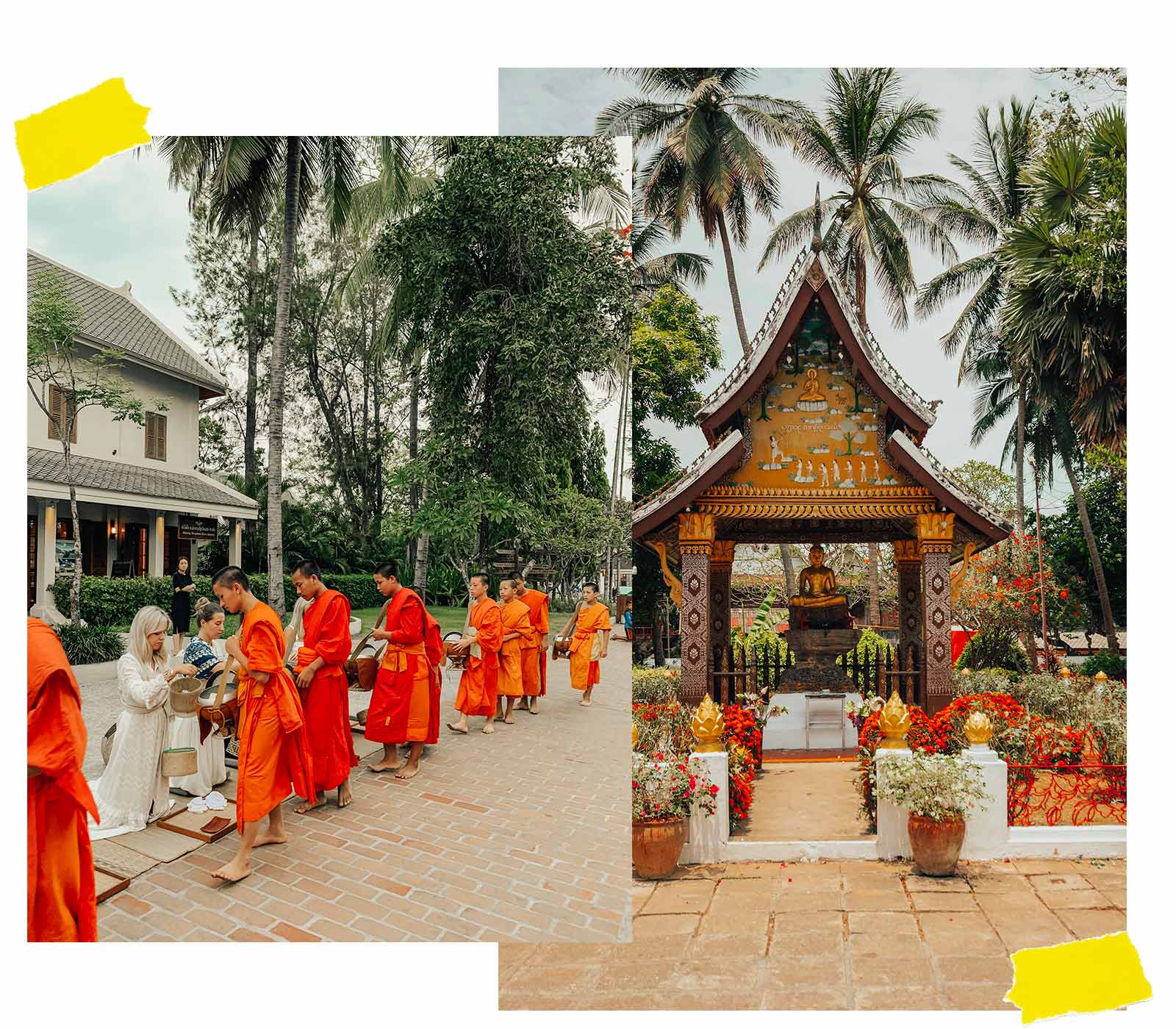 Some precautions to take
Laos is not a risky destination, even though you should take some precautions. Have a look at your local government's website to see what they have to say and which precautions are needed.
For France, the government recommends not being on the road by night, by bus or by car, because of the significant amount of accidents due to the conditions of the road. Then, while delinquency is not very high and even lower than in Europe, it has started to develop a little bit in the region, the main accidents being stolen purses or cellphones by motorcyclists, sometimes with violence. Nothing to worry about I would say, I didn't feel insecure at all, and sometimes more at ease than in Europe. It is also recommended to be in your hotel by 11pm, so don't wander off in bars at night.
In terms of vaccination, you should see a travel doctor before leaving for Laos. He or she will advise you on what you should do, based on your previous vaccinations and trips. Once you arrive in Laos, you should protect against mosquitoes in order to avoid getting bitten and getting a disease. So make sure you leave with enough mosquito repellent for your trip and specific creams or sanitizer in case you do get bitten.
Like anywhere in Asia, only drink bottled water and steer clear of ice cubes, fruit juices, anything raw or under cooked, seafood, salad…You know, everything at risk when not stored or prepared in perfect conditions.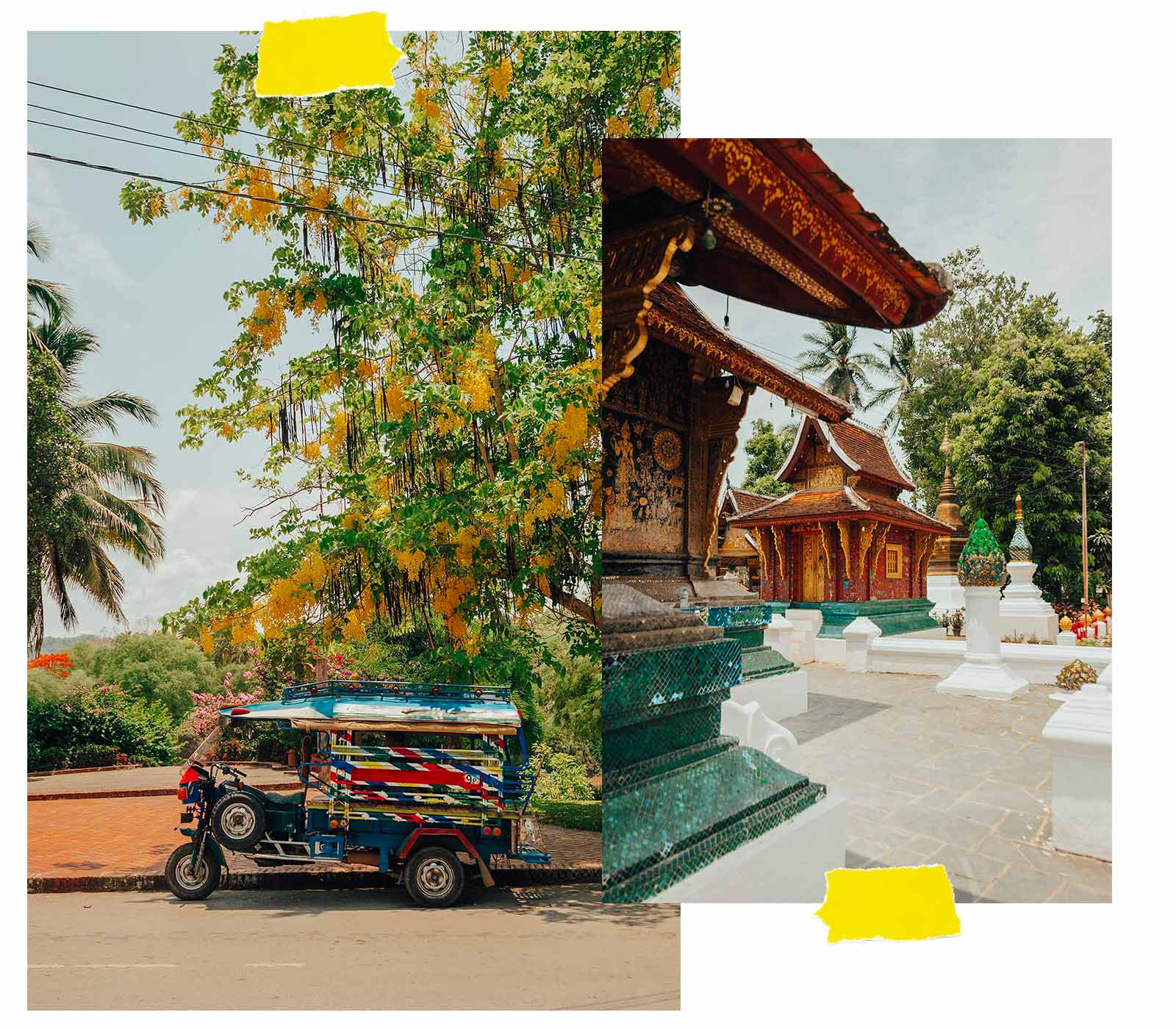 Comment s'habiller au Laos?
The weather is waaaaaarm, really warm. Opt for light fabrics. You're not obligated to cover your legs and shoulders, only on religious sites. So you should be fine with a scarf in your purse to pull out when needed during visits!
The best period to go to Laos is November through March, which is dry season and when temperatures are bearable. The rainy season is form June to October, where you can get heavy rains, floods and where it is really warm (30 to 35 degrees). We went in May and, even though we had some rain, we were really warm (sometimes 45 degrees). I had packed a lot of stuff but ended up spending my days in espadrilles and a light dress, which is the only thing you'll want to wear during your stay.
Où manger à Luang Prabang ?
Utopia : restaurant and bar with incredible views on the Mekong river!
Manda de Laos : beautiful restaurant with a romantic ambiance at night and a pond filled with waterlilies.
Bouang : small café with more European food, perfect for a quick bite at lunch!
Carpe Diem : restaurant located next to the Kuang falls. The view is amazing!
Coconut Garden : charming restaurant in the middle of Luang Prabang, the staff even speaks French!
Silk road café : the perfect place for lunch with a view on the Mekong river. You can also discover a weaving shop next to the restaurant, where women create beautiful pieces.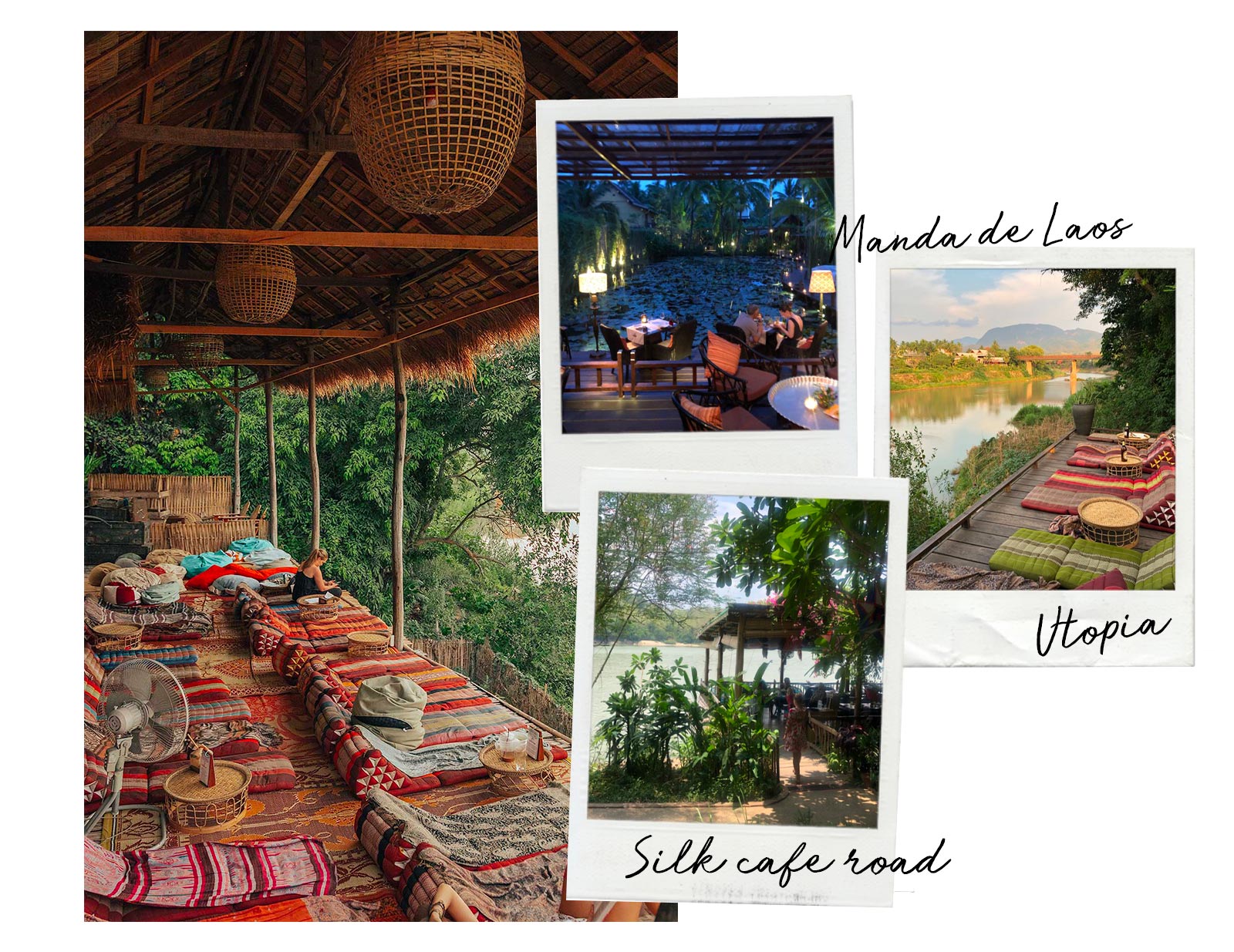 Where to sleep in Luang Prabang?
We stayed at the Avani hotel. The building, like the rest of the town, is filled with history. It is the old neighborhood where french officers used to stay during the french protectorate in Laos. The building was entirely renovated in a more contemporary style, all the while keeping the colonial style and history of the building. It was like time had stopped in this amazing place.
The location of the hotel is ideal, we could go anywhere on foot. It is located in the historic neighborhood of Luang Prabang and in the heart of the commercial activities and not far away from different local markets. A big part of the activities we did were directly proposed by the hotel. They even have a little golf cart that will drive you to and back from town or your restaurant!
The level of comfort in the rooms was also a very nice surprise. The bedding was exceptional and the services on point (breakfast in bed is possible!). Part of the rooms have a view on the interior court and the huge central pool, an exceptional view to wake up to.
The hotel restaurant is i n c r e d i b l e. Mark my words. Breakfast is super complete (one of my biggest attention points after good bedding) and the à la carte dining menu is very varied. Again, the decorative style of the restaurant follows the same vibe as the hotel, a modern colonial style.
I had an excellent stay in this hotel, and highly recommend it if you're planning on stopping by. AVANI is also present in other countries. I urge you to have a look on their website to see their different offers, as I could not be more satisfied by my stay here.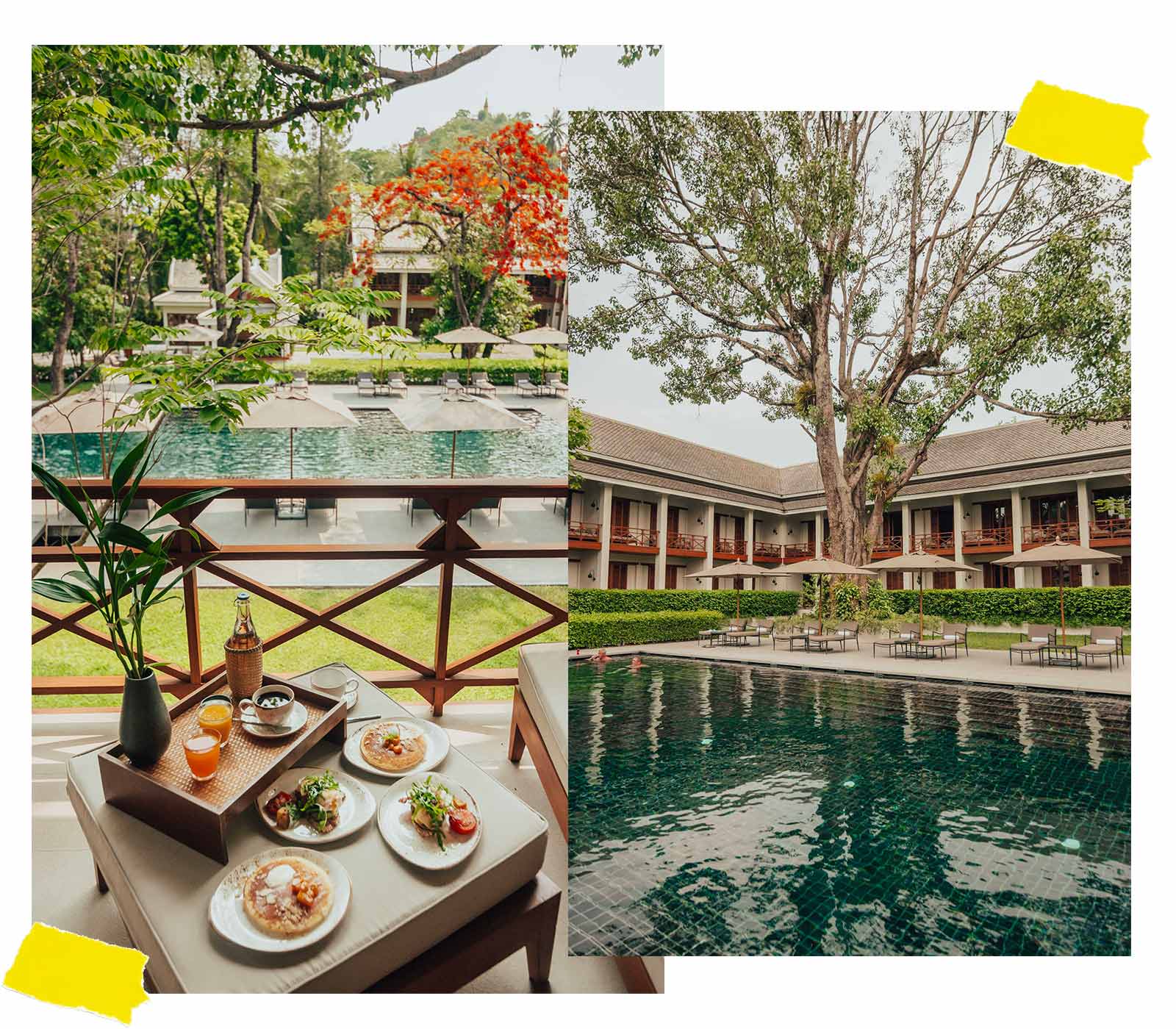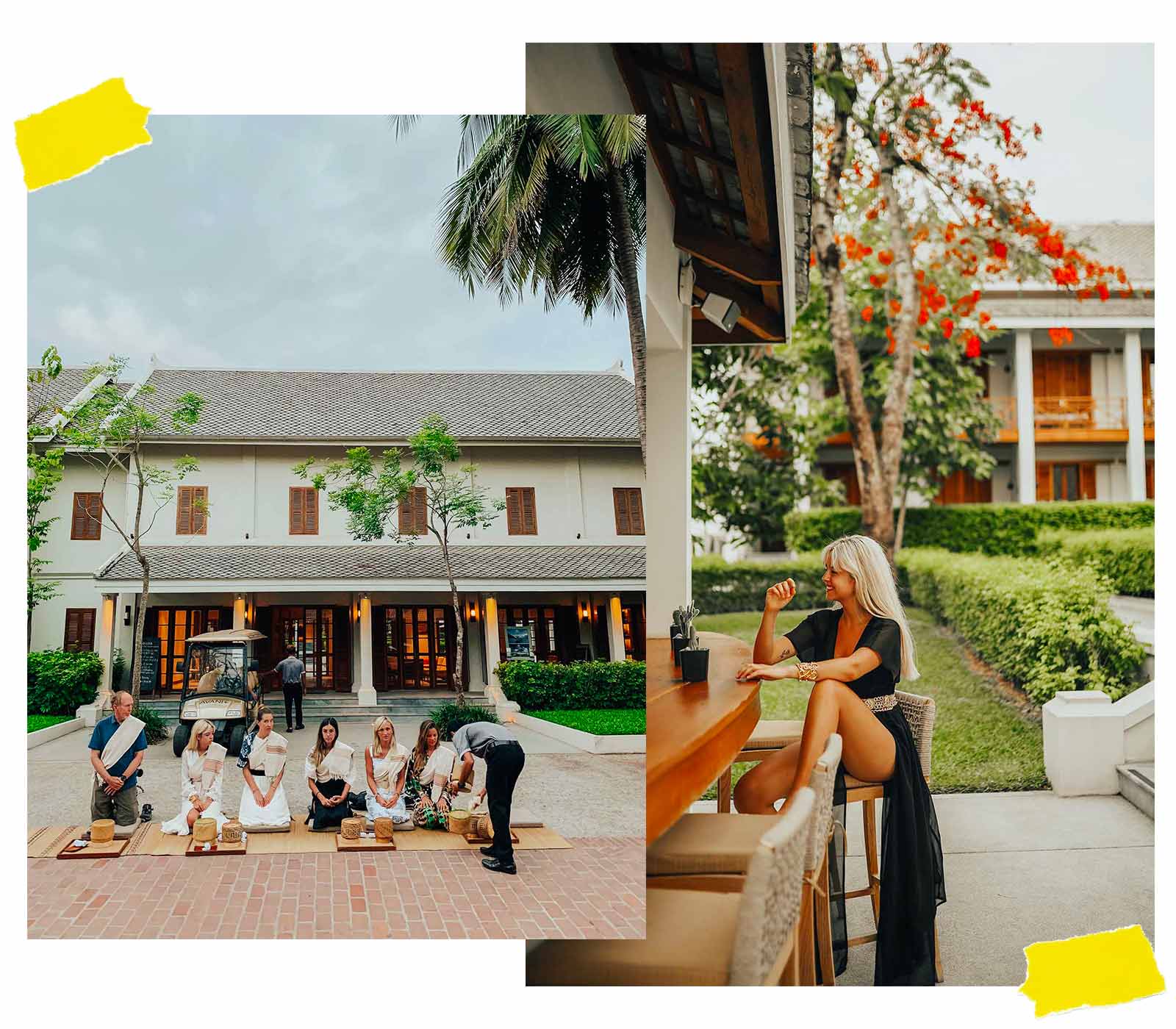 What to do in Luang Prabang?
The royal palace of Luang Prabang : this palace is a mix of Laotian and French styles and was built during the protectorate. Thus, it is not very old (not more than 100 years). But the visit is really worth it! Plan on taking covering clothing because the policy is very strict, you will also have to remove your shoes before entering.
The Vat Mai : next to the Royal Palace, the Vat Mai (or "new monastery") is the most beautiful and biggest temple in Luang Prabang. This temple has a significance importance for the Laotian people because it longly held the "Phra Bang", the palladium, a mystical national emblem (a statue of 85cm covered in gold leaves). The buildings are incredible and the Laotian mosaic drawings tell fascinating stories. I have rarely seen such beautiful buildings! Again, pack covering clothing (arms and legs) for the visit.
The waterfall of Kuang Si : I've rarely seen such a pretty waterfall. At the end of the fall, the water flows into different ponds in which you can bathe. The turquoise waters seem surreal and the forest next to it gives off a peaceful vibe. To get there, count a little under 1 hour drive from Luang Prabang. On top of this, there is a butterfly farm next to it, which makes there are hundreds of them flying around the waterfall, making the scenery even more magical.
Visiting a Buffalo farm : Laos is full of buffalos. These animals were first not exploited for their milk but only for labor work in the fields. Englishmen educated the local population by creating this farm so that they could bring the animals to be vaccinated and treated. They also propose trainings for the locals so that they can learn to "use" their animals the right way and treat them correctly, as well as language courses for local kids. They help the local development by teaching them how to cook their rice in buffalo milk in order to better feed their children. The most interesting visit!
Cruise on the Mékong : we took a cruise on a little traditional boat to enjoy the scenery of one of the longest rivers in the world. We even got to try local snacks and drinks aboard.
Local nightly market : there are some really pretty and local things to buy on site. We bought little baskets to cook rice in, calligraphy paintbrushes, bamboo straws… The market is open everyday from 5PM to 9:30PM.
The morning monk blessing : every morning the locals distribute rice to the monks that pass through the city. The blessing takes place at around 5 in the morning. An early start, but so worth it! The hotel proposes this activity directly and even gives you the rice and the traditional banters.