Why Puglia?
The first thing you need to know before you leave: if you set foot in Puglia, you will never want to go home! Puglia is the heel of Italy's shoe-shaped form and is an exploding blend of culture, gastronomy, history and breathtaking scenery. A big part of the region hosts national parks, covered with olive trees more than a thousand years old and historic masserias, offering a calm shelter, unknown to mass tourism. Like our local friends said "you mustn't tell people to come here! You have to say there are thieves, snakes and that it's too hot!". Simply because they know that every person that sets foot here, immediately falls in love with the region.
Puglia is divided in several regions: Bari, Brindisi, Tarente, Lecce (or Salento), Andria and Foggia. For our part, and my boyfriend being from Salento, we have always concentrated our travels in this region, even if we also visited Brindisi and Bari. Salento is not touristy at all, as mass tourism is mostly located around the airports of Bari and Brindisi. Thus Salento is still relatively preserved and very Italian. So much so, that if you don't speak the language, it is rather complicated to be understood, event though hotels and restaurants are developing their English more and more. The region around Bari is by far the most touristy place I've visited, but it is nonetheless very pretty, which makes that prices are very high for this side of Puglia.
If you're planning on going to Puglia, take your time! Don't limit yourself to one town or one region, you have to explore several villages, without staying more than 2 or 3 days, in order to see the most you can because everything is just so pretty. I would say that for a first trip to Puglia, you should go for 10 days minimum, 15 being ideal.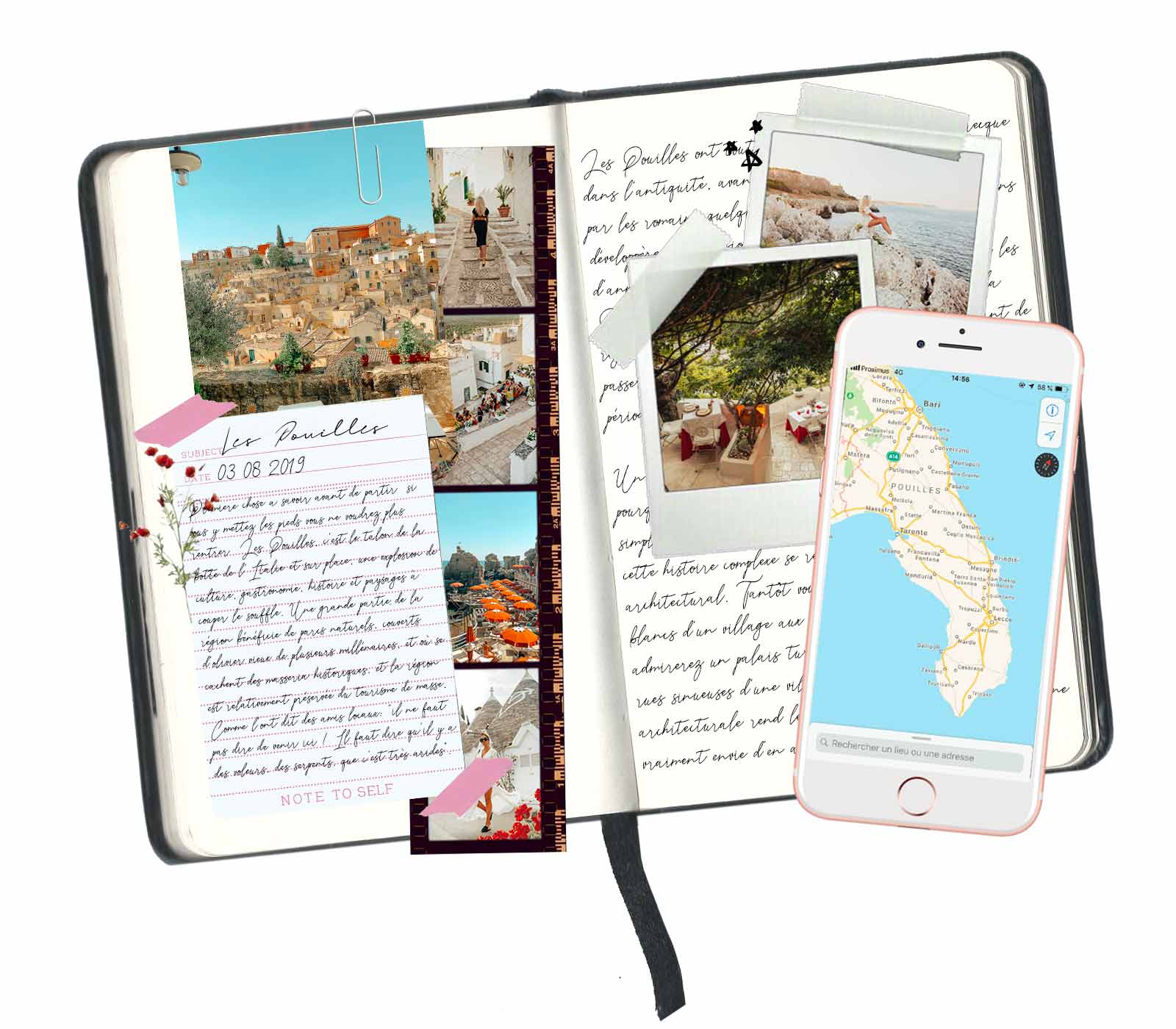 A little history about Puglia
Puglia dates back to the Greek Ancient Time, under which it first developed, before being invaded by the Romans, who developed the region for several hundreds of years. The fall of the roman empire resulted into multiple invasions and wars, leading the region to fall under byzantin ruling, before ultimately being taken over by the normans, which is when the feudal period began for the region.
That was a brief overview of Puglia's history, but why am I telling you all this? Simply because this complex history is visible everywhere in Puglia. You can admire the white buildings of Greek descent, a Turkish palace or narrow Roman streets, all in the same area! This architectural diversity makes visiting all the more interesting and really gets you to want to learn more about the region's past.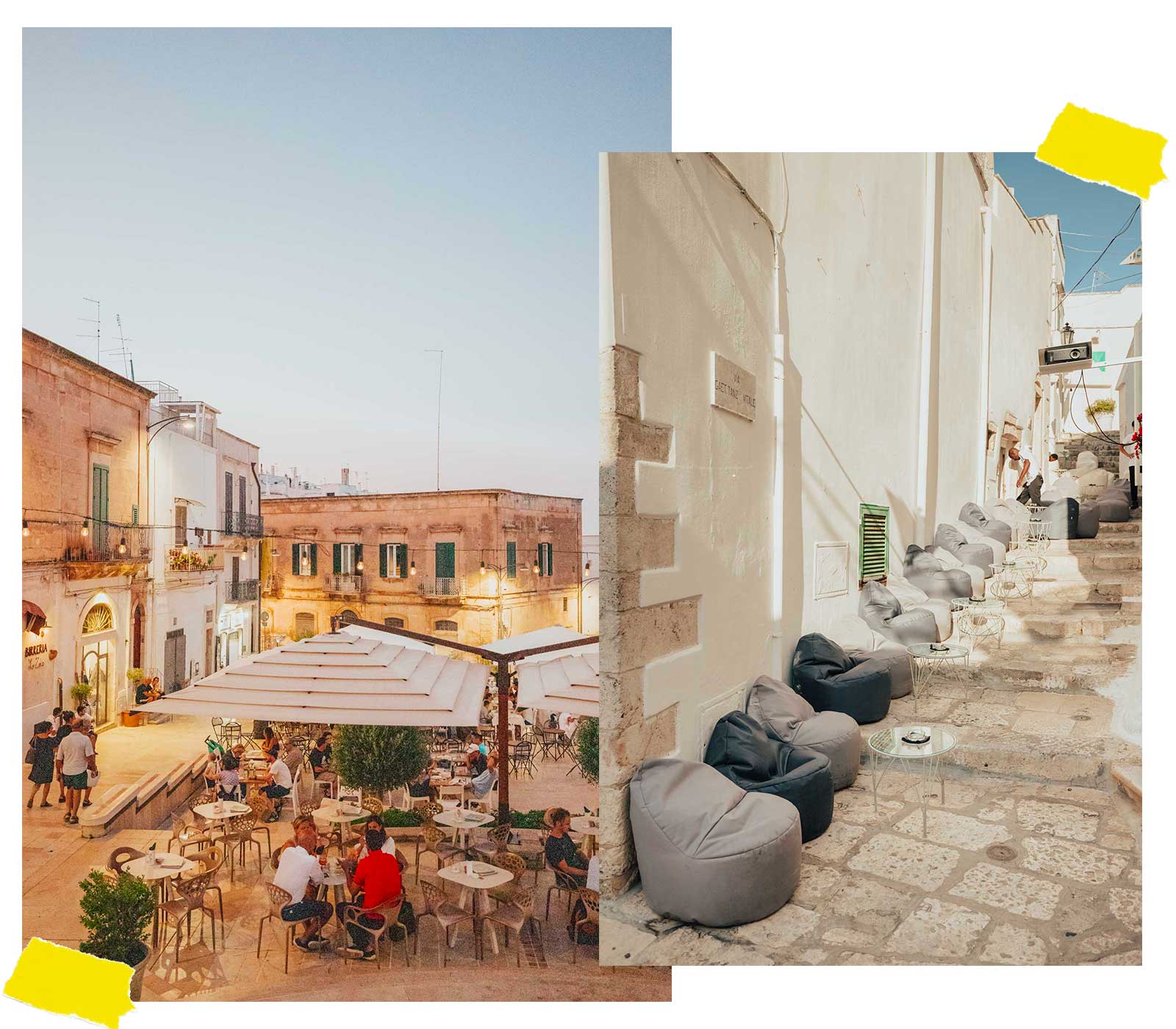 Getting around in Puglia
To get to Puglia, there are 2 airports: Bari and Brindisi. Both are not far away from each other (1 hour tops) so I advise you to choose your flights in function of the price. I have travelled to both airports and the flights to Brindisi are – in general – less expensive. The most simple and economical way to fly is with Ryanair. During Summer break, prices tend to go up very fast, but if you book in advance, you can score good deals. I paid 150€ the first time I went, but 500€ this year when booking on the eve of our departure (which is really frustrating for a Ryanair flight).
Once you get there, the easiest thing to do is to rent a car. But be careful! Last year we were completely ripped off by Sixt, in the airport of Bari. Our car wasn't available, so they said they would give us a similar one. We ended up getting a car with a trunk that was half the size and wouldn't fit our luggage. They also told us that the insurances we paid on the site of Ryanair weren't enough and that we needed more coverage…We ended up paying 1200€ for 10 days of renting. But wait, the story isn't over! Once we got home, my card was charged with 100€. 6 months later they charged 62€ on several occasions… We tried reaching someone to get an explanation, but couldn't get an answer.
This year, everything went fine. We rented a car with another company (Luxauto) and we didn't take any insurance when booking online. On the spot, the proposed different additional insurances, which we declined (these were only helpful to get the franchise down from 2500€ to 1500€ and costs 600€…). We paid 470€ for 13 days and got a bigger car than planned. Let's see if in 6 months they charge my card again, I'll keep you posted!
Of course, driving in Italy isn't a walk in the park. Italians drive…their own way. Best is not to stress and be cautious. For instance, the access lanes on the highway are very very short, which sometimes makes it difficult to insert yourself into traffic. Be careful! 
Also pay attention to the fact that in some towns it is forbidden to drive in the center, but it's not always clear. They have cameras which will take pictures of your license plate, see that you are not an inhabitant and it is likely it will cost you. Inform yourself before you get into a town about where you can drive and park. In general, the yellow stripes mean parking is reserved for locals, blue stripes indicate the parking you need to pay and the white stripes mean you can park for free.
Of course, there are buses circulating through Puglia, but I never took one so I couldn't tell you about them.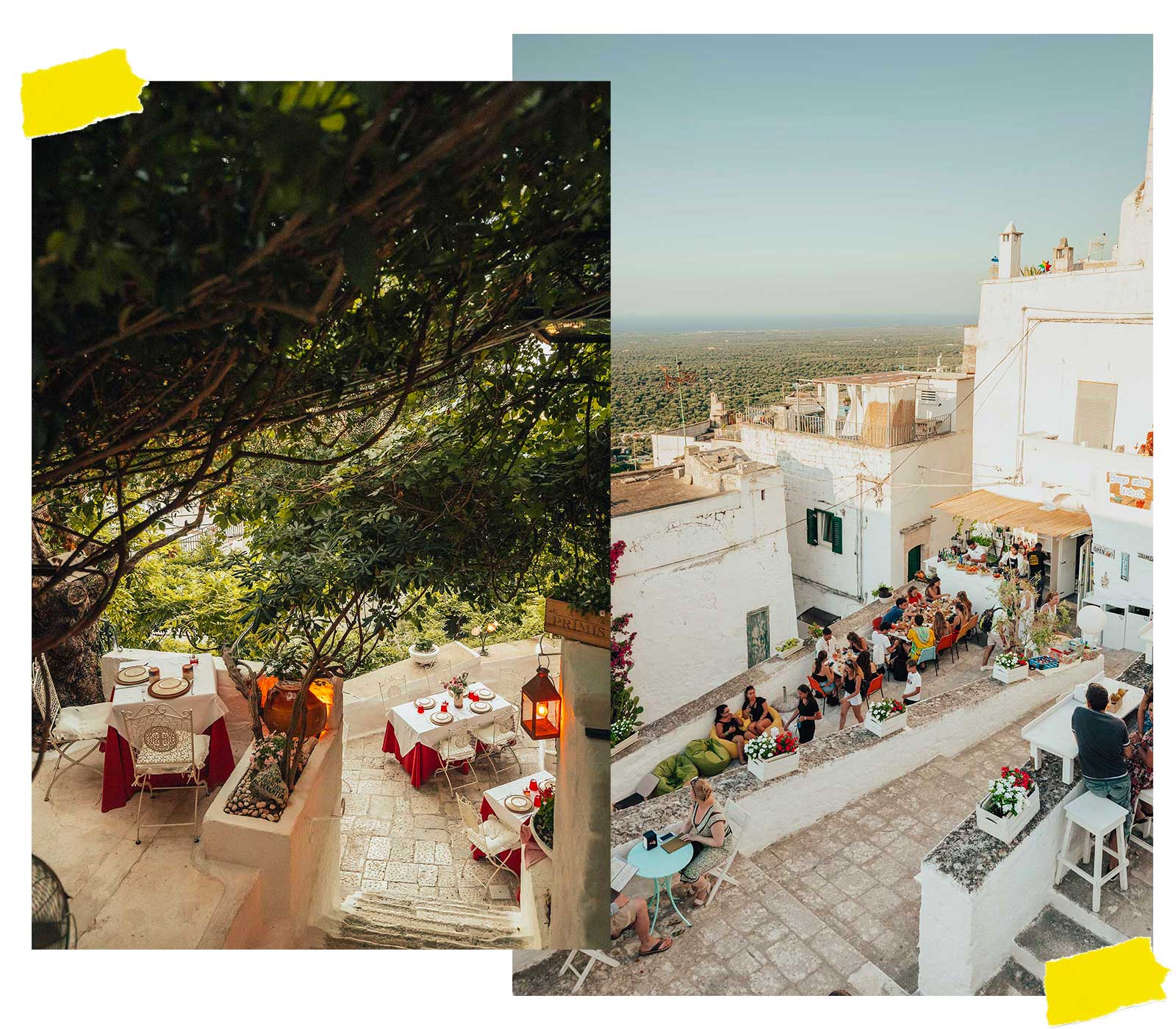 Budget à prévoir pour un voyage dans les Pouilles
Puglia is a region for all types of budgets. There are as many magnificent hotels at very high prices, as cute little Airbnbs and Bed and Breakfasts at reasonable prices. Every traveller finds something for their taste.
For the prices of activities, food etc…the region of Bari is a little more expensive than Salento. Where you would pay a meal 20€ in Salento, you are going to pay 30€ in Bari. Which is of course still very acceptable! As I said, Bari is a little bit more prone to tourism, which makes that prices go up.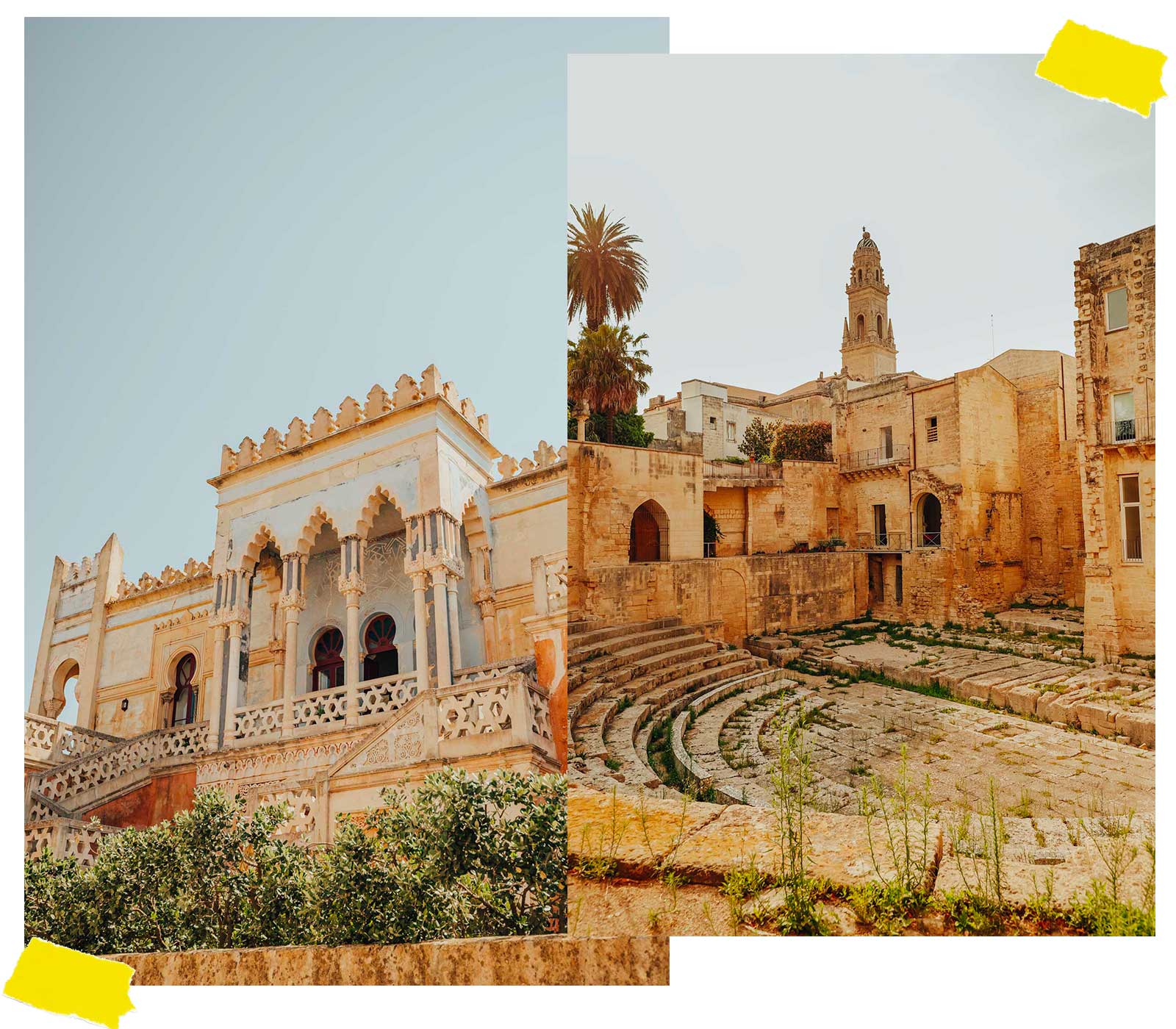 Local specialties
Some specialties you should definitely try if you're in the area:
The pittule salentine : this is a specialty of the Salento area. They are little fried wafers, stuffed with fish, meat, vegetables…and sometimes nothing which is still so good! They are normally served during the holiday, but you can find them almost everywhere as anti-pasti.
Panzzerotti : this specialty from Bari are stuffed pizza dough balls. They kind of reminded me of calzone pizza, except they are fried and not oven baked. Again, this is so amazing! A must try.
Les olives : you cannot go to Puglia and not try their amazing olives. Huge crush for the "candite", which we got to try near Santa Cesarea Terme. They are kind of sweet, like candy, which we actually ate for dessert (you can buy them at the local market in Maglie). Of course, the olive oil is equally amazing…
La burrata : I can assure you that once you've tasted the Puglia Burrata, you will never learn to love another one! It is not a myth, it is truly the most divine thing I've ever tasted.
Les orecchiette : the kind of pasta you will eat with everything in Puglia!
Les cime di rape : I don't really know how to translate this vegetable in English, nobody managed to give me the name! It is somewhere between broccoli and spinach and is usually served with orecchiette. The taste is very distinctive and can't say I really like it, but something worth trying as well!
Les taralli : something you'll always get if you have a drink in Puglia. They are little ring-shaped salty biscuits, to have as a nibble with a cocktail or glass of wine, before dinner.
Now let's talk wine:
The primitivo di Manduria : very round, personnally I find it is the best red wine of the region. Huge crush for the San Marzano Anniversero 62.
The negroamaro : more fruity than the primitivo, the negroamaza wines are also delicious. Crush for the Paleo Leo.
The locorotondo : if you are into dry white wine, this one from the Trulli region is delicious.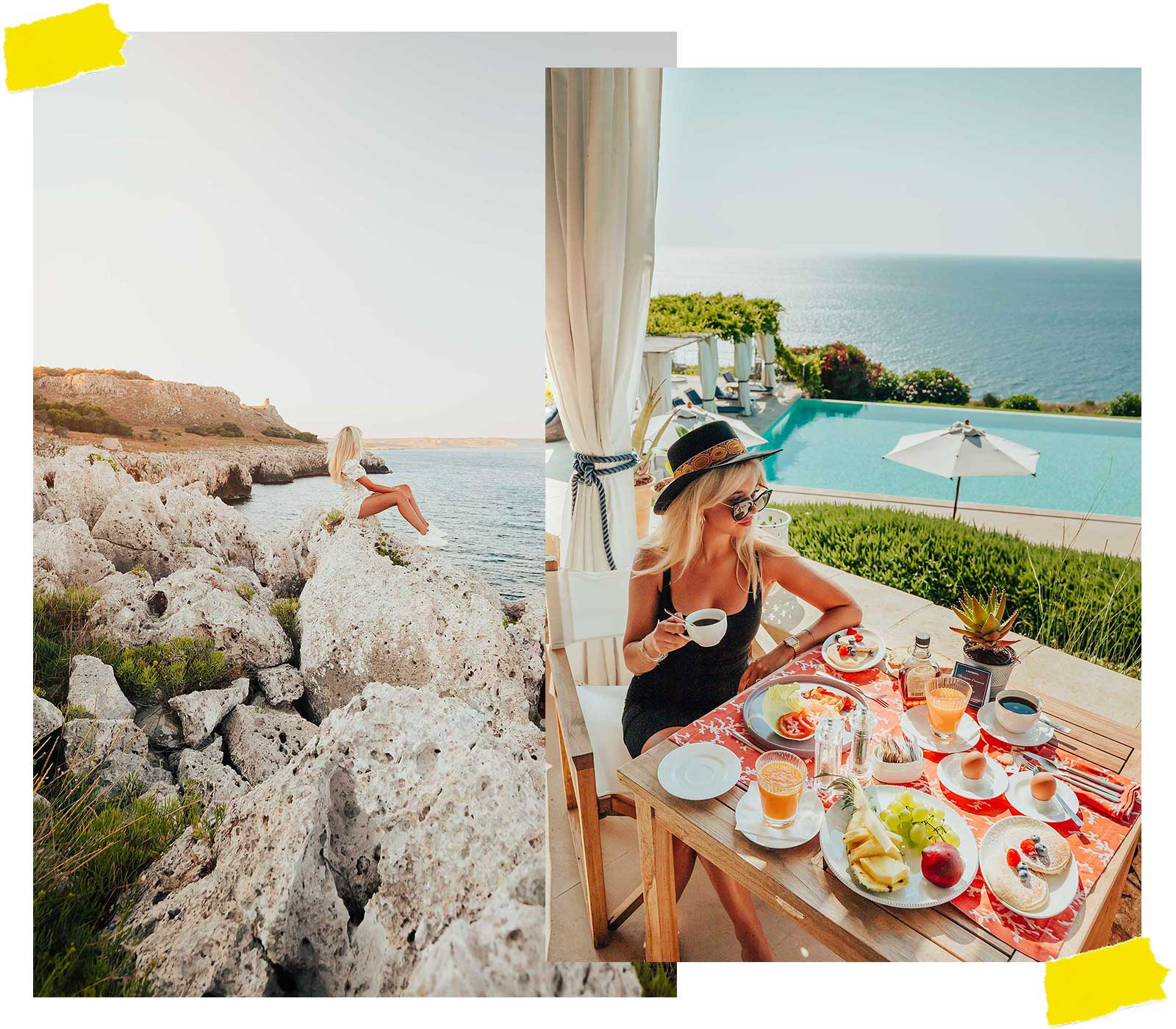 Must do cities in Puglia
I'll try to write one article per city, but here is a global view of everything not to miss in Puglia. You can also find all the good spots on my mapstr account (@milkywaysblueyes) in the meantime.
To set the scene for you, Italians have a different rhythm than ours. They get up at 5 in the morning, do the siesta from 1PM to 5PM. So, if you plan on visiting in the afternoon, you'll often find cities deserted or landmarks and shops closed. I thus encourage you to plan your visits in the morning or in the late afternoon. For my part, I love wandering into cities at 4-5PM because they are still empty and I like the quiet. Afterwards, around 6:30PM, you can have a drink before having dinner later (restaurants usually open around 7:30-8PM).
Regions of Bari and Brindisi: for the towns of these regions I would say that one day is enough to visit them. I would advise you to stay in the countryside, in a trullo, a typical building of the region. You can drive everyday at the end of the day to discover a town and have a bite to eat. You can also spend the day at the beach, which there are plenty of, even though they tend to be quite crowded.
Ostuni : my favorite town of the region! It is entirely white, the citta bianca, nested on top of 3 hills, a true gem. The historic part of the town busts with little streets and stairs that go all kinds of ways. Don't follow a map, let yourself be guided by your senses and you'll stumble upon loads of great spots and a ton of super cool bars and restaurants.
Matera : Matera is a town that was built directly on limestone rocks of the region. It is filled with caves, underground palaces and galleries and complex staircases. This millennial town has a lot to offer. The scenery is breathtaking and the site was named the culture capital of Europe in 2019 (and was listed as UNESCO world heritage in 1993). It is interesting to note that before it was considered as gloriously as it is now, Italians were ashamed of this little town, due to the extreme poverty of the region. People lived in caves, without running water, electricity or sewage. It is often called the "Jerusalem of the West", because of its troglodyte houses and the numbers of spiritual events that take place. celebrating Christmas there is amazing. A town that is truly timeless, A MUST.
Polignano A mare : this town was built on the flank of several limestone rocks. Buildings plunge directly into the water of the Adriatic sea. It is mainly known for its "cala porto" bay, nestled in between several cliffs and buildings of the old town. Again, get lost in the little streets! Unfortunately, I already saw a difference between this year and last year: the flux of tourists is increasing.
Alberobello : this is the famous trulli village! Trullis are typical buildings of the region, that were built by farmers. Initially, they just piled up stones on top of each other, in order to build and un-build easily. These accommodations were very precarious. To this day, a lot of them have been renovated all while keeping the authenticity of before, in order to give tourist the best experience. For Alberobello, I would say that it wasn't one of my best visits. Even though it is really pretty, it kind of is like Disneyland: there are only tourists and all shops in the village are clearly rip offs, which makes that the charm of the village goes down a bit. For me, it is best to sleep in the countryside in a trulli and go visit Alberobello once.
Monopoli : a very nice visit with way less tourists than in other towns! We strolled around, had a bite to eat and did nothing else, but I think there are some things worth a visit like the castle of Charles V and the Church of Santa Maria.
Bari : we stayed a couple of days in Bari during our first trip. We really liked this town, especially for its nightlife, which is very active. During the day, it is not that interesting, so we mainly spent our days on the beach, before coming back in the late afternoon for a few drinks. There are tons of delicious restaurants and finishing off a trip here can be nice if you wish to reconnect with the animosity of a big city.
Grottaglie : the town of ceramics! Here, you can admire the regional know-how and buy great pieces. We bought several things at Nicola Fasano (and you can ship your content directly to Belgium for 27€).
Salento region: 
in this region, you'll discover the authentic part of Italy. There are less things to do as this region is very calm, but life is more authentic than in the North, and for me, the food is the best of Puglia! The region also hosts an innumerable amount of beaches and creeks way more calm than in the North. Although, there isn't much sand in the region, all the beaches are rocky. There are amazing sceneries, like 
Torre Sant Andrea, 
with its rocks eaten by the sea, the 
Grotta della Poesia San Foca 
(a lot of adolescent Italians come here on the weekends), the 
canale del Ciolo, torre del orso, Marina serra di tricase, and many others…
Lecce : a sublime little town, sometimes known as "Firenze of the South", and a true gem, unknown from tourists. You'll find multiple baroque churches, built with "Lecce stone". The town has experienced phenomenal  economic growth during the 14th century, which is when nobles decided to build all these magnificent buildings. You can also see multiple remains of the antiquity, comprising 2 roman amphitheaters.
Otranto : on the road, stop by the Bauxite lake. An old and abandoned carry, where an emerald lake has formed, lost in between red hills, like a mini canyon! Once in town, wander around and explore the little city. It is almost unknown from tourists, which makes the visit all the more enjoyable. You must absolutely visit the cathedral, where you can see squelettons of the 800 martyrs of Otranto. During the Turkish domination, all people refusing to abandon their christian faith were decapitated and their bones were then canonized and exposed by the pope. 
Santa Cesarea Terme : don't stop at the scent of rotten eggs than lingers in a part of the small city, which is due to the natural baths. There is not much to do in town, but you can appreciate the beauty of the Turkish palace overlooking the city (which sadly you can't visit) or spend the day on the beach of Bagno Marino Archi, again overlooking the scenery between hills and rocks. Even though a part of the beach is still accessible, the scenery is somewhat damaged by the ongoing works. On the port of the other side, Castro, you can rent little boats without permits to explore the surrounding creeks. They are not normal little boats, these go super fast and give a sensation of a real "boat day" (see Nautica Red Coral Yacht Charters, 90€ per day).
Galipoli : I didn't really like the visit. I would say it is a town to visit if you want to party! It is pretty but very loud and a little creepy at night sometimes. But if you want to have a fiesta and a day in busy beach clubs, it is the place to be!
With this article, you have a first impression of everything there is to do in this region that I literally fell in love with. This article will be completed with new articles on each town, with accommodations, good spots et tutti quanti.