I've just finished building a wall of frames in the living room of my new apartment. It turned out great, so I thought "Why not share some tips & tricks with you guys?". You'll see I've also detailed the how-to's of my old office wall in my other apartment.
How to build a wall of frames/shelves
For the new wall, I wanted something I could change easily, on which I could place the frames how I wanted, but also books, lights etc. I opted for this super easy IKEA shelf system that enables you to place whatever you want on them and thus, change it up when you want to. It's really easy to set up and you can switch decorations often, without having to poke new holes in your walls – which is very convenient!
For setting up, you'll just need a drill, plastic anchors and nails aside from the shelves you've purchased (btw IKEA now has an e-shop, dream come true). First step, is drilling a hole where you want to set up your shelf (do not forget to see if your lines are level in order to avoid living with skew shelves for the rest of your life haha), then you attach the anchor and fix the shelf with a nail. Seriously, it's really easy and is a matter of minutes (except if your wall is like ours and impossible to make holes in).
For the frames, I called on the website DESENIO, on which you can order frames and posters of different sizes. Last time I opted for something rather monochrome, but this time I added some peps by choosing colored and funky posters. I even managed to get you a promo code for the occasion!! With the code CLAIRE25 you can have 25% off, site wide!! I've ordered many times on this site and every time my orders get here in time and in good shape. I strongly recommend this company, (almost) all my posters are from them!
For the frames, part I ordered on IKEA's e-shop and the other part is from DESENIO. This is to have a mix of styles and colors.
Pour ce qui est des cadres en eux-mêmes j'ai commandé une partie sur le site de IKEA et une autre partie sur le site de DESENIO pour faire un mix de style et couleurs.
Posters from Desenio ♡ Books from Taschen ♡ Frames from Desenio and Ikea ♡ Shelves from Ikea ♡ Néon LOVE from prettywire (new co) ♡ I'm wearing a suit from Zara (size S for both parts) ♡ On my feet are a pretty pair of  SENSO heels from Sarenza (size 38, usual fit)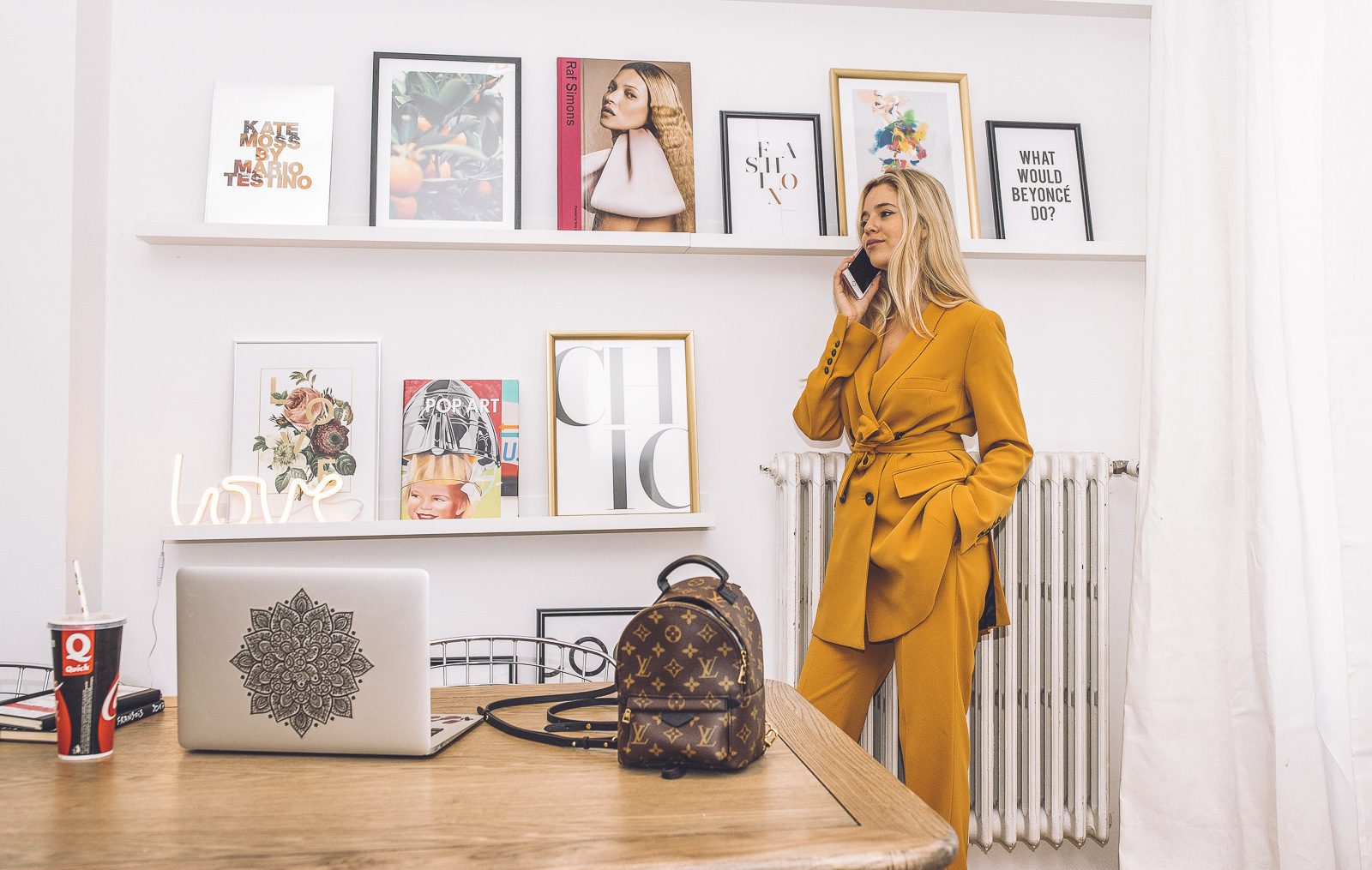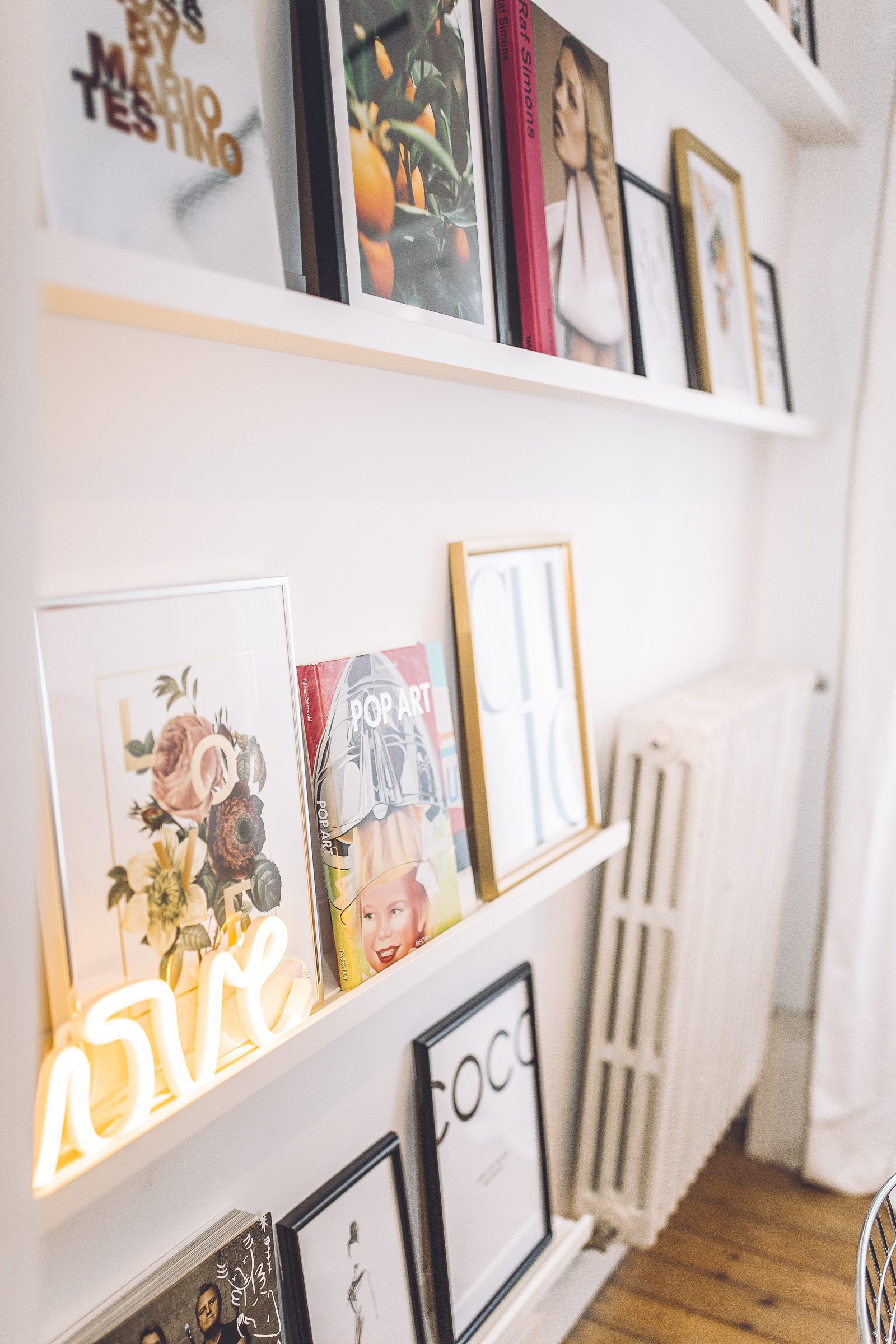 How to: wall of frames without poking holes
In my old apartment, I couldn't make holes in the walls. I thus managed to come up with a system to bypass the holes (which I learned from another blogger). You can use stickers/velcro stripes that you stick on your frames or posters. Once you want to take everything off (do so according to the manual please haha), they comme off really easily without taking paint with them. I left mine a little over 1 year and a half and encountered no bad surprised when taking them off (except for one, but I didn't read the instructions beforehand). To buy those little stickers, click here.
On this wall, all the frames were from IKEA because at the time DESENIO did not ship frames to Belgium. The clips were from DESENIO. Tip: to keep your clips from rolling on to the poster, fixate them with velcro stripes as well.