3 days on the Gili islands
Sumptuous, incredible, breath-taking… so many adjectives that can easily describe our few days rest stay on this paradise island near Lombok. On the Gili Islands, we don't do much. We mainly go there to rest, far from the hustle and bustle of Bali. The main activities are snorkelling and sunbathing! It is the ideal destination if you are looking for a little rest after a long journey full of activities and adventures.
The Gili Islands are our third stop of our trip to Bali. You can find here information about our first 4 days in Ubud, and here information about our 3-nights stay in Nusa Ceningan.
This will be the criterion that will help you to make a choice between the Nusa Islands and the Gili Islands. On the one hand, the Nusa Islands are quite sporty. The landscapes are incredible but you will need energy to see those. You will be certainly very tired at the end of the day. On the other hand, the Gili Islands landscapes are less impressive but offer you something else. The transparency of the water or even the Zen that prevails will finish to relax you. So we go to Gili to rest, and to Nusa to visit even if you can also relax on this one.
If you choose the Gili Islands, you will then have to choose between the three islands that composes the region: Gili Trawangan, Gili Meno, and Gili Air. Gili Trawangan is the perfect island to party (perfect to go there with friends), Gili Meno is the most relaxing of the three and the most romantic (perfect for lovers), and finally Gili Air is a good mix of the first two, between good atmosphere and relaxation (perfect for calm friends haha).
What you have to know about Gili Islands
On the Gili Islands, motor vehicles are prohibited. You can therefore walk, cycle, or ride a horse-drawn carriage/tuktuk. There are still a few locals that run on electric scooters, but that's pretty rare. This prohibition gives a magnificent super Zen atmosphere on the island. Totally conquered, we quickly realized that two nights would not have been enough for us. That's why we decided to extend our stay on the island by one night to enjoy it as much as we could. But this was not the only reason of our prolongation. We were also really tired about the idea to move the day after because we had a difficult arrival. But you will understand it after the reading.
Unlike Bali, where the Hindu religion dominates, the Gili Islands are Muslim. Even if you do not have to adapt your clothing (it is still very chill islands), you will hear quite regularly prayers as in all Muslim countries. Those start at 4am. Unfortunately, it prevented us from sleeping. That's so something to know before your departure. You will be able to arm yourself with adapted earplugs. 
Our stay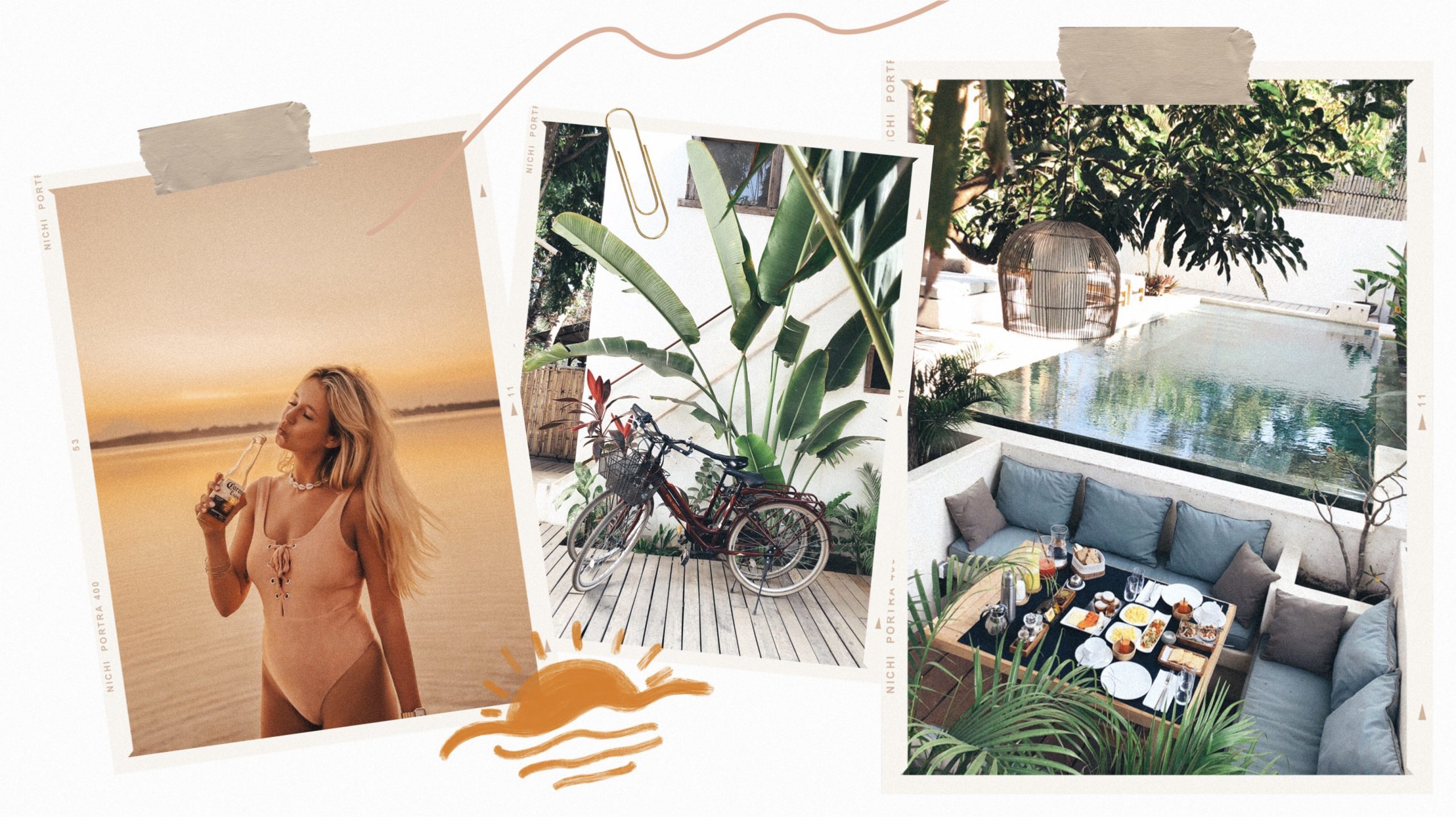 For these three nights, we had booked a room in the villa The Mandana. It is a small 3 bedrooms villa located in the heart of Gili. The villa is managed like a hotel. As in a hotel, there is a staff constantly present if you need some help (actually, they helped us to book activities, bicycles etc.). We had taken the largest room, at the price of 150€ per night. It consisted of a room and a magnificent outdoor bathroom with a small swimming pool (which actually looked more like a basin than anything else). The villa also has a very pleasant outdoor swimming pool. Breakfast was included in the price of the room, and OMG WHAT A BREAKFAST, worthy of a 5-star hotel! Every day, the staff prepared it for us on the table near the pool. Every day, we could enjoy new and different things and in quantities! We had for example fresh pressed pineapple juice, French toast, omelettes or even shots of ginger/carrots. Even if the price is high, I highly recommend the place; it's worth the price! This way to book it! 
DAY 1 – Arrival and rest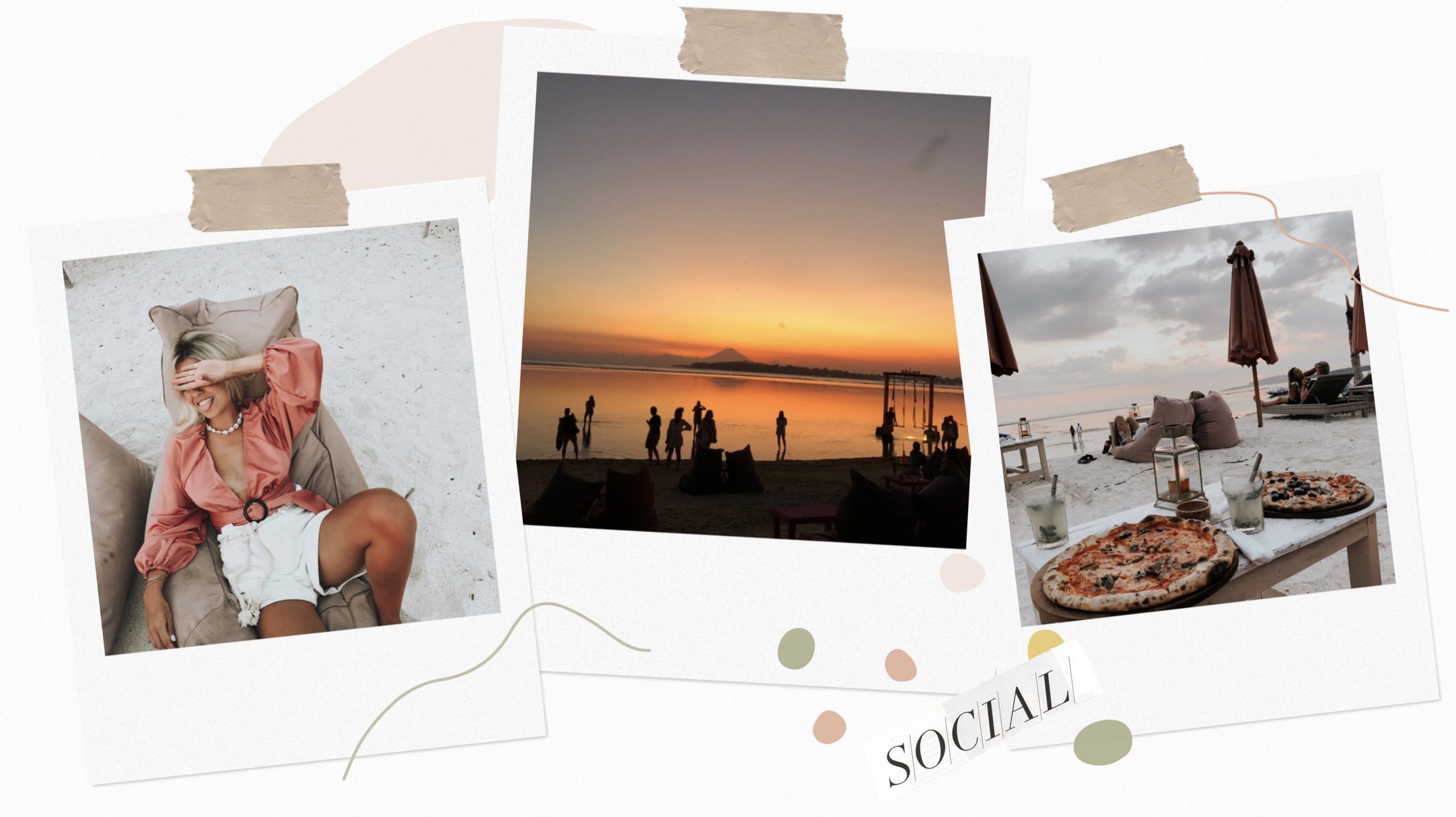 To reach the Gili Islands, we booked a boat the day before our departure directly at the harbour of Nusa Lembongan. We didn't book anything on the Internet before because the prices seemed exorbitant! Indeed, prices are cheaper when you buy your ticket directly at the harbour (although it remains high for Asia). We chose the company Eka Jaya and we paid 400k per person. As already mentioned earlier, the price is quite high for the Asian continent, but we hadn't trying to negotiate because we wanted to be sure that we would get there safely. We chose this company mainly because of the size of the boat. Indeed, it is the biggest firm to make the crossing and in this way the safest! They had sold us a crossing in 2h30 and finally it was done in 4h. But it was nothing serious since we were seating on the roof of the boat and we had the chance to chat and tan with people throughout the crossing.
Going to the Gili Islands with this company is a real obstacle course (but it must be the same with others as well). To reach the Gili Islands of Lembongan, you will have to arrive one hour before the boarding. But in our case we had already went through other obstacles: we first had a tuktuk and walked across the yellow bridge with the suitcases to the boarding area. After this first wait, you will be able to take a first boat directly on the beach, which will take you to the main boat. To get on this first boat, you will have to walk in the water, and no one will help you to get your luggage on the boat. I rushed and I forgot my sneakers on the beach (#RIP). This little boat cross the lagoon and takes you to the second boat, the famous main boat. We had to disembark our luggage again without the company's help. Fortunately a French couple helped us to get our big suitcases out of the boat without them falling into the water. Then we still had to get on the main boat. You have to know that the luggages are classified by destination next to the boat (We watched it to be sure they do not forget them). Then the company stored them itself on the boat. The boat was very comfortable and spacious. You can sleep indoors in comfortable seats and an air-conditioned room or go up on deck to admire the view and sunbathe.  
During our trip to Gili Air, our boat stopped 3 times before our destination. Each stop takes a while. But at the end it goes relatively fast, the crossing is pleasant and I who tend to get seasick, I almost didn't feel the waves. 
We finally got to Gili. There was no landing area for such a large boat, so we're landing on another « boat ». It looked more like a floating bridge. We finally set foot on the ground after 5 minutes of short crossing. There, a man decided to take our luggage. We hadn't asked him for anything and we would have done it ourselves otherwise because he would ask us for money afterwards. We only had big bills so we couldn't give him a pen and he got a little angry. Fortunately, our host was waiting for us on the pontoon and he managed to calm him down. 
Once you arrive in Gili you can either walk to your Airbnb or hotel or take a mini carriage for 150k. Because of the high price and the idea to annoy these poor horses, we decided to do the 10 minutes walk (with our luggage's) to the Airbnb. Our host kindly helped us with the suitcases (I think he saw that we were a bit at the end of our rope)!
Almost 6 hours after our departure from our hotel in Nusa Ceningan we were finally arrived, and despite an ultra tiring journey we had the smile on our faces: we had clearly just arrived in paradise!
After a quick check-in at our Airbnb, we went for a bite to eat at the vegetarian restaurant named Musa Cookery and located just next to our apartment. Barbara opted for a carrot pumpkin soup as well as a Buddha bowl and I ate a pita and pancakes. While eating my pita, I was sure there was meat in it, so I asked the waiter for more information. He told me that it was actually jackfruit cooks! Unbelievable, I really thought I was eating lamb! It was a beautiful discovery because it was really delicious. My pancakes tasted a little less, the dragon fruit being far too present, but they were still good.
In the afternoon we rest a little at the Airbnb pool before riding our bikes to see the sunset on the beach.
We went with our bikes to the beach to eat pizza at Mama Pizza's (such a delight!) and watch the sunset with a mojito. The show is really breath taking and I can better understand why everyone falls in love with the place. After 6pm, the sun falls behind Mount Agung, and the sky gorges with an unimaginable blood-red colour. Horses stroll on the beach, a man plays guitar and sings in a nearby bar, a couple does yoga on their paddles in front of us. While sipping our mojito we realized how lucky we were to be there and we enjoyed the moment as much as our 4-cheese pizza. 
DAY 2 – Spa and beach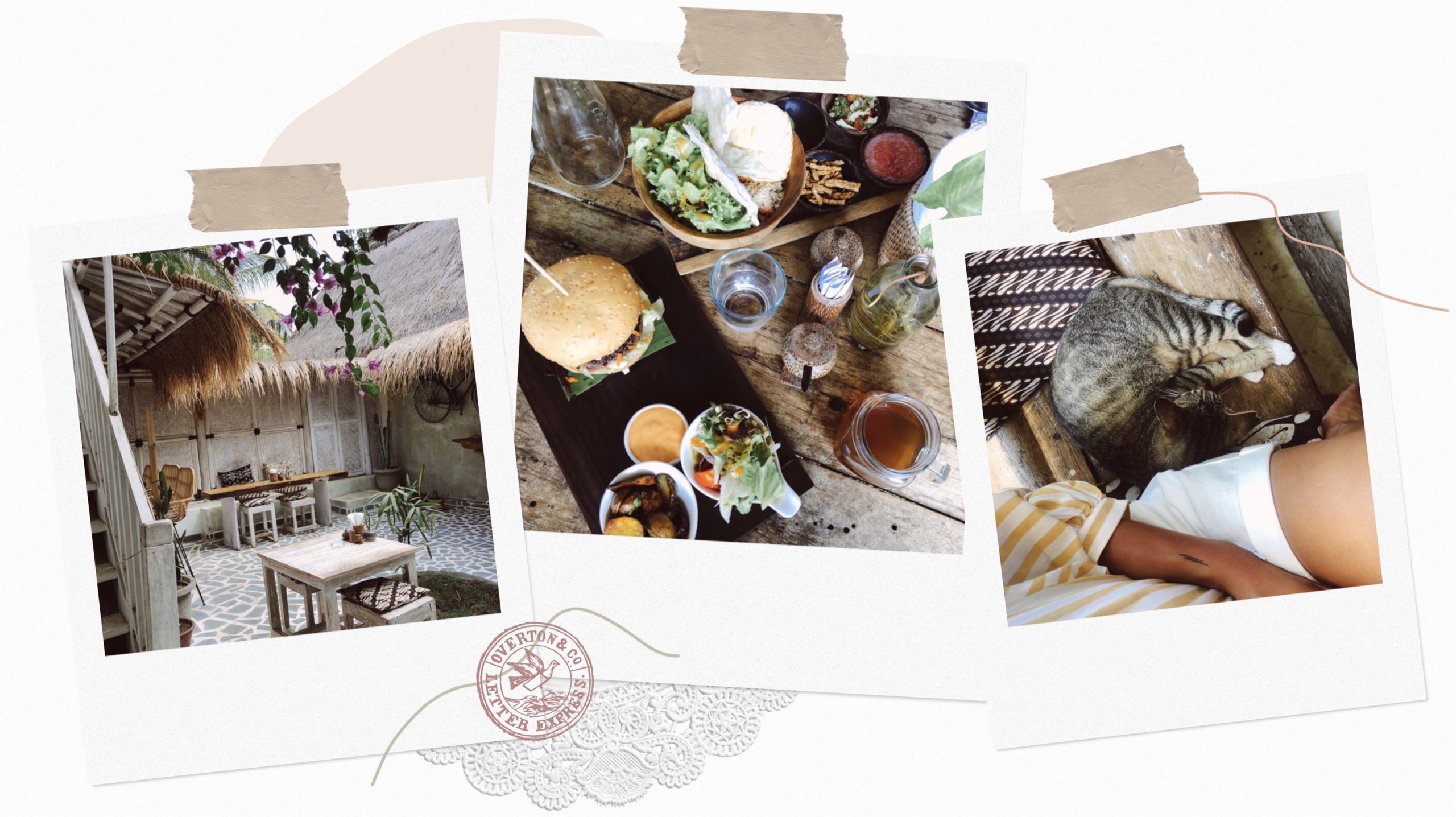 The morning began with a sumptuous breakfast in our Airbnb, cooked by one of the best chefs on the island (apparently). On the menu: scrambled eggs, fruit plate, granola and yogurt, fruit juices of all kinds, all served by the pool… the perfect start of a day! 
We then went to the Slow Spa, 5 minutes by bike from our Airbnb. We booked a relaxing morning to recover from our last few sports days. On the program: a one-hour Balinese massage (300k), reflexology for 30 minutes (200k), and finally pedicure and varnish on the feet (300k) to be able to proudly display them at the beach! The prices of this spa were clearly higher than what is usually found in Bali. But it's really worth the price: the massages were unbelievable, and the place was beautiful! You can book directly on the site the time slot that suits you best (we booked two days in advance for our part). 
Then we rode our bikes to lunch at Pacha Mama's (251k for two people). It is a very nice and famous place to have lunch! On the one hand, we ate very well but on the other hand we waited more than an hour to be served. This is actually not a big deal but actually I am not on holidays to wait for 3 hours seated in a restaurant. I wasn't really delighted especially when we had to reschedule the activity we planned this afternoon. Indeed we were supposed to snorkelling and we had to postpone it to the day after. 
To enjoy the end of the day, we decided to go to Pink Coco. It is a beach club with one of the best sunset views! The sun sets behind Mount Agung around 6pm and then the colour of the sky changes itself into a blood red colour. I've never seen anything like it in my life and it was quite amazing. We had dinner on the spot and it was such a delight (160k/pers. for a beer and a dish).
The evening continued at the Legend Bar where more than the half of the island arranged to meet to attend a small live concert in a warm atmosphere. We sat on footstools on the beach and with a little Bintang in our hands, and the sound of the guitar and the singer rocked us for part of the evening. Really a great time!!! 
DAY 3 : Snorkeling !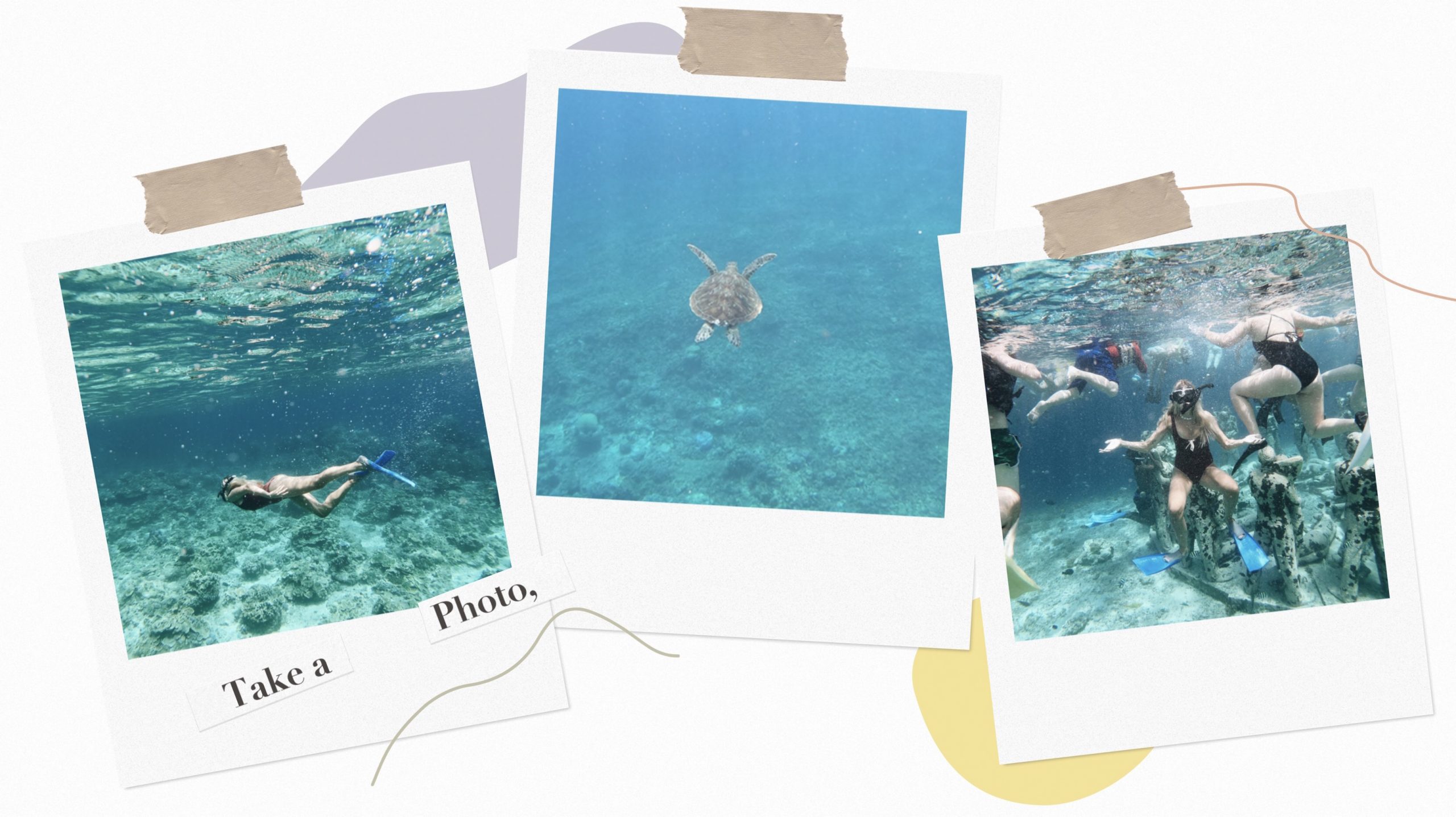 For this last day in Gili, we booked a 4h30 snorkelling activity (140k/pers). What we planned? Swim with turtles, see bottoms covered with corals and filled with colourful fish, and stop in Gili Meno to eat. There were about ten of us for this excursion, which was sometimes a little complicated to manage in the water (jostling…). I would have preferred to be alone with guy and paying more! 
First stop : Swim with the turtles
We stopped for the first time in a place deep enough to see the turtles. The excitement was at its height! We started swimming following our guide. At this time, the current were quite strong, and we got quickly carried away. So the swimming was pretty physical. We continued and swam about ten minutes to finally see a first turtle places at the bottom of the sea. We didn't want to bother it, that's why we continued on our way. But suddenly, we met two other turtles swimming quietly. The show was just magical! I was almost moved to tears. But of course, we couldn't get too close or even touch the turtles. It was forbidden. Our guide was very careful not to stress the animals, which is well appreciated. It's really something to do if you come around. 
Second stop : Dory and her friends
We then stopped closer to the coasts to admire the seabed and corals. Among them were Nemo and Dory, the most famous fishes! Even if the fish moved away relatively quickly when you get close to them, the show was again very, very pretty.
Third stop : The statues of Gili Meno.
Ahhhhhhh these famous statues, so much seen on Instagram. I was dreaming about these but I was completely disillusioned when I finally approached it. About ten boats were already present on the spot when we arrived and we could clearly see a cluster of snorkels swarming there. Hesitating for a while to go there, we finally decided to get into the water. After many obstacles: a blow of a palm in the sides, a blow of a snorkel in the jaw and almost sunk by a Chinese tourist, we finally saw the statues… I mean the little and tiny statues almost floating on the surface. I mean all this for that? We got back on the boat as soon as we can! I have to be frank with you, this visit do not worth it at all! Maybe you should have to visit the spot early in the morning to avoid people as much as you can! 
We then stopped in a warung for lunch before leaving again to swim with the small fish.
In the evening, we ate at Mowie's, an international restaurant where we ate a little bit of everything. This place, like the others were presenting a magnificent view of the sunset in a warm atmosphere. I ate yet another pizza (delicious by the way) and we took advantage of the happy hour to sip a glass of well-deserved white wine after this new sports day.
DAY 4 – Departure
Gili was over! We left early in the afternoon to go to Bali to start the last days of the stay. We booked our return to Bali with the company Eka Jaya (for 350k/pax), as we did it for the arrival. People warned us: boat trips boat trips in the afternoon are more hectic. And indeed, we were really hard shaken and soaked on the deck of the boat (impossible to stay inside otherwise I would have vomit for sure ahaha). We laughed a lot, but if you are prone to transportation problems, medication first!