Where to eat in New-York City?
Before leaving, I called out for your help on social media in order to gather information on the best spots to eat in New-York and to get to learn about your experiences and advice on them. In this article, you'll find the ones I saved after having filtered through all of your recommandations and at the end of the article you'll read all about the places I actually went to! Because we were only there for 6 days, we didn't spend much time in restaurants, so we only managed to test out a little part of the list.
Don't hesitate to share your best food spots or experiences about other restaurants in the comment section for others to read! 
Breakfast in New-York
Sarabeth (Upper East Side/Central Park South/Park Avenue South/Tribeca/Upper West Side) : a true institution in New York for brunch and to have breakfast.
La Mercerie (SoHo) : The place to be for breakfast! So sad I didn't get to try it out.
Eat by Chloé (Greenwich Village/Flatiron/SoHo/Rock Center/Brooklyn/Seaport District) : a trendy vegan restaurant!
Bluestone Lane (Upper East Side/Upper West Side/Manhattan West/ West Village) : nice little place to eat something on the go with avocado.
Loosie rouge (Brooklyn) : such a pretty place to have brunch!
Cronuts by Dominique Ansel (SoHo) : The famous crossing between a donut and a croissant is a must try if you come to NYC!
Olmsted (Brooklyn) : mind-blowing brunch in Brooklyn.
The Butcher Daughter (Nolita/West Village/Brooklyn) : the perfect place for a healthy and bio brunch!
Maman (SoHo/Tribeca/Nomad/Meatpacking/Greenpoint/Hudson) : such a cute place for breakfast or a treat "à la française" !
The Vine (Empire State Building) : they have a breakfast buffet until 11am, but also an a la carte menu.
Pénélope (Flat Iron) : hands down the best pancakes in New York.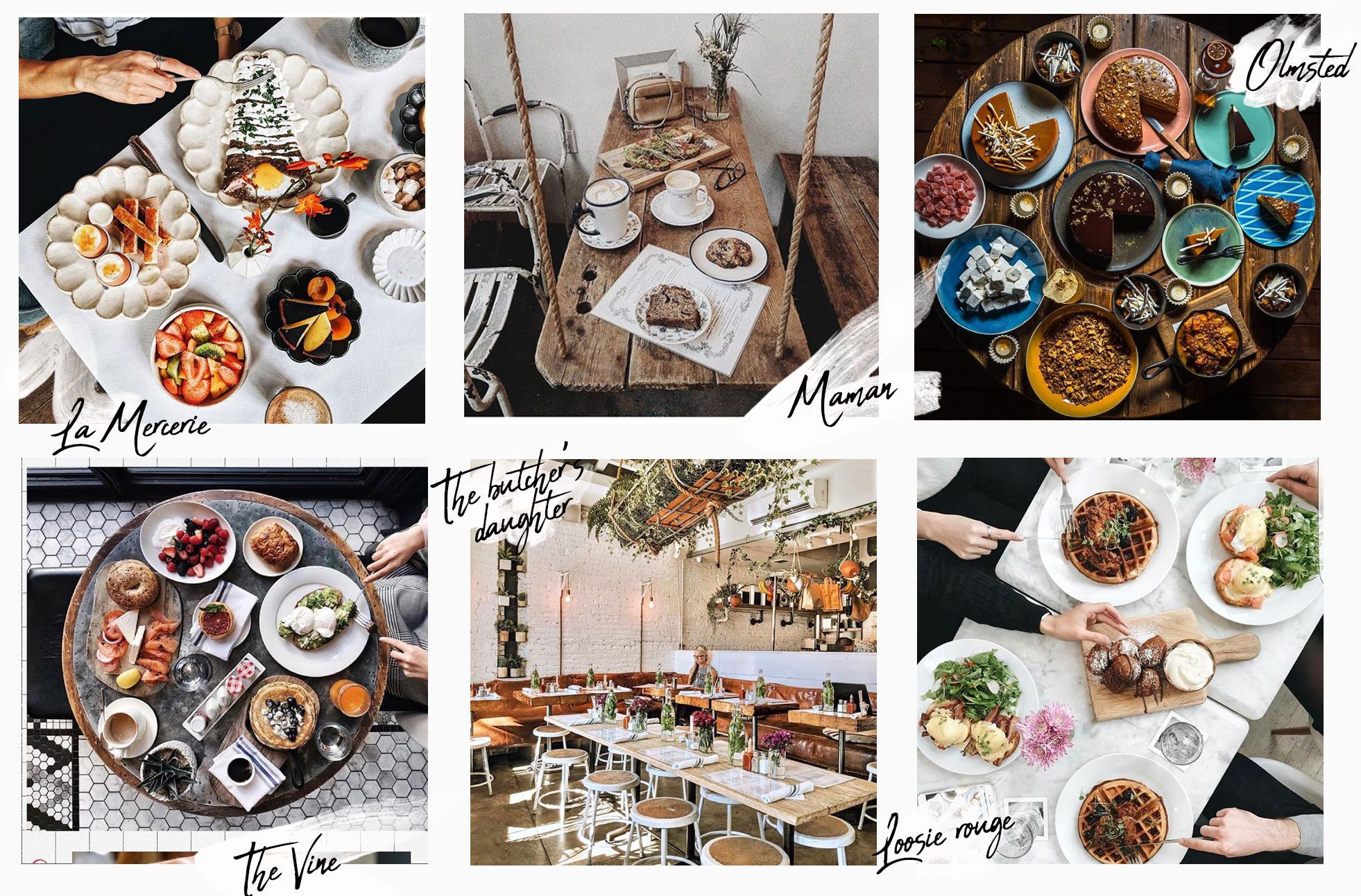 Lunch in New-York
Sant Ambroeus (Madison Avenue/SoHo/West Village/: a mix between Italian and French cuisine! Ideal for brunch or some tasty pasta.
Broken Coconut (SoHo) : perfect for a healthy lunch!
Fig & Olive (Meatpacking/Fifth Avenue/Uptown/Westchester) : when France comes to New York! Nice flavors of the Mediterranean will transport you back to Europe!
Dr Smood (Madison/Broadway/SoHo/Lexington/Orchard) : super trendy place to have a healthy lunch on the go.
Shake Shack (Un peu partout) : a must! The best fast-food burgers I've had in my life. Every time I'm in a town that has them, I speed over there. Never disappointed!
Mercer Kitchen  (SoHo) :  if you're looking for a more solid lunch, this is the place to be. The cuisine is traditional and also does dinner.
Luke's lobster (Brooklyn/East Village/Times Square/Midtown/Nomad/Upper East/Upper West/…) : they are kind of everywhere in New York and serve fast-food lobster dishes.
Tartinery  (Hudson/Park Ave./Plaza) : serves solid "tartines", like sandwiches. Ideal for lunch.
Cecconi's Dumbo (Brooklyn) : having tested them out in London and Barcelona, it really is a place I highly recommend. Classic, but always hits the spot.
Cafe Cluny (Meatpacking): this restaurant with a traditional feel serves just that: traditional cuisine. Never disappoints.
Tacombi (Nolita/Empire State/Flatiron/Bleecker/Brooklyn) : super trendy place with an old VW van inside! They serve a tacos-inspired cuisine.
Chelsea Market (Chelsea) : an indoor food market where you can eat all kinds of different cuisines. I was specifically recommended Lobster's place!
La Pecora Bianca (Nomad/MidTown) : they have different locations, a must to try out, even if a little bit expensive.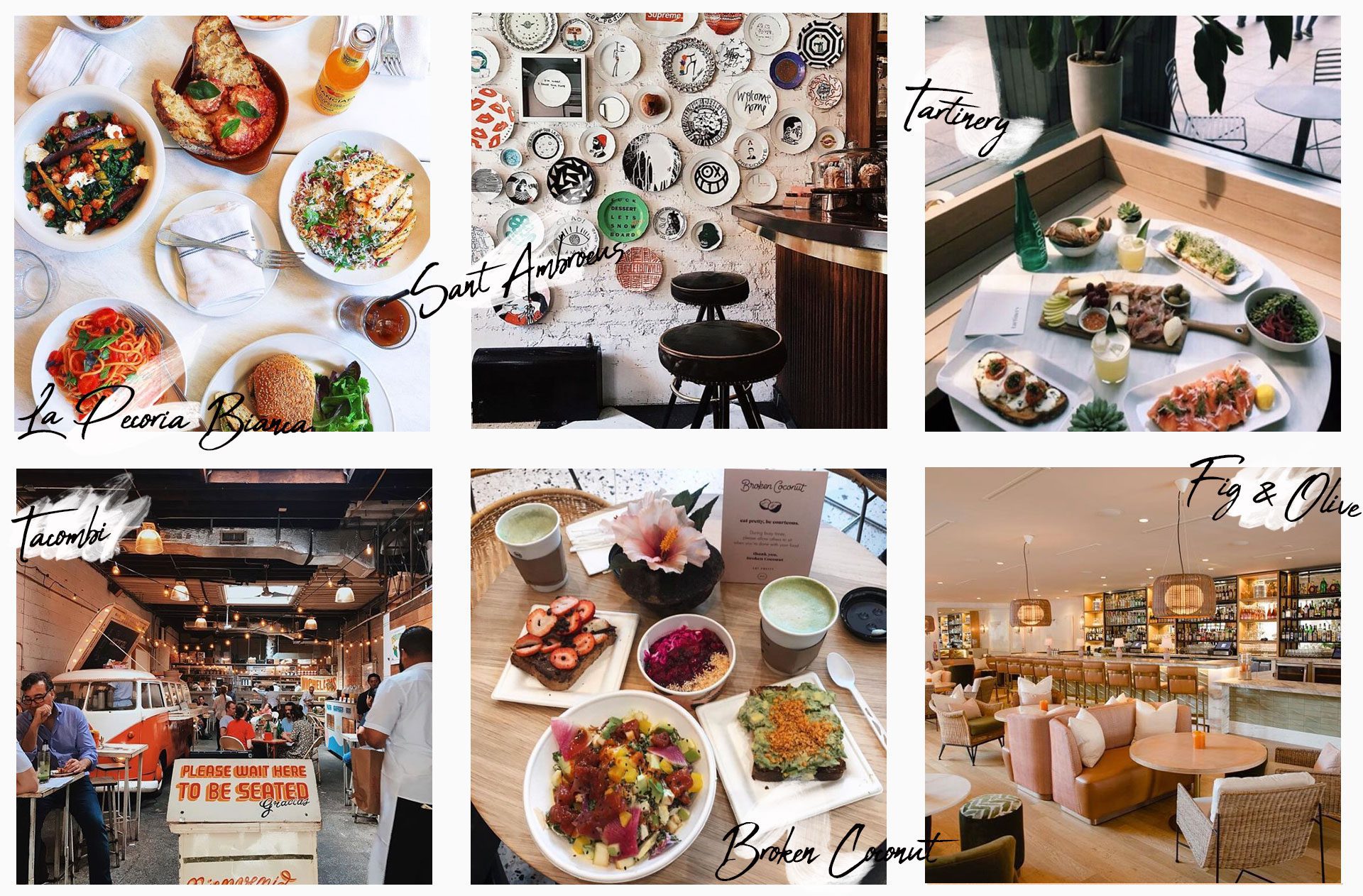 Treat yourself in New-York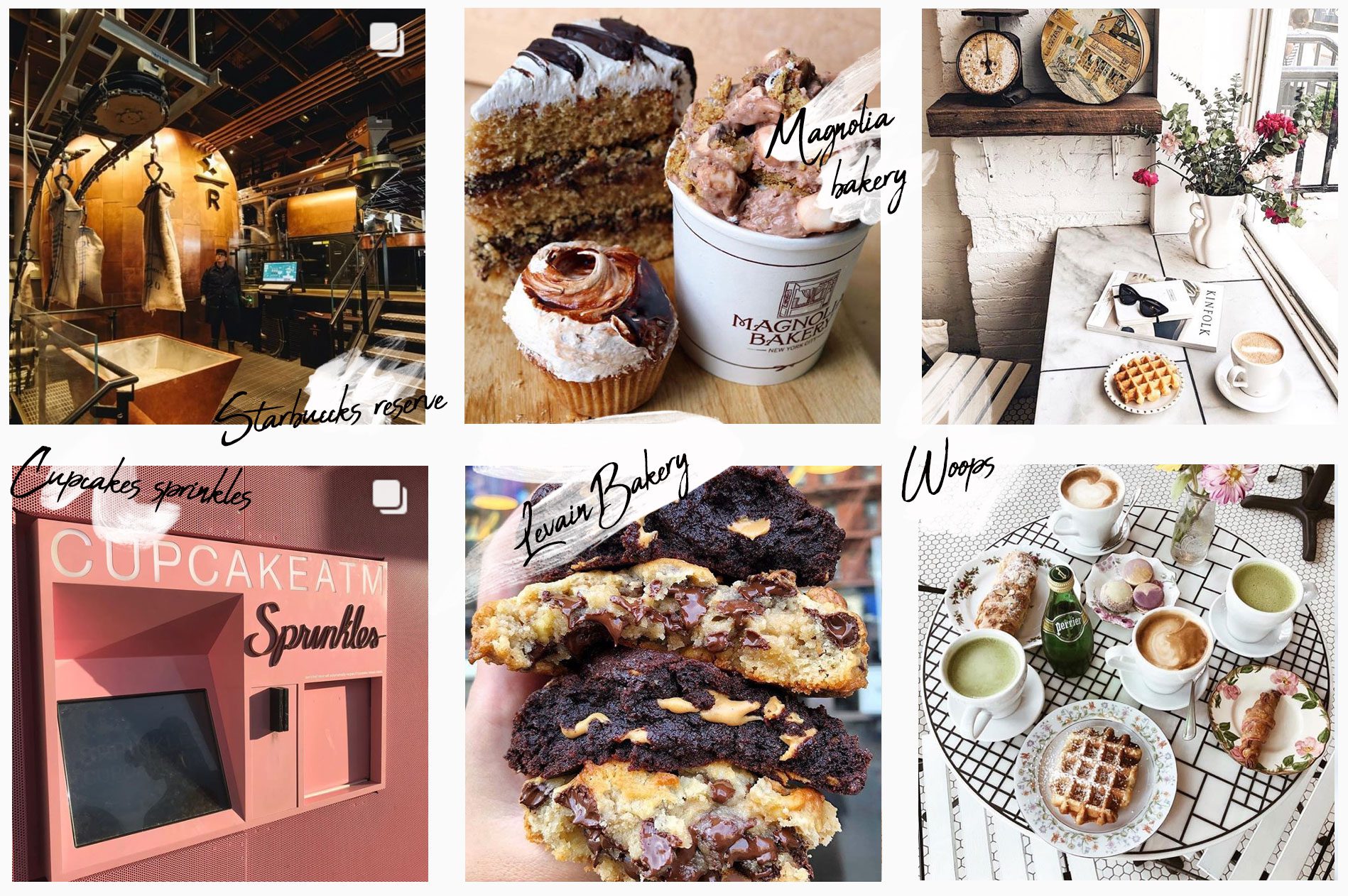 Dinner in New-York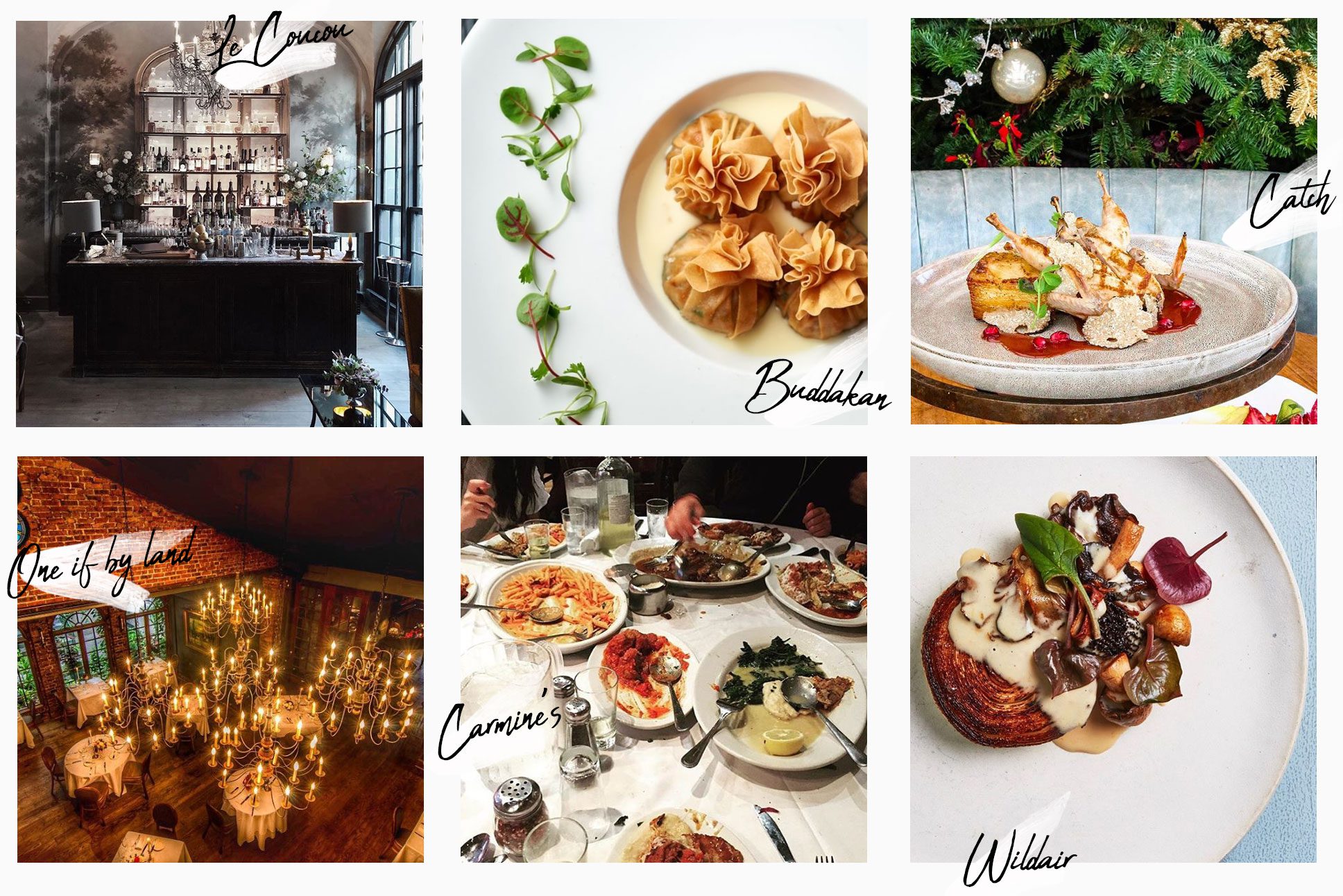 Have a drink in New-York
230 rooftop (Fifth Avenue)  : during the holidays they put up igloos on the terrace! We didn't go, too scared to have to wait in line for 2 hours, but it seemed pretty epic.
Refinery rooftop (Midtown) : rooftop with a view on the Empire State Building.
Mr Purple (Lower East Side) : has a pool and incredible view on Manhattan.
Skylark rooftop (Midtown): sublime rooftop!
Westlight rooftop (Brooklyn) : with a view all over Williamsburg.
Le Bain rooftop (Meat Packing) : on top of The Standard hotel. Careful, Sundays are members only.
Bemelman's bar (Upper East Side) : a chique bar in the Upper East Side on top of a luxury hotel. We wanted to go, but it was too crowded during the holidays.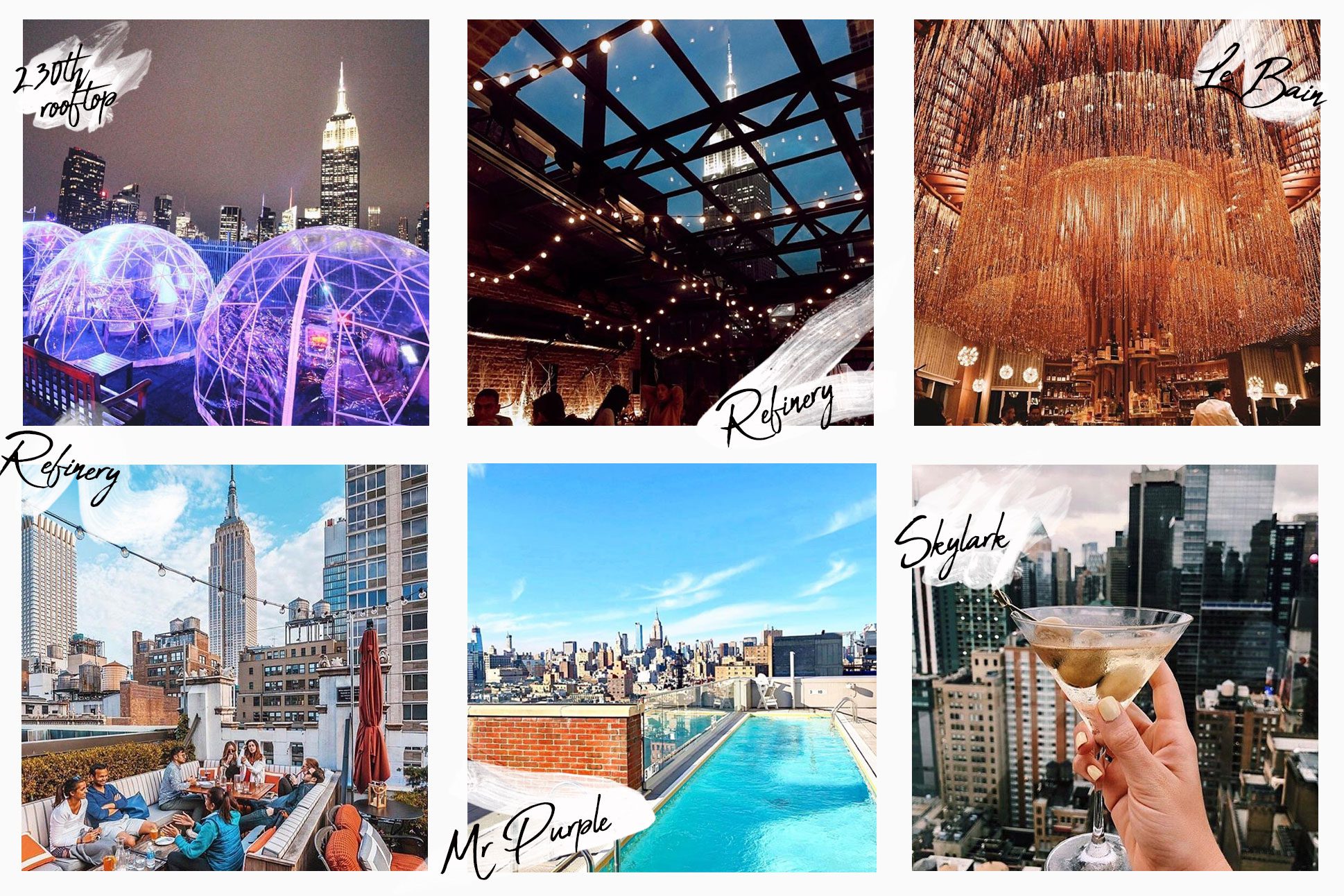 The places I went to
That's it for all the best food spots in the city! If you liked this article and are interested in reading about things to do in New York, feel free to read through this article on what to do in New York in 5 days !