Discovering the island of Bintan
After having spent a few days in Jakarta (click here to read the blogpost about Jakarta!) , we flew to the island of Bintan, to spend some quiet days. The island is located on the northern side of Indonesia, a little under Singapore. Because the island is right next to Singapore, she is a privileged destination among its inhabitants for a quick getaway. Activities include: nautical sports, golfing, farniente and luxury hotels on white sand beaches and turquoise waters. If you're looking for farniente vacationing, staying & eating at the hotel and occasionally leaving for a little adventure, this is the place to be. But, if you're looking for Indonesian authenticity, it is not.
Bintan island is divided into two parts: on the northern side of the island you'll find all the luxury resorts, protected by a "border" with guards. The precisely cut fluorescent green grass will quickly tell you the level of luxury this part of the island has. The other part offers a little different scenery, more typically Indonesian, with little villages on stilts that are worth the visit as well!
Prices on the island are far of standard Indonesian prices. The proximity of Singapore probably is the reason why prices are so high and incoherent with the rest of the country. Hotel nights are pricier than usual in Indonesia and the prices of alcohol or drinking a beer are almost as expensive as the accommodation (I'm almost not exaggerating).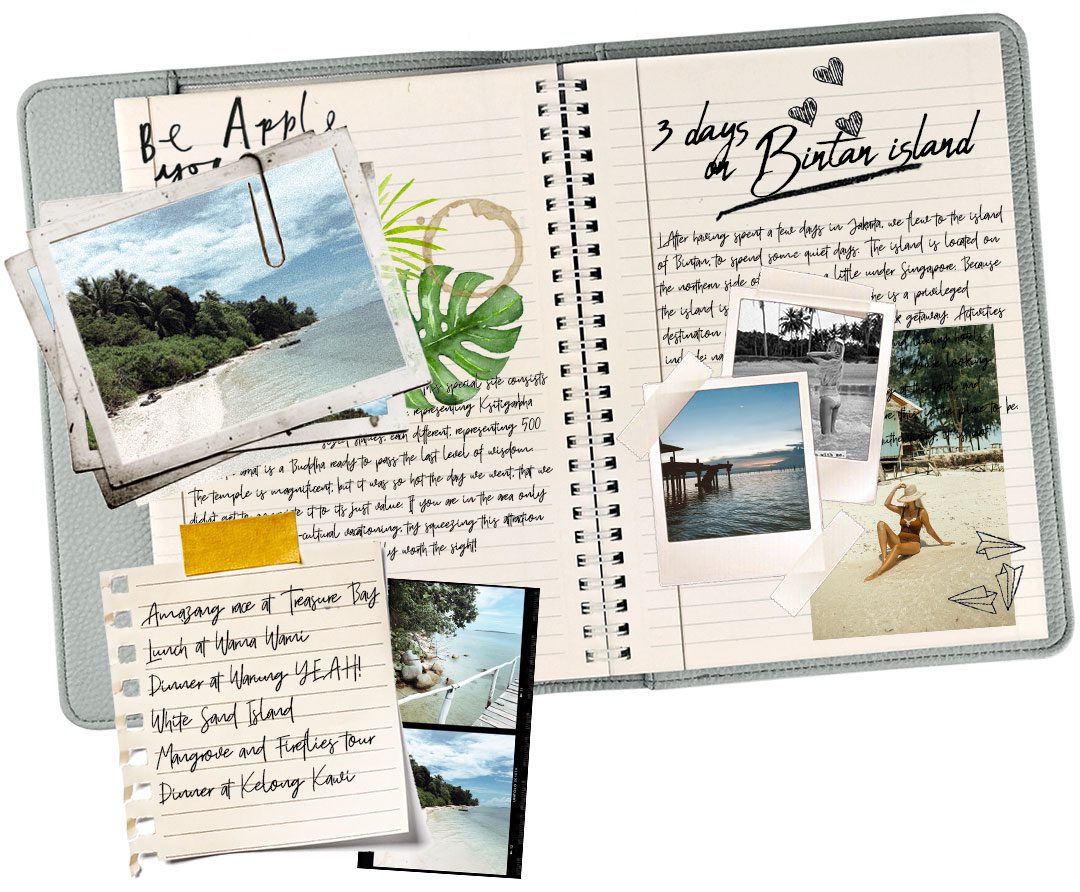 Where to stay on Bintan island
We stayed at the Angsana Resort. I must admit I didn't like this hotel at all and wouldn't recommend it! While the exteriors are impressive, the beach sublime and the pool gorgeous, the interiors aren't. I didn't get much sleep because the rooms are badly (not to say in no way) soundproof, mine was next to a gigantic air conditioning system which made extremely loud noises starting at 4am. I also found the commun spaces like the restaurant and the reception to be relatively dirty and badly maintained. All in all, I can't say my experience in this hotel was a good one. I think this hotel is starting to show signs of its age and needs some freshening up !
The Angsana Resort
Jalan Teluk Berembang, Laguna Bintan, 29155 Lagoi, Indonésie
Approximately 150€/night
By doing some research on my own, I discovered this hotel : the Sanchaya. This luxury hotel is styled in a super refined way. After having read almost all the comments on the place, I regret not taking the time to visit it. I read nothing negative on this hotel (while you know the investigator I am haha). If one day I'm in Singapore or back in Indonesia, I think I'll swing by!
The Sanchaya Resort
Jalan Gurindam Duabelas, Plot 5, 29155 Lagoi, Indonesia
Approximately 500€/night 
Get 25€ discount on your Booking reservation here!
Activities in Bintan
We did a lot of activities while we were there. The first day we went to "Treasure Bay", the biggest artificial pool in the world where we got to take part in all kinds of nautical endeavors. We played several games in teams with the other bloggers and spent a really fun afternoon that made us get to know each other better. A great idea from the organisation team! If you're travelling with kids or teenagers, this is really a place they would like! The place is really calm in the morning, but once the afternoon arrives, big groups of people start coming in and it gets crowded rather quickly. So, if you're planning on visiting I would recommend going after breakfast!
TREASURE BAY BINTAN
Kawasan Pariwisata, Jl. Raja Haji KM 01, Teluk Sebong, Lagoi, Sebong Lagoi,
Tlk. Sebong, Kabupaten Bintan, Kepulauan Riau 29152, Indonesia
From 9€/pp
The thing I loved the most while being on Bintan island was the visit to White Sands Island!! I think I've never seen anything so paradise-like in my entire life. White sand of unimaginable softness, turquoise waters like you've never seen before and peacefulness that you can't get anywhere else. There is one hotel on the island, where you can sleep in bungalows in front of the beach (I would have loved to stay there, the experience must be incredible being so removed from the world), a bar and a restaurant.
This white sand island participates in the preservation of turtles by breeding and saving them. The eggs of the turtles are collected to be bred in total security, far away from predators. Once they've reached their teenage size, and thus are strong enough to overcome the dangers of the sea, they are freed. You can participate in this activity and free turtles when you come to the island! This activity isn't touristy at all and directed by the locals.
You can also take a tour of the mangroves to see the dragonflies at nighttime. I found it a little scary to be on a boat in the middle of these strange trees in the complete dark (especially when the tour guide tells you not to activate the flash because it could wake up the snakes and incite them to attack). Doing this at night isn't a must, I'd rather have done it during the day to really see the mangroves and the fauna it encompasses. By day, you can see giant nests of ants, lizards and snakes… There aren't that many dragonflies and the guide has to "wake them up" for them to make light so that kind of breaks the myth.
We also went to visit the 500 Lohan temple. This special site consists of one rather impressive statue at the entrance, representing Ksitigarbha Bodhisattva, and 500 man-sized statues, each different, representing 500 arhats. An arhat is a Buddha ready to pass the last level of wisdom. The temple is magnificent, but it was so hot the day we went, that we didn't get to appreciate it to its just value. If you are in the area only for farniente and non-cultural vacationing, try squeezing this attraction in your planning anyway. It is really worth the sight!
500 LOHAN TEMPLE
Batu 13, East Tanjungpinang, Tanjung Pinang City, Archipel de Riau 29125, Indonésie
Open from 9am to 5pm
Entry is 30K/pp
At the southern end of the island, you have the main town of Bintan: Tanjung Binang. We didn't go, but this town is home to many other Buddhist and Hindu temples, as well as a very large mosque.
Where to eat on Bintan
We didn't get the time to try out a lot of restaurants, but here are the ones we did go to:
Warung YEAH! : we had dinner is this Warung and the food was incredibly good! Usually, I don't get to appreciate Indonesian food because of my allergies and intolerances prevent me from eating a lot of ingredients you find in their dishes. But this time, I got to try some kind of traditional noodles with meat and it was truly delicious. The place is inviting as well, as it is super cosy and cutely decorated.
WARUNG YEAH!
Sebong Lagoi, Teluk Sebong, Sebong Lagoi, Teluk Sebong, Bintan Regency, Riau Islands, Indonésie
Open from 10am to 10pm
€ (very cheap)
Dinner in the mangroves at Kelong Awi Seafood: the mangroves I wrote about earlier are a very touristy place on the island, so there are a lot of cantine-like restaurants. The one we went to was way smaller and authentic, and the food was really good! I highly recommend going there if you are going to do the night tour. A plus: we got to witness an amazing sunset on our way to the restaurant, it was a magical experience.
KELONG AWI SEAFOOD RESTAURANT
Jln. Hang Lekir

|

Nongsa

,

Riau Islands Province 29465,

Indonésie
€€-€€€
To conclude
To conclude, I would say that I have spent an enjoyable few days on the island of Bintan, even if it could have been better in a different hotel. The activities we got to take part in were great and, of course, the magnificent scenery can only make your trip memorable. My only critique would be that the prices are too high for this region of Asia and the lack of authenticity. I would recommend doing like we did, stopping by for 2 or 3 nights and then continuing the journey through the rest of Indonesia. Nonetheless, I really get why this island knows tremendous success for longer stays, especially for inhabitants of Singapore. It is 45 minutes out by boat and I think it is a great way for them to get out of the city to find paradise only a few hours away.